International Medical Corps UK
Annual Awards
Celebration
Text to pledge:
Text 41444
Message:
Medical Amount Your name and Message
Example:
Medical 100 Jan Smith Great Work
Video Player Help
Here's some common issues and solutions for playing the livestream:
The livestream isn't auto-playing
Try to refresh the page or click the play button. On desktop's the stream should autoplay, on mobile, you'll need to hit the play button to start the stream.
The sound isn't working.
Check to make sure the volume is turned up on the device you're watching from. If you are using headphones, you may need to select your headphones from your device's audio settings. If you're still unable to hear the audio, try adjusting the volume within the video player.
Have another question? Visit our Frequently Asked Questions by clicking here.
Will you join us in celebrating healthcare heroes?
Supporters like you make our work possible.
Event originally took place on October 15, 2020 at 5:00 p.m., Pacific Time.
International Medical Corps delivers emergency medical and related services to those affected by conflict, disaster and disease, no matter where they are, no matter what the conditions. We also train people in their communities, providing them with the skills they need to recover, chart their own path to self-reliance and become effective first responders themselves.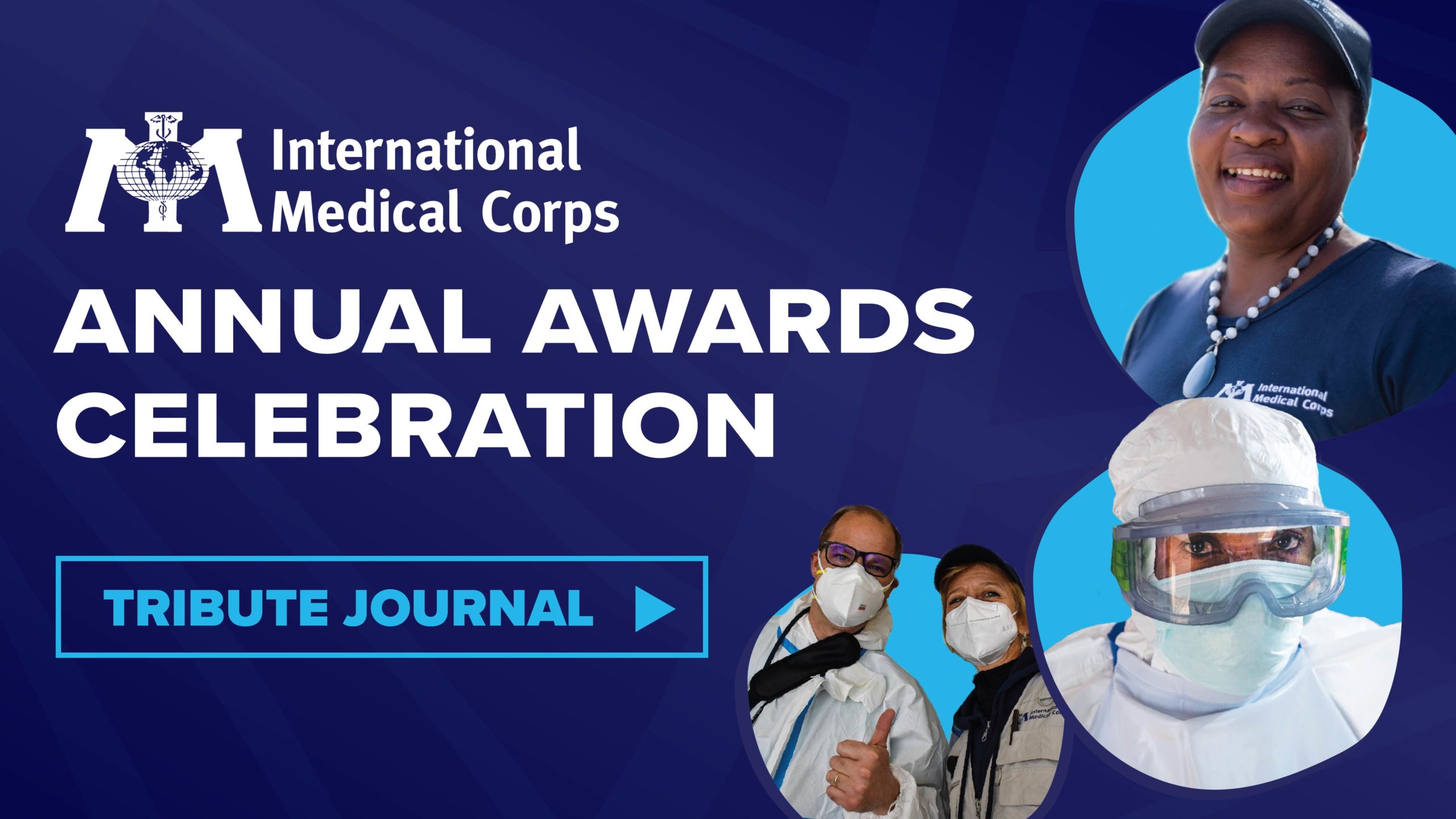 Thank you to our sponsors for their support of International Medical Corps and this year's Annual Awards Celebration.
Thank you to our sponsors
Visionary Humanitarians
Andrew and Avery Barth
Joan A. Payden
Anthony & Jeanne Pritzker Family Foundation
Distinguished Humanitarians
Bronfman Hauptman Foundation
Edward J. Carpenter
James and Susan Hart
Lockton Insurance Brokers LLC
Payden & Rygel
Sony Corporation of America
Honored Humanitarians
Musaed N. Al Saleh
American Group
Laurie Cappello and David Nochimson
The Global Bridge Foundation
JPMorgan Chase Foundation
Karsh Family Foundation
The Van Konynenburg Foundation
David and Claudia Zuercher
Humanitarians
Breslauer, Rutman & Anderson LLC
Pamela Buffet
CHUBB
City National Bank
Richard and Alison Crowell
Earth Council Geneva
Kathleen M. Eckert
Arnold and Judy Fishman
Rob and Shari Friedman
Gonring | Lin | Spahn
David and Sandra Lee
LIONSGATE
LSP Family Foundation
Aaron and Tanya Perlmutter
Ambassador Rockwell and Marna Schnabel
Sandy Sewell and Family
Skin Resources
Wendy Wachtell and Robert Graziano
Weingart Foundation
Partners
Philip and Kathleen Holthouse
Mark and Cathy Louchheim
MUFG Union Bank Foundation
Catherine and Hans Ravenborg
Jonathan and Lynn Rosenthal
Gary and Cathy Rozek
Mickey Kantor and Heidi Schulman
Mark Sutherland
Friends
Monica Alvarado
Nancy E. Baldwin
Suzanne Deal Booth
Myles and Eleanor Cohen
Susan P. Dilday
Debbie Fisher
ForwardPMX
Stan and Abbie Golden
James Hyman and Leslie Weisberg
Gerald L. Katell
Stacey and Larry Kohl
J. Christopher and Jennifer Lewis
The Mark Zurack & Kathy Ferguson Foundation
Augie and Lynne Nieto
Honorable Vicki Reynolds Pepper and Murray Pepper
Andy Spahn and Jennifer Perry
Dan and Bobbie Struve
Larry and Gina Thomas
Allison and Gregory Thomsen
Bruce and Gretchen Willison
Jeff Ziarko
Donors
Elaine and Philip Benditson
Thomas and Karen Binder
Mark Brown, M.D.
Audrey Cope
Jerry and Bobbi Dauderman
James Donlon
Pete Delino
Lisa and Howard Fleiner
Andrew Frank
Debbie Gibson
Maryellen Gleason
Lynda Huey
Jonathan Jackson
Jerry and Terri Kohl
Robyn Leyden
Jeff and Laura Lipson
Stephanie Lomibao
Ann Matz-Tirado
Lee and Margo Nicholas
Marian Oppenheimer
Pamela Popovich
Michele Raphael
Larry Safady
Leslie Shapiro
Cassandra Shivers
Marta Vukovich
Helena Yli-Renko
Special Thanks
AbbVie Inc.
FedEx Corporation
Nikki Glaser
Jaclyn and Ben Harper
Maz Jobrani
David Koechner
Sanaa Lathan
Linkin Park
Sienna Miller
Jarl Mohn
Yvonne Orji
Wendy Wachtell and Robert Graziano
Thank you for celebrating healthcare heroes.
Supporters like you make our work possible. Every unrestricted dollar you donate to International Medical Corps can unlock an average of $30 in grants and gifts of medicines and supplies worldwide each year.
Guest Book sign-in
Please enter your name and email to join the event.