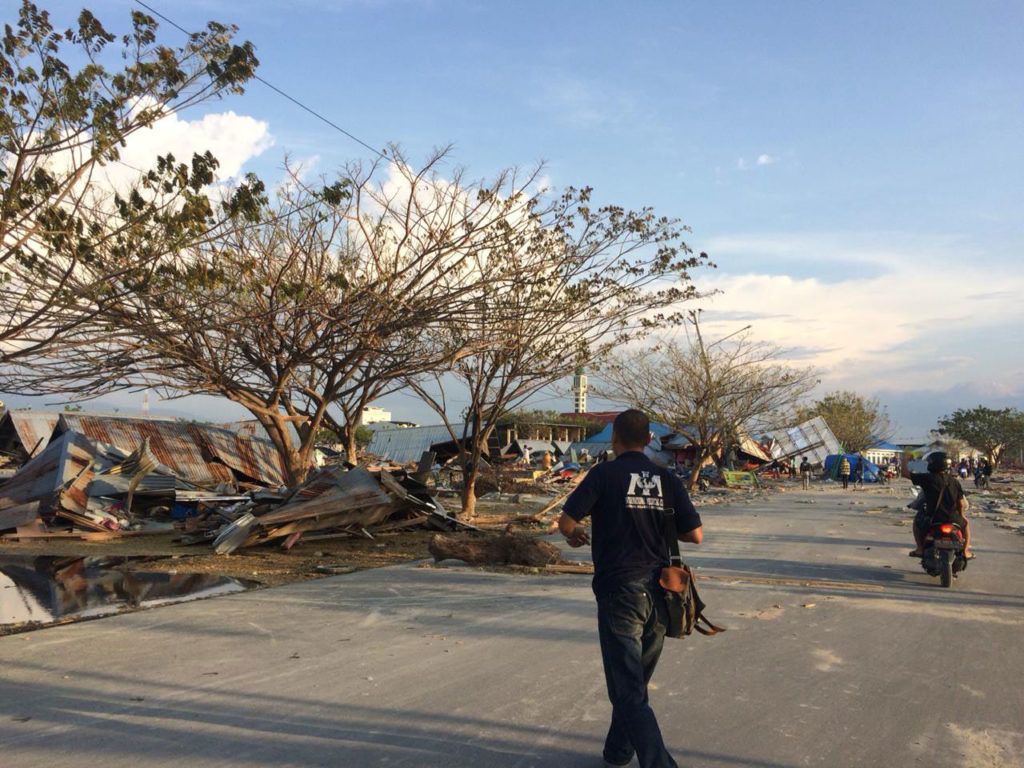 Your support will save lives
"My family and I were in the house. My wife and I tried to run out of the house while hugging our two children." – Ivan Putiray, earthquake survivor and International Medical Corps Emergency Response Team member
International Medical Corps' Emergency Response Team is on the ground, coordinating with national and local actors in Jakarta and working with our staff in Palu to assess the most urgent needs following a series of powerful earthquakes that struck the Indonesian island of Sulawesi on Friday, September 28th.
The largest quake, a powerful magnitude 7.5, shook the region at 5:02 p.m. local time, triggering a tsunami that hit nearby coastlines, including the coastal city of Palu. The massive earthquake was centered about 35 miles northeast of Donggala and 50 miles north of Palu, which have a combined population of more than 600,000 people. Indonesia's National Board of Disaster Management (BNPB) estimates that 2.4 million people have been affected by the earthquake and tsunami. Reported needs include shelter, clean water, food, fuel, medicines and medical personnel.
One of our Emergency Response Team members, Ivan Putiray, recalled the terrifying moment the earthquake hit Palu.
"We managed to get out and after the quake stopped, I saw the roof of the terrace and the dividing wall of my house had collapsed. After that, water mixed with mud began to come out from cracks on the streets in my housing complex.
"When we managed to reach the highway, we saw an incredible panic that we didn't understand until we saw two women coming out of the crowd with bodies covered in mud. It turned out that the land in front of the highway, which was 500 meters away from our house, had risen over the roofs of the houses and drowned several villages…
"The situation was becoming eerie and tense because it was getting dark and the night was coming, while electricity and the telephone network were dead. People were running around in fear and in confusion…"
Imagine that this happened to you and your family. Where would you turn for help, with no shelter, no food or water, no electricity and phone—with night rapidly falling?
The quake and resulting tsunami devastated Palu and the surrounding area, leaving more than 1,400 dead, thousands severely injured and some 70,000 people displaced from their homes. An estimated 2.4 million people have been affected, and officials expect the death toll to rise as search-and-rescue teams conduct their work and news arrives from remote and difficult-to-access areas.
Initial reported needs include medical care, water, sanitation and hygiene, mental health and psychosocial support, temporary shelter and food. International Medical Corps is coordinating with local partners on the ground to reach those most affected with immediate relief, while planning for longer-term recovery.
You can help us help others. You can make a difference—your emergency donation will help us get survivors lifesaving care as quickly as possible. Please give today.
Help People Affected by the Tsunami in Indonesia