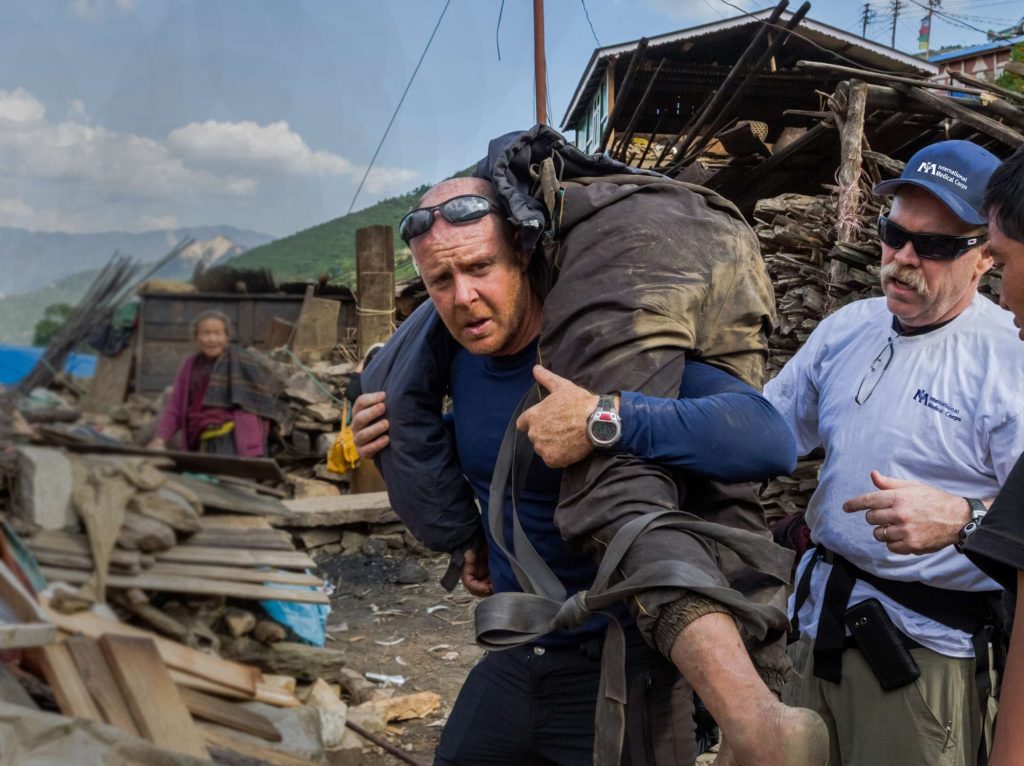 Corporate Responders
International Medical Corps' Corporate Responders are an active community of diverse organizations united in their desire to be part of the most effective responses to an array of disasters around the world, from headline-grabbing natural catastrophes to the less talked about—but no less devastating —slow-onset emergencies.
The Corporate Responders program forms a true partnership.
We work with each partner to identify the situations and interventions that mean the most to the organization and its stakeholders. Partner companies receive access to emergency-situation reports, enhanced opportunities to engage employees and easy ways to provide emergency support before or after a crisis.
Corporate Responders have the option to: contribute essential funds on an annual basis designated solely for International Medical Corps' emergency response team, to expedite support once we have declared our response to a disaster or to simply be kept informed of our ongoing work around the world relieving the suffering of those affected by war, natural disaster and disease.
---
Our Corporate Responders
---
International Medical Corps Corporate Responders benefit from:

Ongoing disaster-related information and communication
We keep all of our Corporate Responders engaged and updated on existing and emerging emergency situations around the world. When possible, our frontline field staff who are actively involved in response initiatives can participate in livestreams with company employees and other stakeholders to provide real-time updates on our relief efforts.

Engaging employees around emergencies
As companies and their employees work together to fundraise for emergencies, such as the 2015 Nepal earthquake or 2018's Hurricanes Florence and Michael here in the U.S., International Medical Corps works with its Corporate Responder partners to create opportunities customized for employees. These include providing a tailored microsite that makes it simple for employees to donate and feel connected to a common cause. For companies that provide gift-matching, the site simplifies the process by producing reports that demonstrate fundraising progress. We can also create custom "thank you" e-receipts when an employee makes a gift via a giving microsite.

Engaging employees around volunteering
We work with Corporate Responders to help mobilize their employees throughout the year, and bring our partnership to life. We collaborate with Responder companies to stage "kitting events," where critical supply kits (an essential part of International Medical Corps' emergency-response relief efforts) are pre-assembled by teams of employees. These events can range in size from a minimum of 30 up to hundreds of participating employees.

Updates from the field
International Medical Corps offers our Corporate Responders timely updates from the field, as well as inspiring stories of disaster rescue, relief and recovery made possible by their support. These can take various forms, including tailored multi-media updates involving video, photographs and reports from our emergency response team.

Events
International Medical Corps' professional staff can be available to participate in Corporate Responder company events, where they highlight the organization's partnership with us, provide insights on specific emergency situations and approaches to global disaster preparedness and response, and share stories from the field about our work. With more than 7,000 staff around the world, we are able to engage with employees and other key stakeholder groups internationally as well as domestically through localized presentations, "lunch-and-learn" events and other means of conveying information.
---
Ways to Be Involved
Being a part of International Medical Corps' Corporate Responder community is simple. We simply ask that each Responder identify at least one company representative to join our roster of emergency contacts, so that we can efficiently provide the Corporate Responder with updates from the field, as well as options for involvement during emergency responses.
---
Ways to Support Our Emergency Response Work
In addition to facilitating partnerships with International Medical Corps whenever disaster strikes, the Corporate Responder program gives participating companies the opportunity to play a deeper role in our domestic and global emergency-response efforts, including exploring various growth and innovation options in relation to disaster preparedness and response, and pre-positioning funds that underwrite and enable us to maintain capacity. The fund opportunities are:

Humanitarian Fund
For a minimum investment of $100,000 in International Medical Corps' Humanitarian Fund, Corporate Responders can support our Emergency Response Team as it builds and maintains its capacity as an eff­ective, preeminent disaster responder. The Fund also enables us to improve current approaches to emergency preparedness and action. We can work with Corporate Responders to ensure that their Humanitarian Fund investment is directed to something that resonates with their core interests. Our priorities include staff training, investing in cutting-edge technology and systems that enhance our ability to provide timely, life-saving responses, and more.

Emergency Response Rapid Deployment Fund
Corporate Responders can invest a minimum of $200,000 in International Medical Corps' emergency reserve fund. At the next disaster, we will coordinate with each Responder in order to use their gift appropriately. The Rapid Deployment Fund is a proven way to both ensure that resources are readily available in the earliest stages of a disaster – when lifesaving work is the most critical – and that decisions can be expedite in the midst of quickly evolving emergency situations.
---
To learn more, contact:
Brian Scheel
Director, Strategic Partnerships
BScheel@InternationalMedicalCorps.org