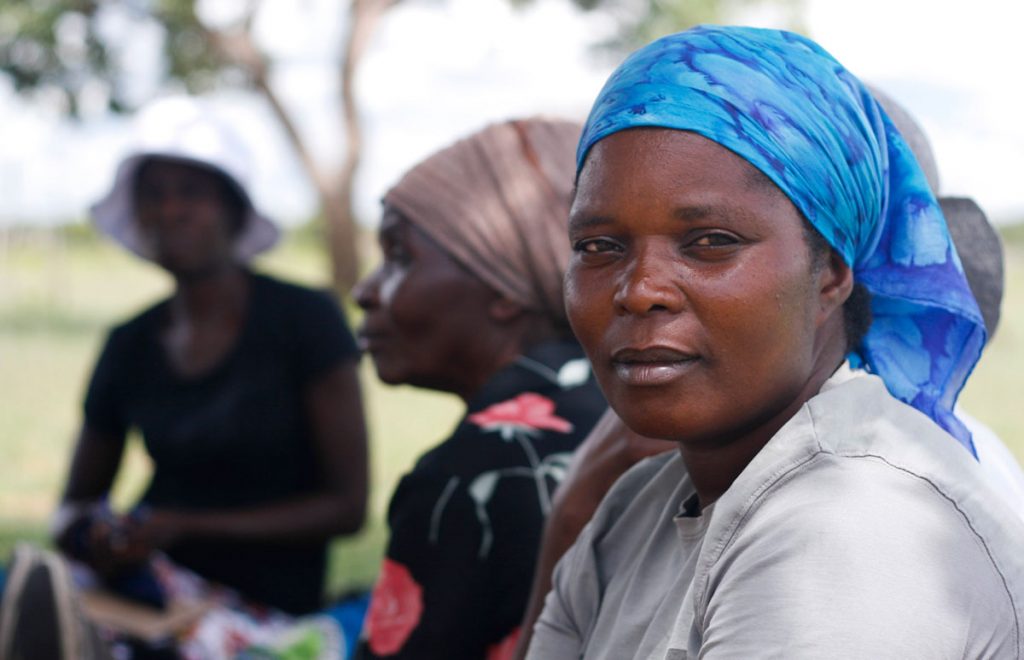 Amid a decade of economic decline in Zimbabwe due to ongoing drought and, more recently, the COVID-19 pandemic, International Medical Corps has delivered quality health and nutrition services to vulnerable populations in food-insecure rural areas, contributed to improved nutrition and helped reduce the spread of waterborne diseases by improving water, sanitation and hygiene (WASH) practices.
International Medical Corps began working in Zimbabwe during the 2008–09 cholera epidemic, implementing a comprehensive package of health, water and sanitation interventions for affected populations. In 2013, in response to food and nutrition insecurity in the country's southern region, we expanded our health and nutrition activities as part of a US Agency for International Development Food Assistance Program, serving more than 66,000 community households. Today. as COVID-19 threatens to further exacerbate food insecurity, we continue to provide nutrition and WASH support to underserved communities, with a focus on vulnerable mothers and children.
International Medical Corps has so far supported health workers across 78 health facilities in 14 districts, including nine district hospitals in Zimbabwe.
Mortality Rate under 5
54 deaths
per 1,000 live births
The Challenges
Food Insecurity
Fuel prices, now among the word's highest, are driving up the prices of both food and non-food consumer items, adding to food security concerns.
Malnutrition and High Mortality Rates
15 districts report a global acute malnutrition rate of more than 5%, and two districts above 8%.
Poor Water, Sanitation and Hygiene
24% of the population does not have access to safe water sources, leaving them vulnerable to outbreaks of diseases.
Our Response
Nutrition and Food Security
From 2013-2020, International Medical Corps has promoted Care Groups and Community Health Clubs through the USAID-funded Amalima program in Tsholotsho, Bulilima, Mangwe and Gwanda districts. Through the "Care Group" approach, International Medical Corps trains community health workers and lead mothers to support families in adopting recommended IYCF and other care practices, which are particularly critical during a child's 1,000 first days of life to prevent chronic malnutrition. In 2020, we further introduced the Care Group approach in Lupane, Hwange, Binga and Nkayi, four new districts in the drought-stricken Matabeleland North province. Care Groups impart nutrition knowledge, practices and skills, and promote the consumption of nutritious, locally available foods for improved maternal and child health. To date, we have reached more than 102,000 people through Care Group training sessions.
Healthcare Worker Training
International Medical Corps provides intensive training to district-level health staff and village health workers on the management of acute malnutrition, prevention of chronic malnutrition, nutrition surveillance, promotion of hygiene and risk-informed WASH. To create a more comprehensive emergency response network, International Medical Corps also trains village health workers on good maternal, infant and young-child feeding (IYCF) practices, and hygiene promotion.
Water, Sanitation and Hygiene (WASH)
International Medical Corps works to address the challenge of poor hygiene practices and a lack of environmental health education in Zimbabwe. In some villages in Matabeleland South, a single borehole serviced more than 250 people; in others, less than one-third of the community had access to a functional latrine before we intervened. Thanks to our efforts, 71 boreholes have been rehabilitated and more than 20,000 community members have gained access to clean, safe water since 2018. In addition, 22,211 community members have been trained on participatory health and hygiene promotion to date.
The Power of Clean Water
The people of the San community from Mtshina village in Tsholotsho district were traditionally hunter-gatherers. Recently, they have settled around the Plumtree area of Matabeleland, Zimbabwe. As relatively new arrivals in the region, community members try to earn a living through casual labor in neighboring villages—but they often remain marginalized. Children from the village would frequently suffer from illnesses, including diarrhea, skin infections and bilharzia, which would make them urinate blood. Few in the village understood that these conditions were related to poor water, sanitation and hygiene practices.
READ MORE
Our Impact
84,777
pregnant and breastfeeding women served as of June 2020
20,000
community members have gained access to clean, safe water since 2018