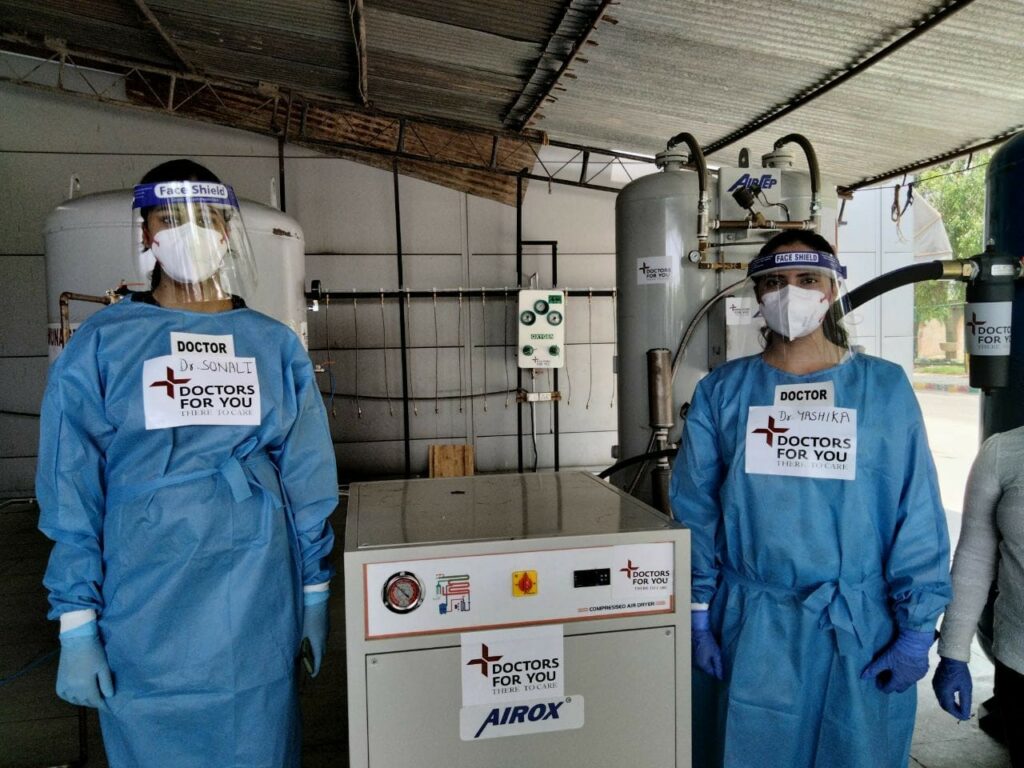 Though the country of India is about one-third the size of the United States, it contains more than four time more people, two-thirds of whom live in suburban and rural environments, with about half the population engaged in small-scale farming. Though economic progress in recent decades has helped turn the country into a regional power, it still suffers from widespread poverty, as well as from threats caused by natural disaster and disease.
India's first wave of COVID-19 peaked in September 2020, when the country was experiencing nearly 100,000 cases each day, placing enormous stress on an already weakened health system. However, by late 2020, daily cases had steadily declined. The country's initial vaccination drive, among the world's largest and most ambitious, began in January 2021. Residents relaxed, and COVID-safe practices such as social distancing were eased. Though some states remained cautious and continued to prepare for a possible second wave, no part of the country was prepared for the devastating second wave that began sweeping through the country in March 2021.
By May, there were hundreds of thousands of confirmed cases and thousands of deaths each day, overwhelming the already weakened healthcare system and leading to an acute shortage of medical oxygen—which is vital for treating infected patients—as well as basic medical supplies and hospital beds. Morgues were overwhelmed, with cities resorting to mass cremation.
The government has subsequently launched a renewed effort to vaccinate all adults, with a target of 950 million people vaccinated by the end of 2021. However, the pace of the vaccination campaign has faltered due to shortages of vaccines and various logistical hurdles, including lack of cold-chain storage, supplies and transportation. Experts and government officials continue to warn against complacency, especially since many rural areas are still reporting a high number of cases.
68.7/71.5 (men/women)
LIFE EXPECTANCY
39.6 deaths per 1,000 live births
INFANT MORTALITY RATE
The Challenges
Population Density
India's large population and high rates of poverty mean that people tend to be crowded together, often in unsanitary conditions—meaning that infectious diseases can spread easily.
Poverty
Despite rapid economic growth in recent decades, more than one-fifth of the population lives in poverty, which is often exacerbated by environment degradation.
Environmental Threats
Population density that overstrains natural resources has led to deforestation, a lack of potable water due to sewage and agricultural runoff, and flooding caused by monsoonal rains.
Our Response
International Medical Corps has partnered with local partners Doctors For You (DFY), the Sustainable Environment and Ecological Development Society (SEEDS) and VisionSpring to enhance critical-care capacity, strengthen infectious-disease preparedness efforts at healthcare facilities and boost vaccination efforts, particularly in rural areas. So far, we and our partners have distributed more than 1,400 items of critically needed oxygen supplies and equipment—including oxygen plants, cylinders and concentrators to address the severe shortages of medical oxygen in country—as well as personal protective equipment (PPE) to support 50 healthcare facilities and COVID-19 treatment centers across 17 states.
In addition to our efforts in India, International Medical Corps is working with the Public Health Concern Trust (PHECT) in Nepal to strengthen critical-care capacity at healthcare facilities in Kathmandu Valley, where some 40% of new infections have been recorded.
Moving forward, International Medical Corps and our local partners will continue to procure and distribute additional oxygen equipment and supplies, PPE, medical consumables (including syringes, needles, sutures and tubing) and essential medications to support patients with underlying medical conditions, such as diabetes, that lead to a higher risk for serious complications from COVID-19. We also will continue to procure and deliver essential supplies and equipment—such as cold-chain storage, vaccine carriers and mobile vaccination units—to strengthen mass vaccination campaigns in rural areas.