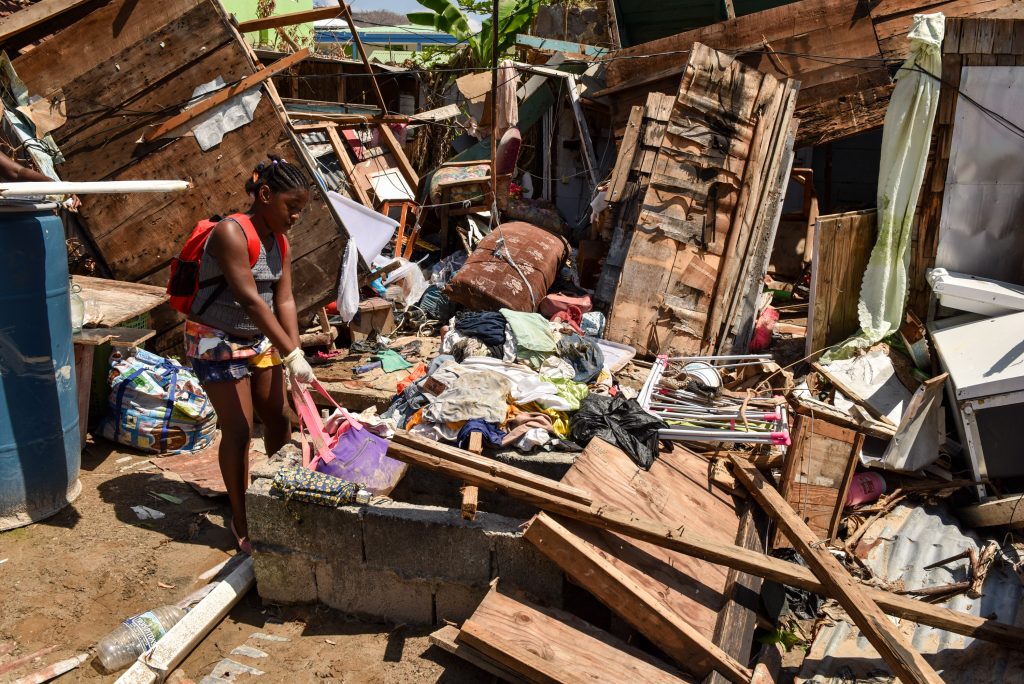 Category 5 storm Hurricane Maria struck Dominica on September 18, 2017 with brutal force, as the worst natural disaster ever recorded for the tiny Caribbean island nation.
Every single one of the island's residents was affected, with thousands of families left homeless and almost 3,000 moving to temporary shelters. One of the poorest countries in the Caribbean with a population of 73,000, Dominica sustained over a billion dollars of damages from the deadly storm, including to roads, homes and health facilities, as well as to natural resources and agriculture.
International Medical Corps has been responding in Dominica since the storm hit with health care; water, sanitation and hygiene (WASH) services; mental health and psychosocial support (MHPSS); and logistics support.
Hurricane Maria made landfall on the southwest coast of Dominica on September 18 as a Category 5 hurricane with 160 mph wind speed.
Dominica is one of the poorest countries in the Caribbean.
The World Bank estimates Dominica's total damages and losses from Hurricane Maria to be $1.3 billion, or 224% of the nation's GDP.
The Challenges
The hurricane left thousands without access to clean drinking water, raising health and sanitation risks.
Hurricane Maria destroyed homes and damaged the tourism sector on which many people depend for their livelihoods.
In the aftermath of disaster, mental disorders rise due to the stress and trauma of displacement and loss.
Our Response
Emergency Medical Relief
International Medical Corps volunteer medical teams comprised of doctors and nurses deployed to some of the hardest hit and most heavily populated areas of the island in St. John and St. Andrew's parishes—home to a combined 18,000 people. Our teams supported hospitals and community health clinics, relieved overworked staff, and made home visits to vulnerable households, including the elderly and single-headed households. At the same time, we partnered and facilitated the deployment of pharmacists who worked in close collaboration with the Ministry of Health's Central Medical Store and the Pan American Health Organization (PAHO) to help restore the pharmaceutical supply chain in Dominica.
During the initial emergency response, International Medical Corps volunteer teams conducted 764 patient consultations, covering 101 shifts in 11 clinics and hospitals. Through a second medical volunteer deployment (January-March 2018) conducted at the request of Dominica's Ministry of Health, International Medical Corps volunteers carried out 1509 consultations at Princess Margaret Hospital, covering 219 shifts.
Water, Sanitation and Hygiene (WASH)
International Medical Corps provided more than 1.1M liters of water to 8 targeted communities in Dominica, benefitting 1,740 people. To complement the distribution of clean drinking water, we rolled out a Community Health Worker program to conduct outreach and education to these communities on water, sanitation and hygiene (WASH) and health messaging, with a focus on hygiene promotion. To help families stay healthy with water systems down, International Medical Corps also distributed 7,552 individual hygiene kits to 18 affected communities with the assistance of Village Councils. We also worked with the Dominican Water and Sanitation Company to repair two main public water systems.
Mental Health and Psychosocial Support Services (MHPSS)
To support mental health needs, International Medical Corps, in collaboration with IsraAid and the Dominican Psychological Society, carried out its first psychological first aid training for national level Girl Guide leaders in December 2017. We trained 14 participants from across 7 localities; using this training, leaders will be able to support the mental health of their Girl Guide participants as these young women and girls recover. Meantime, our Psychological First Aid (PFA) trainings targeted community leaders in villages in St. John and St. Andrew parishes, with a total of 212 community leaders trained nationwide and 118 organizations supported by PFA training of staff. International Medical Corps also established and chairs a Mental Health Psychosocial Support (MHPSS)/Gender-Based Violence (GBV) working group in Dominica.
We Were There: Hurricanes in the Caribbean
Hurricane Irma was recorded as the 11th most intense hurricane in the Atlantic basin, maintaining maximum intensity for 37 hours and hitting the Caribbean the week of September 5th. Hurricane Maria followed less than two weeks later, traveling over Dominica on September 18th as a Category 5 storm, and later over Puerto Rico on September 20th.
Read more about our response
Our Impact
28,557
people supported by International Medical Corps to date
3,173
people benefiting from public water network repairs
7,552
individual hygiene kits distributed
2,274
patients received medical support from our volunteers