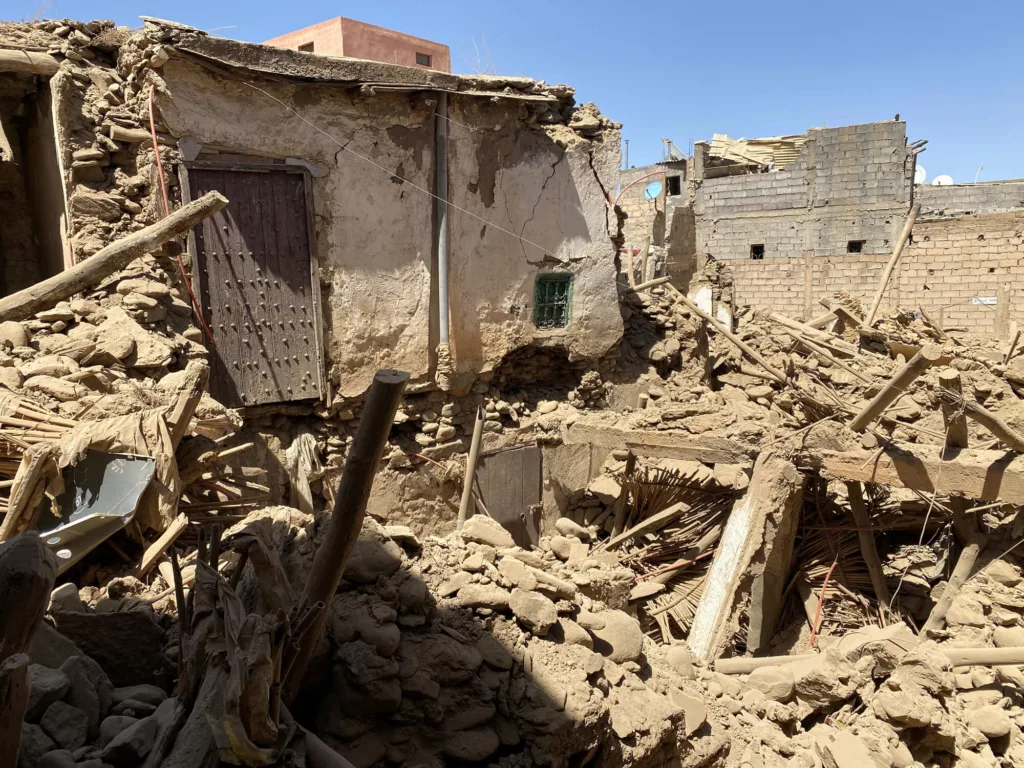 We are responding to the


Earthquake in Morocco
Late on Friday, September 8, a 6.8-magnitude struck a mountainous region of central Morocco, about 45 miles southwest of the historic city of Marrakech. The quake was followed by a series of powerful aftershocks.
Almost 3,000 people have been killed, thousands have been injured and tens of thousands have lost their homes. These numbers will likely rise as search-and-rescue efforts continue. Infrastructure—including power, water and, importantly, healthcare facilities—have been extensively damaged.
International Medical Corps immediately sent an Advance Emergency Medical Team to perform an assessment, and is working with local authorities and partners to coordinate response efforts in the areas affected by the quakes. We already have helped to distribute thousands of food and non-food items, including blankets and hygiene items, and will be expanding our response as needed.
The 6.8-magnitude quake was the country's deadliest since 1960 and its most powerful in more than a century
Because the quake was relatively shallow—only 16 miles beneath the surface—and near to population centers containing traditional mud-brick houses, its effect was especially devastating
Infrastructure, including healthcare facilities, has been widely affected, with loss of roads, bridges, water, power and communications
International Medical Corps has a long history of responding to sudden-onset disasters, and is working with local authorities and partners to help families affected and displaced by the quake
Help Families Affected by the Earthquake in Morocco
Donate today to provide medical and mental health care support to women, children and men displaced or injured by this catastrophic quake.
Give Now
Our Response to the Earthquake in Morocco
The devastating earthquake that hit 45 miles southwest of Marrakech on September 8 has upended the lives of everyone in the surrounding area, and presented challenges to providing humanitarian aid. For example, road blockages caused by the earthquake constrain the delivery of aid, as does the risk of landslides in challenging and mountainous terrain. Moroccan authorities are working quickly to remove blockages but last-mile efforts to reach remote villages remain difficult.
After the quake struck, International Medical Corps immediately deployed an Emergency Response Team (ERT) to coordinate response efforts in-country with local authorities and other humanitarian organizations. We are working with nonprofit organizations with an operational presence in Morocco to rapidly alleviate the suffering of earthquake survivors and support the recovery and reconstruction of affected areas.
Our initial efforts include providing hot meals and emergency supplies, including ready-to-eat foods such as canned fish, dates, milk and cheese; hygiene supplies such as toothpaste, soap and sponges; and blankets and mattresses.
We also are exploring additional local partnerships that will enable us to provide mobile health and mental health services in remote and hard-to-reach areas, especially among those who have been displaced by this disaster. We also will be focusing on providing clean water and modern hygiene services to help prevent the spread of disease among displaced families who may be crowded together in temporary shelters.