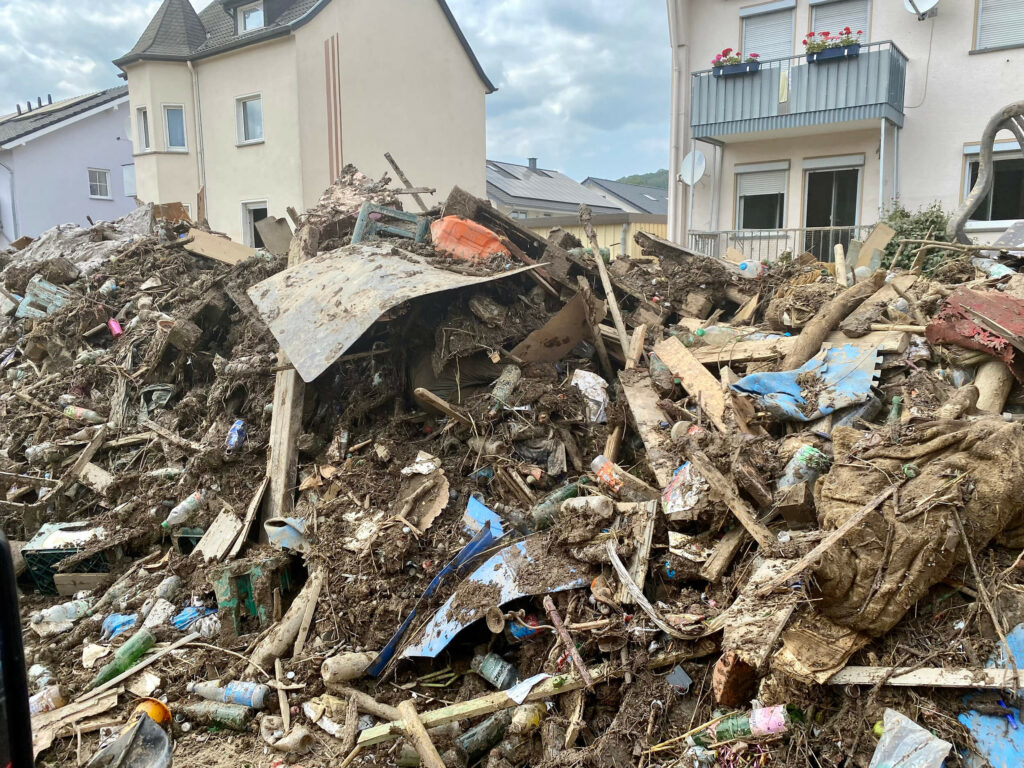 Responding to


Flooding in Europe
From July 12 to July 15, 2021, extraordinarily heavy rains swept across western Europe, causing devastating flooding in multiple countries, including parts of Germany, Belgium and the Netherlands.
In Germany, the hardest-hit country, more than 180 people died, many hundreds were injured, between 60,000 and 70,000 were displaced, and damage to buildings, utilities, and transportation and communications infrastructure was widespread. The cost of the disaster has been estimated by the German government at €30 billion, and the recovery process could take years.
The worst flooding in Germany occurred in Rhineland-Palatinate and North Rhine-Westphalia, while in Belgium—where more than 40 people lost their lives— the southeastern state of Wallonia was most affected. And though no casualties were reported in the Netherlands, the southern province of Limburg—which was hardest hit by the flooding—reported €400 million worth of damage, with more than 2,300 homes suffering flood damage.

Some of the worst-hit areas saw as much rain in 24 hours as they normally get in two months

As it was night when the most intense rain fell, many people were asleep and caught off guard as rivers rose and dams failed

In Germany, 184 people lost their lives; 42 people died in Belgium, where Minister of Home Affairs Annelies Verlinden described the flood as "one of the greatest natural disasters our country has ever known"
Supporting Flood Relief Efforts in Europe
From Clean Water to Cleaning Equipment
International Medical Corps immediately deployed a team to Germany and began working with partners—including long-time partner Luftfahrt ohne Grenzen (Wings of Help)—and local authorities to conduct damage and needs assessments and provide immediate assistance to the affected states. Given the destruction to water systems, homes and supplies, we began our response by focusing on providing food, safe drinking water, hygiene items, personal protective equipment (PPE) and additional non-food items for affected communities. We also have been supplying equipment to help with recovery and reconstruction, including tools, cleaning and clearing supplies, high-pressure cleaners, generators, dehumidifiers and range of power tools. We also supplied toys for children, as a means of psychosocial support during difficult times.
International Medical Corps and Luftfahrt ohne Grenzen have so far delivered close to 250 tons of relief supplies—secured in collaboration with private-sector companies in Germany—worth roughly €1 million, and are preparing further deliveries to affected areas. In moving forward with its assessment, the team is initiating relief activities in Belgium and the Netherlands, working with Aviation sans Frontiers Belgium, Aviation sans Frontiers Netherlands, Red Cross Societies and disaster-management teams from local authorities. In the immediate response phase we plan to distribute recovery supplies and equipment similar to deliveries already made in Germany.
Images of Flood Destruction and Recovery