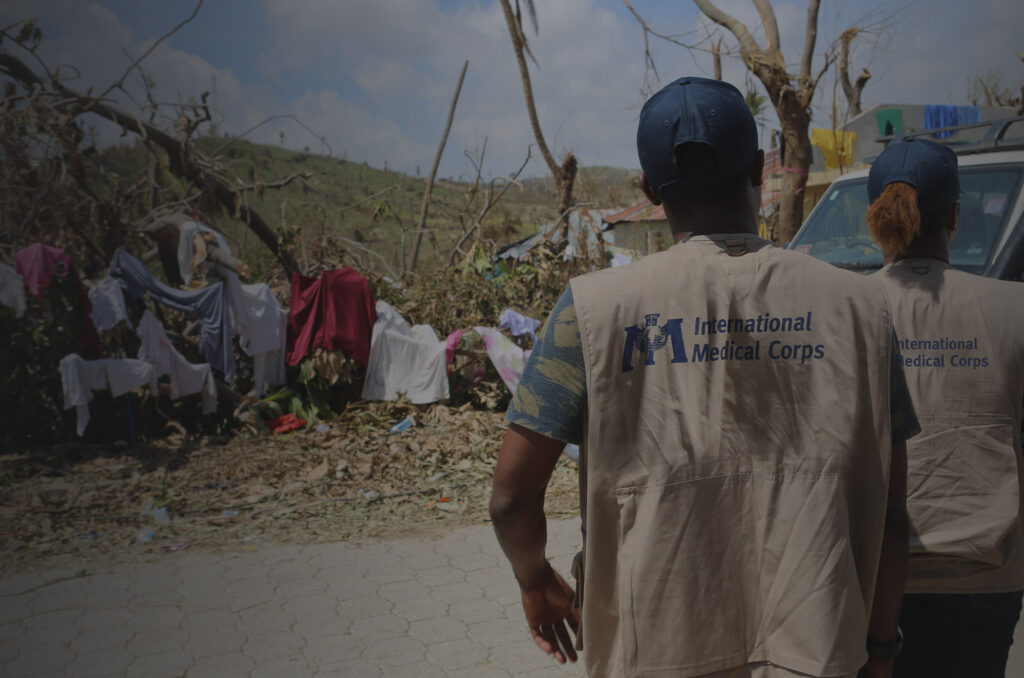 EARTHQUAKE IN


HAITI
We Have Deployed Our EMT to Help Those Affected by the Haiti Earthquake
On August 14, 2021, a 7.2 magnitude earthquake struck the Tiburon Peninsula in Haiti, a little more than 90 miles west of the capital, Port-au-Prince. International Medical Corps deployed our Fixed Type 1 EMT in response.
More than 2,200 people have died as a result of the quake, more than 12,000 have been injured and at least 136,000 buildings have been destroyed or damaged, making this the island nation's worst natural disaster since the 2010 earthquake that struck its capital city.
Les Cayes, Haiti's third-largest city, was closest to the quake's epicenter, and sustained much of the damage. According to UNICEF, a total of about 1.2 million people, including 540,000 children, have been affected by the quake, with relief efforts further hampered by tropical storms that have swept the area, creating flooding and disrupting access to water, shelter and other basic services.
Many thousands have been left homeless, and political unrest on the island, gang violence and insecurity have further complicated the humanitarian response. The country's health system, already fragile and overstretched as it battles the COVID-19 pandemic, has been overwhelmed by the disaster, which has created extensive need even as many health facilities were destroyed or damaged.

The 7.2-magnitude quake hit near the town of Petit-Trou-de-Nippes at about 8:30 a.m. local time. Strong aftershocks continued to shake the area for weeks afterward.

Because of the quake, more than 2,200 people have died, there are at least 344 missing, more than 12,000 have been injured and at least 136,000 homes have been damaged or destroyed.

National and international humanitarian partners have launched multi-sectoral response efforts in all quake-affected areas.

Though a humanitarian corridor has been established, security concerns remain a key challenge for those trying to provide aid to earthquake-affected areas.

At the request of international aid agencies and the Haitian government, International Medical Corps began deploying its Fixed Type 1 EMT facility on August 31, 2021, and was treating patients by September 2.
Our Emergency Response in Haiti
At the request of USAID's Bureau of Humanitarian Assistance (BHA), the Pan American Health Organization (PAHO) and the Haitian Ministry of Health—and with the support of FedEx—International Medical Corps deployed its Emergency Medical Team (EMT) facility, in its fixed configuration, to Acquin. With this facility, we are able to provide a wide range of outpatient services to a minimum of 100 people per day, and have been asked to provide medical care to people affected by the quake for up to three months. In addition to the self-sustainable health facility, the deployment includes a medical coordinator (who is an MD), two doctors, seven nurses and one pharmacist throughout the duration of the assignment.
Our team also includes medical, logistical, mental health and psychosocial support (MHPSS), and water, sanitation and hygiene (WASH) specialists, as well as support staff hired locally. During the deployment, International Medical Corps is providing such emergency health services as first aid, trauma, triage, wound care, and infection prevention and control; protection services, including consultations to prevent and address gender-based violence (GBV); and MHPSS services, including psychological first aid for survivors and, if applicable, specialized psychosocial activities and referrals for higher level of mental health care.
International Medical Corps was active in Haiti following the 7.0-magnitude earthquake that devastated the island nation in 2010, when our teams immediately provided a broad range of lifesaving services, including mobile medical units and WASH activities. Within the first two weeks, we provided roughly 350,000 medical consultations and established 13 primary health clinics in displacement camps and earthquake-affected areas. We also were one of the very first organizations to respond to an unprecedented cholera outbreak in Artibonite in the north (where the initial cases developed) in 2010, and in October 2016, when Hurricane Matthew hit Haiti, we once again provided emergency relief and medical care. We quickly initiated cholera treatment and prevention activities, and participated in the largest-ever emergency cholera vaccination campaign in history.
Help Provide Emergency Relief in Haiti
Your donation can save lives and help Haiti recover in the wake of recent disasters.
Donate today