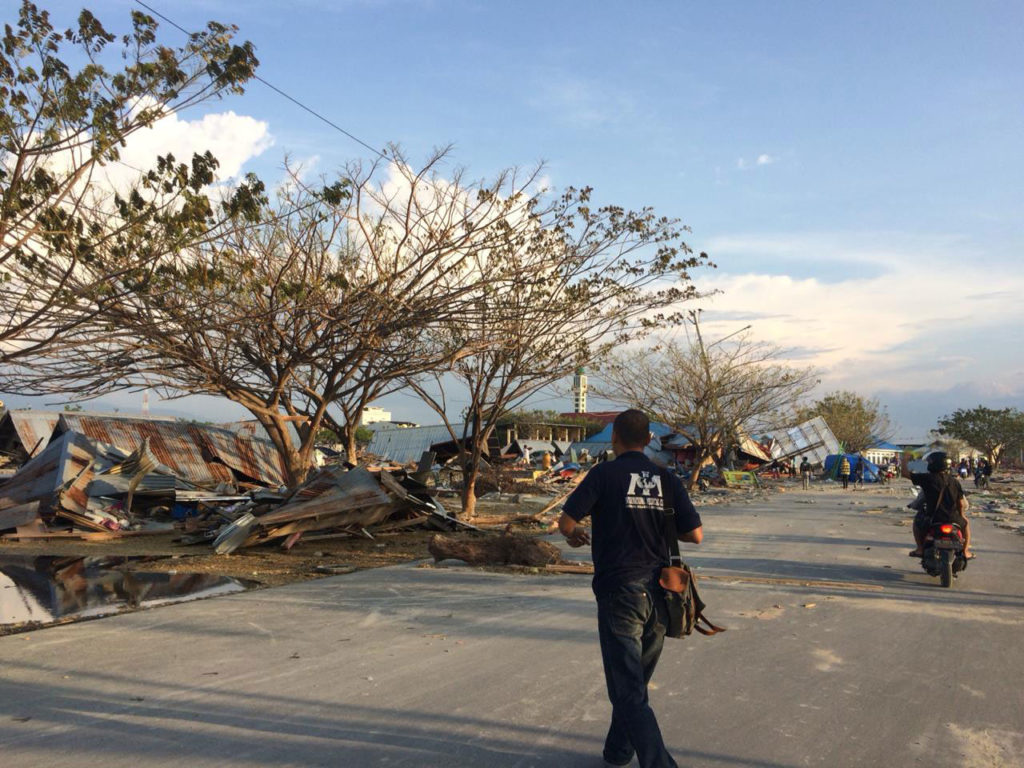 Indonesia Earthquakes & Tsunami
International Medical Corps' emergency response team is on the ground in Indonesia to support response efforts following a series of powerful earthquakes that struck the Indonesian island of Sulawesi on Friday, September 28, centered about 35 miles northeast of Donggala and 50 miles north of Palu, which have a combined population of more than 600,000 people. The largest quake, a powerful magnitude 7.4, shook the region at 5:02 p.m. local time, triggering a tsunami that hit nearby coastlines. Indonesia's National Board of Disaster Management (BNPB) estimates that 2.4 million people have been affected by the earthquake and tsunami, and man remain in need of shelter, clean water, food, fuel, medicines and medical personnel, and psychosocial support.
Thousands of houses and public facilities collapsed or were subsumed, killing more than 2,200 people, severely injuring almost 6,000, and displacing hundreds of thousands. Damage to roads, bridges and the airport in Palu, as well fuel shortages, continue to slow efforts to reach the most-affected areas.
Our emergency response team is in Palu and Jakarta assessing needs, mobilizing our network of partner organizations and implementing our response and recovery activities. We are coordinating with on-the-ground actors, governments and other agencies to provide shelter, mental health services and water, sanitation and hygiene services. Because of International Medical Corps' deep experience in the country, we can quickly mobilize staff and assets across a range of sectors as further needs are identified.
International Medical Corps first deployed to Indonesia in 2000, when we established an emergency healthcare program in North Maluku. We then expanded to other areas following crises in Maluku, West and Central Kalimantan, Madura Island, North and Central Sulawesi, and North Sumatra. In 2004, International Medical Corps was among the first international relief organizations to reach Indonesia's hard-hit Aceh region following the giant Indian Ocean tsunami. We provided a broad range of healthcare services—including emergency medicine, trauma surgery, and maternal and child health—in some of the worst-hit communities of that disaster, which claimed approximately 230,000 lives across the Indian Ocean region.
The situation remains fluid, so check back here often for more information—and to find out how you can help.
The largest quake, a powerful magnitude 7.4, shook the region at 5:02 p.m. local time on Friday, Sept. 28
The massive quake triggered a tsunami that hit nearby coastlines
Immediate needs include clean water, food, shelter, fuel, medicines, and medical personnel, and psychosocial support
More than 2,200 people are confirmed dead, with almost 6,000 severely injured or missing
The government estimates that more than 68,000 houses were damaged, and more than 223,000 people were displaced, forced to live in temporary camps
Frequently Asked Questions