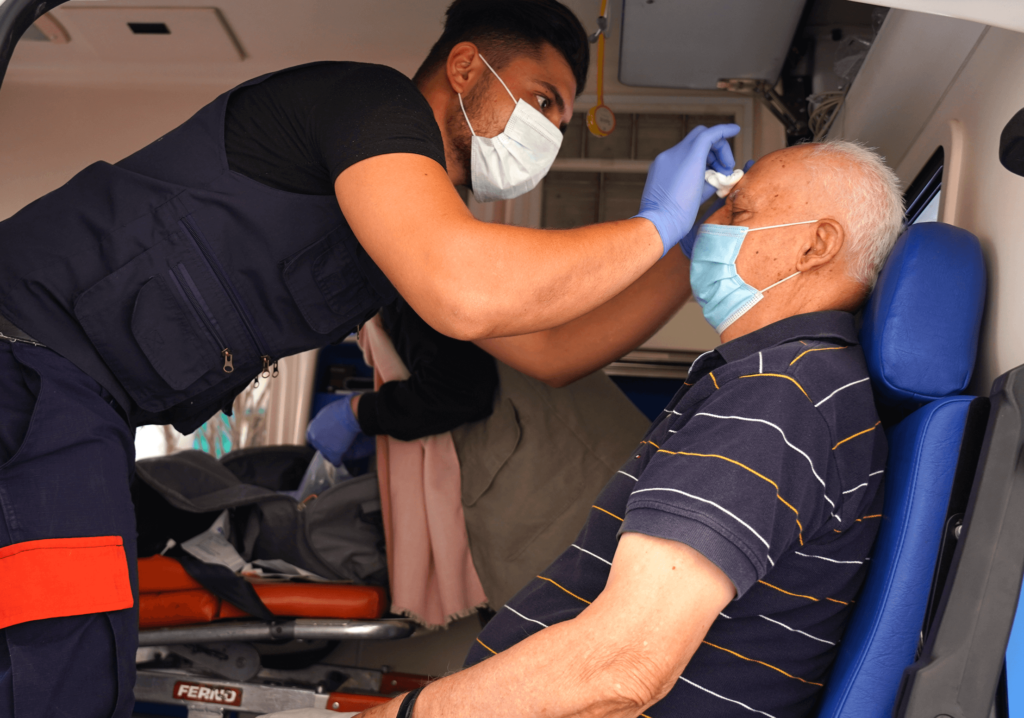 Explosion in


Lebanon
August 2020
The explosion in the port of Beirut was so powerful that it registered as a 3.3 magnitude earthquake, and was felt as far away as Cyprus.
International Medical Corps has launched an emergency response, coordinating closely with the government and other responders to quickly provide help to overwhelmed hospitals and health facilities. Our teams continue to mobilize urgently needed supplies and staff, quickly deployed mobile medical units to provide care to affected communities, and continue to provide mental health and gender-based violence prevention and treatment services to those affected by this catastrophe.
Response efforts have been complicated by the COVID-19 pandemic (which already was straining the health system), widespread power outages, and economic and political crises that have been affecting millions throughout the country for much of the past year.
International Medical Corps has been on the ground in Lebanon since 2006, providing health services to Syrian refugees and vulnerable Lebanese. We also have been responding to COVID-19 across the more than 50 health facilities we support. Though our offices were extensively damaged by the blast, our team members are safe, have found a new base to operate from and are continuing to work remotely to provide emergency and other services. Thankfully, because our warehouse and vehicles were not damaged, we are able to continue providing medical supplies to those in need.

On Tuesday, August 4, 2020 a massive explosion tore through Beirut, Lebanon, killing at least 220 people, injuring more than 6,500 and leaving some 300,000 homeless, including at least 100,000 children

At least six hospitals and 20 primary healthcare centers have been severely damaged, rendered partially or fully inoperable

International Medical Corps is working closely with other responders to provide help to hospitals and health facilities throughout the city

The team provided more than 1,200 medical consultations and 1,500 psychological first-aid consultations through mobile medical units that we deployed to highly affected areas of Geitaoui-Karm El Zeitoun, Mar Mikhael, Bourj Hammoud and Mdawar.
Frequently Asked Questions
Photo Gallery