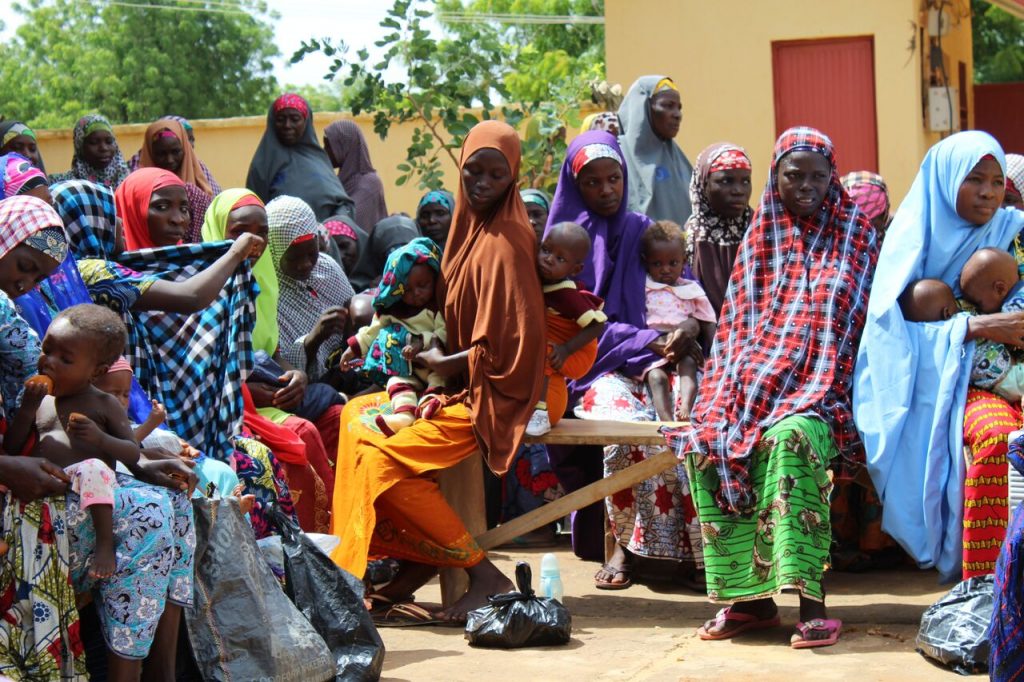 Conflict, Crisis and Hunger in


Northeast Nigeria
Conflict and food shortages in northeast Nigeria have created one of Africa's worst humanitarian emergencies, with more than 8.3 million people—80% of whom are women and children—estimated to be in urgent need of humanitarian assistance. Nearly 4.4 million people in northeast Nigeria face crisis-level food insecurity or worse.
Internal conflict has exacerbated this humanitarian crisis, forcibly displacing more than 2.4 million from their communities inside northeast Nigeria and driving more than 300,000 northeast Nigerians to take refuge in neighbouring countries. Because insurgents in Nigeria target the aid workers who provide essential nutrition services, food insecurity is a constant concern. In some areas, women and children face famine conditions if humanitarian aid does not reach them.
The insurgency also has spread to neighbouring countries—Cameroon, Chad and Niger—where violent attacks disrupt daily life and displace civilians. In these neighbouring countries, millions face food insecurity and millions are displaced from their homes.
In need of assistance
8.3

million

people in need of emergency assistance
Internally displaced
2.1

million

people are internally displaced
Food insecurity
4.4

million

face crisis-level food insecurity or worse
Frequently Asked Questions
The Challenges
Widespread Food Insecurity
One in three families is food-insecure, and one in every two people needs urgent humanitarian assistance
Crisis Levels of Malnutrition
Nearly 500,000 children suffer from acute malnutrition in the Lake Chad region—the vast majority of them in northeast Nigeria
Famine Potential
Less-accessible areas of northeast Nigeria, particularly Borno state, are at risk of potential famine conditions
Our Response
International Medical Corps is responding to needs involving nutrition, food security, protection, and water, hygiene and sanitation in conflict-affected communities in northeast Nigeria, serving IDPs and host-community residents. Our response includes distributing food to an estimated 171,000 people in Borno state, as well as providing treatment for malnutrition in conflict-affected communities. We also train local residents to serve as community health volunteers and community health extension workers, equipping them with the skills needed to screen children for malnutrition, administer treatment (including providing ready-to-use therapeutic food) and follow up on their progress.
In Cameroon, International Medical Corps is delivering emergency medical, nutrition and mental health services to Nigerian refugees in Minawao camp. We also are providing child protection activities and GBV prevention and response for women, girls and boys in the camp, which is home to some 56,000 Nigerian refugees. In addition, we are responding to the needs of Cameroonians displaced by ongoing violence in the Far North region of the country, providing them with medical care, nutrition services, disease surveillance, GBV prevention and protection activities, and access to water and sanitation.
In Chad, International Medical Corps collaborated with the Ministry of Health to provide health centres with primary healthcare, maternal health and nutrition support to more than 20 health facilities in the Lac region, where attacks from Boko Haram compromised the well-being of local communities. Our services included managing the nutrition stabilization centre at Bagasola Hospital and offering medical and nutrition services to Nigerian refugees in in Dar es Salam camp.