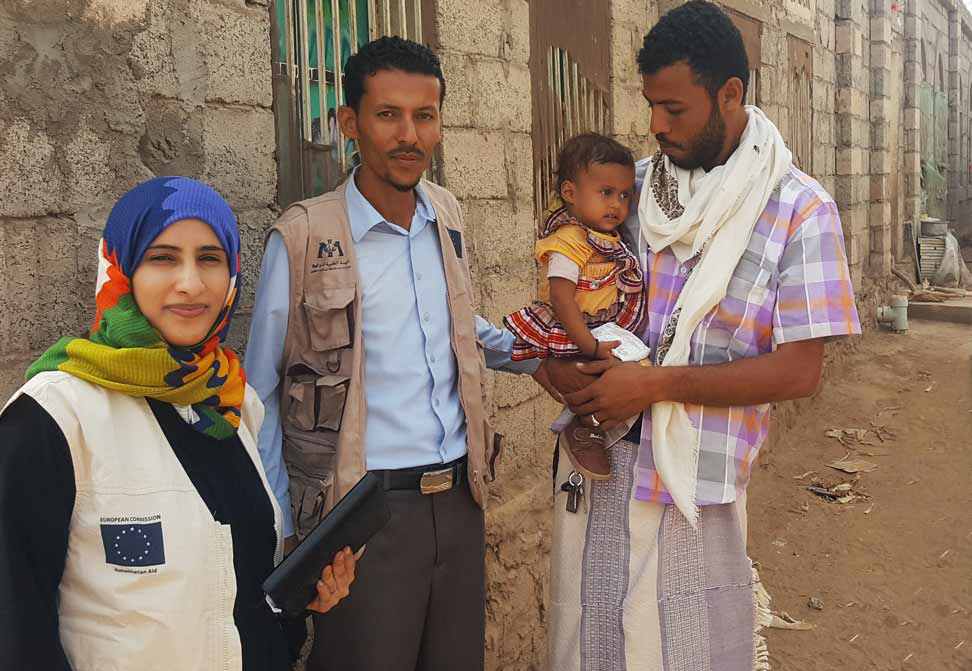 Cholera Outbreak in


Yemen
International Medical Corps is responding to control the world's largest cholera outbreak in Yemen. At its peak in the late summer of last year newly reported suspected cases were running between 4,000 and 5,000 a day, however in recent weeks, both the rate of newly reported cases and the fatality rate have declined significantly.
By late December, 2017, the World Health Organization reported  the total number of suspected cases had crossed the 1 million mark, citing  just over 1,005,000 cases. The outbreak extends over all but one of the country's 23 governorates. More than four in ten of those affected are children younger than 15. More than 2,200 deaths have been associated with the epidemic since it spiraled out of control in late April.
Concerns have risen further with a diphtheria outbreak that began in Ibb governorate last year and since November has spread to 18 governorates, involving over 380 people and causing nearly 40 deaths. Without the required vaccines and medicines needed to treat the disease, it has the potential to spread quickly because the bacteria is transmitted through the air by simple coughing and sneezing. The current siege of Yemeni air and sea ports threatens to worsen the situation by making it difficult to deliver needed medications in a timely manner.
Largest Outbreak
While cholera is endemic to Yemen, the current outbreak is the largest in recent memory
Civil War
Yemen's civil war complicates effort to control the outbreak and treat those affected
WASH
Half of Yemen's population of 27 million lacks clean water, sanitation and hygiene services, a condition that increased the risk of infectious diseases
Frequently Asked Questions
The Challenges
Limited Access
Civil war and the presence of well-armed militant groups such as Al-Qaeda make access to those in need of treatment both difficult in and dangerous
Ongoing Civil War
Now into its third year, the conflict has destroyed much of the country's basic infrastructure which had been fragile before the war began
Water, Sanitation & Hygiene
Half of Yemen's population lacks clean water, sanitation and hygiene services, increasing the risk of infectious diseases
Our Response
International Medical Corps moved quickly to implement treatment and prevention measures to contain the Cholera outbreak as it gathered pace. We began work in four of the most severely hit governorates that included the capital, Sana'a, the southern port city of Aden, as well as Taizz and Ibb. We have established Diarrhea Treatment Units and Oral Rehydration Points, distributed hygiene kits, water purification tablets, and IV fluids and expanded our operations to include the additional governorates of Lahj and Al-Dahlee.
International Medical Corps currently operates 33 oral rehydration points and supports two diarrhea treatment units and six diarrhea treatment centers in an area that spans six of the 21 governorates in Yemen affected by the cholera outbreak. We are providing essential medications and IV fluids to established sites, enabling them to extend quality services to cholera patients. We also continue to conduct awareness sessions about the dangers of Cholera and how to prevent it. Since the outbreak spiraled out of control in April of this year, we have supported a total of 100 Cholera treatment facilities.
International Medical Corps has already trained hundreds of Community Health Volunteers (CHVs) on cholera emergency response techniques and recently conducted refresher training for response, awareness and referral of suspected cases to Cholera Treatment Centers (CTCs) have been mobilized. In Aden, International Medical Corps has ongoing programs involving hygiene promotion and water, sanitation and hygiene activities. As part of the response, International Medical Corps plans to disinfect wells in locations not covered by potable water distribution.
In response to reports of a diphtheria outbreak in Ibb governorate, our Rapid Response Team in Yareem district will be proactively raising awareness, identifying cases and doing case management, including the provision of medicines to people impacted by diphtheria.
Help save lives in Yemen.