"When I am wearing my bracelet I feel like my sister is still with me." Amal couldn't walk when the tanks shelled her neighborhood. She had broken her back when the blast of an airstrike on the house next door threw her from the roof.
The 23-year-old recalls how her brother Munjid – a name which in Arabic means 'saviour' – scooped her up and carried her through the tobacco and cotton fields to safety.
"Tanks were shelling the houses. You didn't know where they'd hit – maybe your house, maybe your neighbour's. We decided to leave. Even moving from place to place was difficult because the village was surrounded. There was no time to pack our belongings. The only thing I took with me is my bracelet – it was a present from my sister."
Amal brought a bracelet from her sister, who is still trapped in Syria.
Amal eventually reached the relative safety of Sanliurfa in Southern Turkey, but the family became separated along the way and Amal's sister remained behind in Syria and is now in a village surrounded by ISIS. Amal explains that due to the weak internet connection she is only able to speak to her sister every two or three months. "I just need to hear her voice – just to see if she's still alive."
To this day Amal only takes off the black beaded bracelet during surgeries on her spine when the doctors ask her to and it is the first thing she asks for when the anaesthesia wears off. "The bracelet gives me strength. When I am wearing it I feel like my sister is still with me. She's in my thoughts all the time."
Since Amal started coming to International Medical Corps' rehabilitation centre her mental wellbeing and physical strength have improved. "To my physiotherapist I am not just a patient – we are friends. He accepts me when I'm angry, when I'm weak. Before I was always sleeping late I wouldn't exercise – I was very tired. Now I'm much better."
Amal was studying Farsi and finance before her injury made going to classes impossible, and she now dreams of going back to school. "If I could go back and take something again I would take my university books, but when the explosions begin you don't have time to think about what you will take."
---
"Bring my prayer beads, don't tell anyone that you're leaving…" Ahmad* was on his way to work when he got the call from his wife. Men from ISIS were at the house, and they were looking for him.
"I left immediately. I swam the Euphrates River to escape, stayed to pray at dawn at my cousin's house and then I left for Turkey."
When ISIS arrived in Deir al-Zour, Ahmad's only goal was to keep his family safe. All men in the area were called and ordered to attend a religious course – a prelude to being 'invited' to join the group. A fiercely independent tribal man, Ahmad abandoned the course after just three days.
By the time the black-clad fighters came to his house, he knew the consequences he faced if he returned home. "One guy I knew had gone to Turkey – when he came back ISIS beheaded him and hung his body with his head underneath. They made his father look at it for three days."
Terrified, frustrated and fearing for his family's safety, he knew his only recourse was to run. But things only got worse. The men returned, and began to beat his wife. "When I heard they were beating my wife I wanted to die – I knew if I went back I would be killed."
Desperate to save his wife and their twelve children, he arranged for a man with a minibus to drive across northern Syria to his house in Deir al-Zour.
"I called them with the plan – a car will pick you up in a couple of days. Don't tell anyone, not even my brothers that you're leaving." But he also gave very specific instructions on what they should bring from the palatial house with floor to ceiling marble he had worked so hard to build.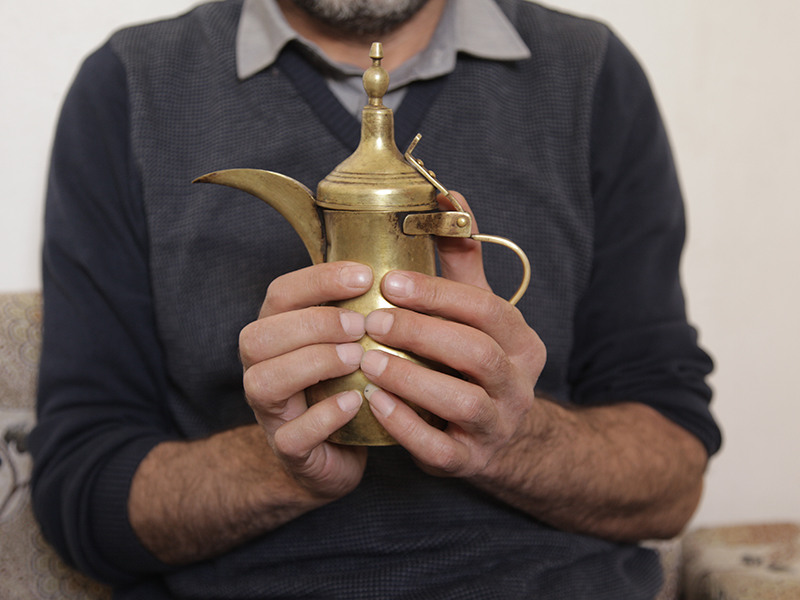 Ahmad* brought a coffee jug left to him by his deceased father.
"I told them, bring my father's coffee jug, and my prayer beads," he recalls, clutching the copper coffee jug bought 50 years ago in Aleppo. It's one of a set of seven – when Ahmad's dad died each of his siblings got one, with his the smallest of the set.
Ahmad's family managed to cross at Akcakale when the Mayor of the town took pity on the thousands of bedraggled and bombed out Syrians begging to cross to the safety of Turkey. Most of their bags were lost during the crossing, he says, but "'alhamdulillah' (praise God) the coffee jug made it through."
Ahmad says the conditions were horrific – seven children died in the crush as thousands of people pushed through a gap in the fence the size of a doorway. The driver of the minibus that took them to safety was later killed when ISIS discovered that Ahmad's family was missing.
To make money, he would later sell the antique prayer beads and some old American currency for $2,000. But he cannot bear to part with the coffee pot.
Ahmad's 17-year-old son was shot in the head during the fighting, but miraculously survived and was taken to Turkey for treatment. He now suffers from brain damage, but is working with International Medical Corps' rehabilitation team in Kilis to improve his condition.
*Names have been changed to protect the identities of those featured