Revisiting Flood Survivors in Pakistan
In response to last year's floods in Pakistan, we provided delivery kits to pregnant women to ensure a safe and successful childbirth. We also monitored the health of expectant mothers through regular visits, providing vital medicine and offering counseling.
Sapa and Jonjhi Bai are just two of the women who received delivery kits and medical support from International Medical Corps. As with the others, our teams followed up with them for months, providing medication and support during their journey toward parenthood. We're happy to say that both women delivered healthy babies.
Lifting Up Communities in Ukraine Through Art
International Medical Corps has a long history of working with people in Ukraine, directly and with local partner organizations, to provide mental health services to people in need. Our focus is on treating the unseen wounds of war.
Before the Russian invasion of February 2022, we implemented mental health support through mobile teams in conflict zones around Mariupol. Now, as the war has expanded, so have our operations—we continue to provide consultations through a variety of means throughout the country. For example, in Chernihiv, we provided essential emotional support through art activities that give participants a chance to relax and express their feelings in a creative, non-threatening way.
Providing Clean Water in Somalia
With five failed rainy seasons in a row, the number of households affected by the worst drought in decades continues to grow daily. The effects of drought, of flooding caused by infrequent and severe storms and of displacement, compounded by ongoing fighting between government security forces and insurgents, have left more than one-third of Somalia's 14 million people dependent on outside support for their survival and livelihoods.
As part of our overall water, sanitation and hygiene efforts in the country, we recently conducted hygiene promotion sessions and distributed 200 water survival boxes to people affected by conflict and drought in Jowhar. This lifesaving measure will prevent deaths and reduce the risk of water-related diseases in villages like Jowhar that have been overwhelmed by an influx of internally displaced people fleeing conflict.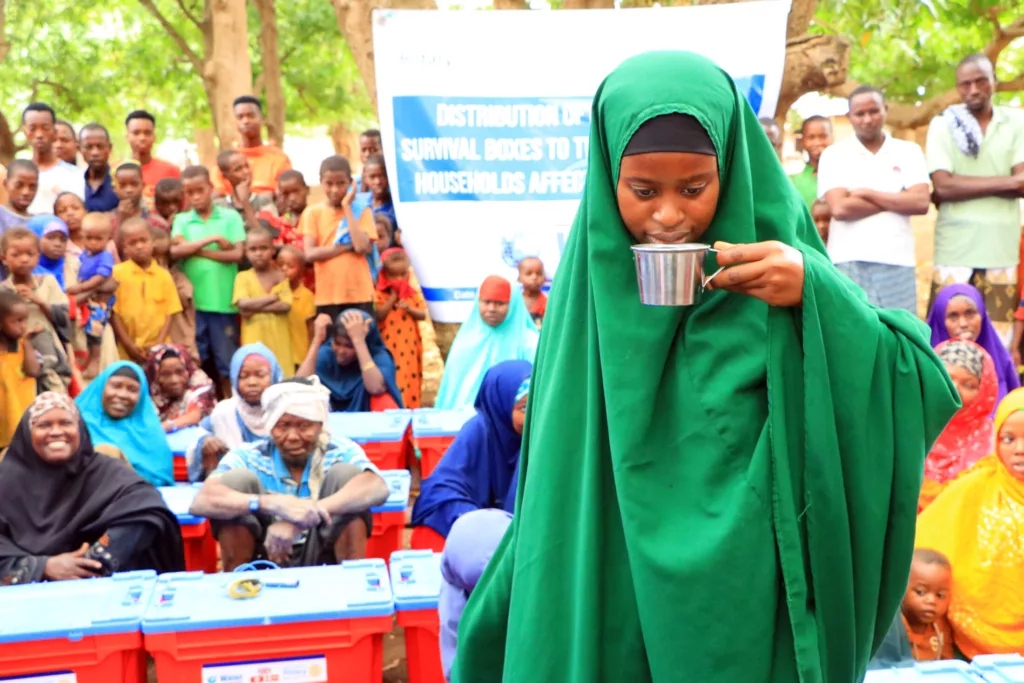 Donating Medical Equipment in Syria
On February 6, a series of powerful earthquakes struck Türkiye and Syria, killing more than 50,000 people and injuring many more. We have been providing services in Syria since 2008. Hours after the earthquake, we sent emergency response teams to Aleppo and Lattakia, two of the most affected areas, where some of the worst damage had been recorded.
We donated equipment for an entire surgical and intensive-care ward to a national hospital. With medical facilities continuing to face challenges following the quakes, we are working hard to ensure continuity of care for people in need by providing more resources.
Promoting Nutrition in Cameroon
We are working in refugee camps and with some of the most vulnerable populations in six regions in Cameroon — Far North, North, Adamawa, Northwest, East and Littoral — to implement health programs that include disease surveillance, nutrition activities, gender-based violence response, mental health support and child protection.
As part of its response to high malnutrition and food insecurity within the refugee populations in Cameroon, our nutrition team conducted a cooking demonstration to show mothers how to cook with locally available ingredients that provide their children with adequate nutrients.
Helping Victims of Conflict in Ukraine
On August 15, a ballistic missile attack on Chernihiv by Russian forces killed seven civilians and injured 156 others. The strike also damaged residential and administrative buildings. The injured were taken to different hospitals in Chernihiv—Regional Hospital, City Hospital 2 and 3, Central District and Regional Pediatric—all of which are health facilities that International Medical Corps has supported for more than a year with medicines, equipment and staff training. Despite the danger, International Medical Corps remains committed to helping Ukrainians both inside and outside of the country.
---
Learn more about International Medical Corps
Follow International Medical Corps on Facebook, Twitter, Instagram.
Are you a journalist looking for information?
International Medical Corps is a global first responder that delivers emergency medical and related services to those affected by conflict, disaster and disease, no matter where they are, no matter the conditions. We also train people in their communities, providing them with the skills they need to recover, chart their own path to self-reliance and become effective first responders themselves. Established in 1984 by volunteer doctors and nurses, we are a nonprofit with no religious or political affiliation, and now have more than 8,000 staff members around the world, 96% of whom are locally hired. Since our founding, we have operated in more than 80 countries, and have provided more than $4.2 billion in emergency relief and training to communities worldwide.
Our staff includes experts in emergency medicine, infectious disease, nutrition, mental health, maternal and infant health, gender-based violence prevention and treatment, training, and water, sanitation and hygiene, all within the humanitarian context.
To arrange an interview on or off the record, contact our Media Relations team at media@internationalmedicalcorps.org.