Sherifo Mohammed and her family ran for their lives back in 2010, away from the violent conflict in their home country of Somalia. They endured a tedious journey to cross the border into Ethiopia and eventually ended up in Bokolmayo refugee camp in the Dolo Ado region – home to the largest refugee population in Africa. Sherifo remembers seeing many children die while she was trying to survive in Somalia, not from bombs or guns, but from diarrhea and other common ailments. She didn't know then that these unnecessary deaths could have been avoided with a very simple solution.
That simple solution is handwashing with soap or ash. In an emergency, such as a natural disaster or a man-made conflict, hygiene is often overlooked which can easily lead to the spread of illness and disease, such as diarrhea. In fact, globally, one in five child deaths is due to diarrhea. Handwashing is one of the most effective and inexpensive ways to prevent diseases such as diarrhea. But for such an inexpensive, simple and important habit, handwashing with soap can be a difficult habit to adopt when poor hygiene practices are the norm and when there is limited access to soap and water. Also, when soap is not available it has been proven effective to use ash or mud before rinsing when handwashing.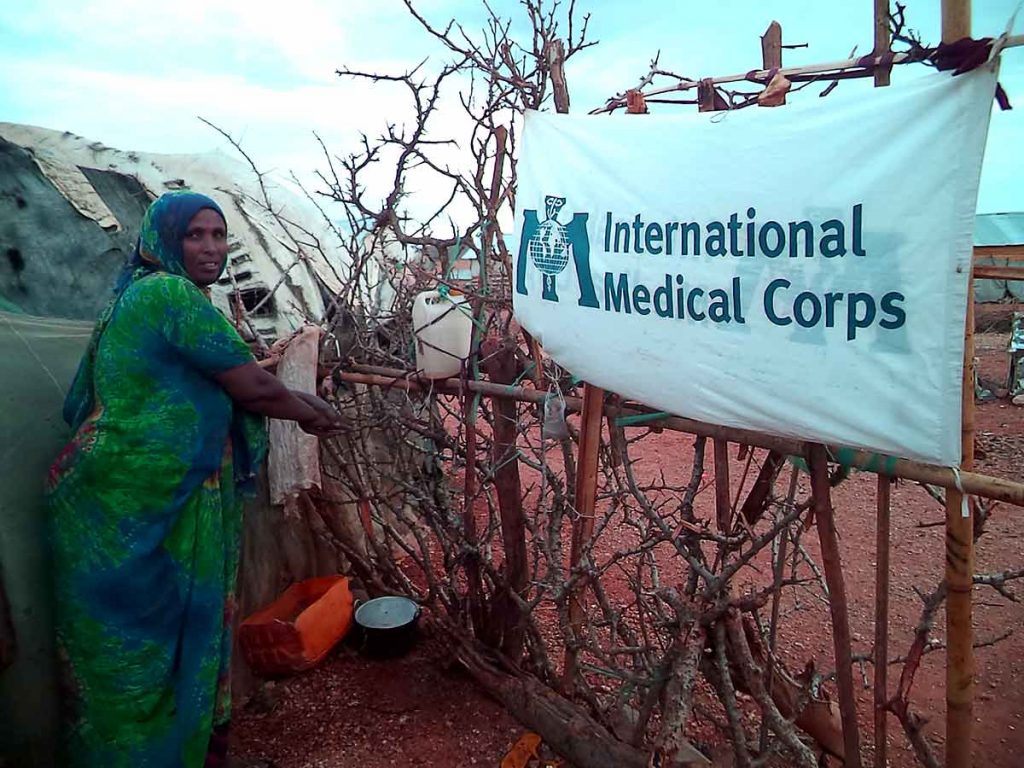 This is why International Medical Corps has been working to promote improved handwashing and sanitation practices in Bokolmayo refugee camp since 2012. "My awareness on hygiene and sanitation was poor before my arrival to the camp," says Sherifo. "There was no hygiene and sanitation intervention provided in the community in my homeland, Somalia." Survey results show that since International Medical Corps sanitation and hygiene interventions began in the camp, 90% of the camp population are now aware of the importance of handwashing practices.
"After I received messages on diarrhea prevention, I have understood the importance of washing hands very well. I always wash my hands at all critical times of handwashing i.e. after latrine visit and cleaning the bottom of my children, before cooking, eating and feeding my children," says Sherifo.
Refugee camps are especially prone to the spread of water, sanitation and hygiene (WASH) related diseases because people are living in congested and often unsanitary conditions. Not only does International Medical Corps promote improved hygiene practices in Bokolmayo and many other refugee camps around the world, they also construct safe and improved latrines and provide hygiene supplies such as jerry cans for water collection and soap.
Sherifo now volunteers for International Medical Corps as a WASH committee member and she has installed her own tippy tap (a low-tech, hands free handwashing device used where there is no running water) near her latrine to help her and her family wash their hands regularly. It is critical to have people like Sherifo who understand the importance of handwashing and spread the message to others.
She says, "Since I have benefited much to improving the health of my family and we are no more suffering of disease like we faced before; presently, I am promoting my communities to practice hand washing and develop good behavior as well."