Global Handwashing Day, held each year on October 15, is dedicated to increasing awareness around the importance of handwashing with soap as an effective and affordable way to prevent disease and save lives. It is an opportunity to implement creative ways to encourage people to wash their hands properly.
Global Handwashing Day commemorations have been held around the world since 2008, with communities, advocates and leaders raising awareness on hand hygiene, building handwashing infrastructure and demonstrating the value of handwashing with soap. The 2022 theme was "Unite for Universal Hand Hygiene," which calls for coordinated action where everyone, no matter their role, can come together in advocating for universal hand hygiene—a call to action in line with the UN's 2030 Agenda for Sustainable Development.
As part of our "Supporting Maternal, Infant and Child Health and Nutrition" project, the Zimbabwe mission commemorated Global Handwashing Day on October 17 in Nkayi District, and on October 18 and 19 in Binga District, reaching more than 340 people. Traditional leaders, nurses, community health clubs (CHCs), village health workers (VHWs) and pregnant women living at homes for expectant mothers attended the celebrations, which kicked off with a Ministry of Health and Child Care session on the importance of handwashing and the five critical times for handwashing:
after going to the toilet;
after attending to a child who has defecated;
before preparing food;
before feeding a child; and
before eating.
The sessions also emphasized the 10 steps of proper handwashing, with VHWs demonstrating the process to all participants.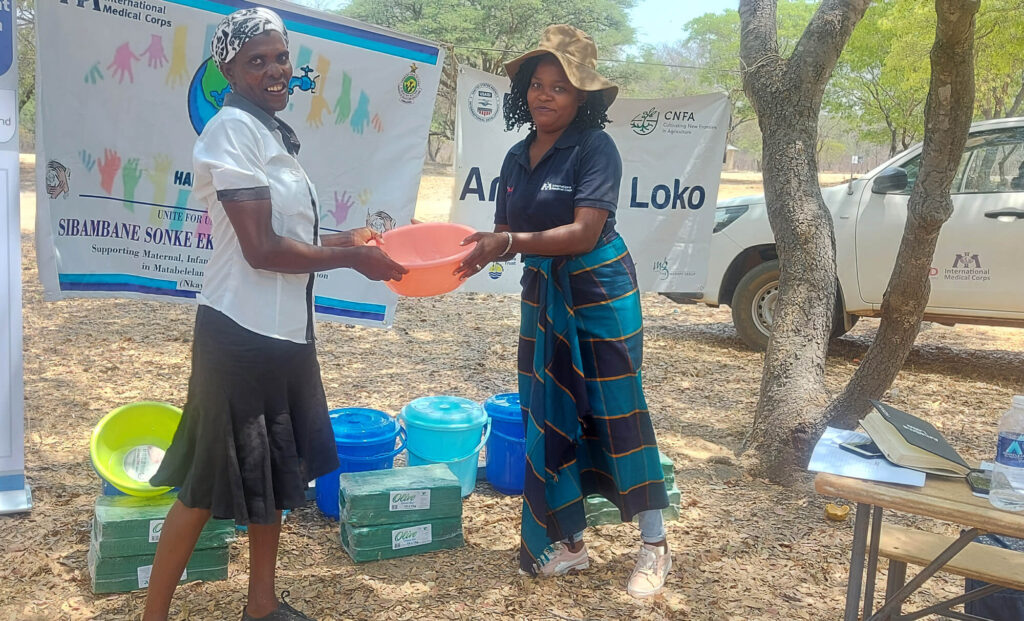 The CHCs gave handwashing presentations, featuring songs, role-play and poems. The groups with the best performances received prizes that included soap, dishes and buckets. The CHCs also demonstrated model handwashing stations, called tippy taps. Finally, there was a quiz competition, with soap awarded for every correct answer. Participants showed great understanding, and were encouraged to disseminate information on hand hygiene to fellow community members within their respective settings—demonstrating that, although Global Handwashing Day is a yearly commemoration, efforts should continue throughout the year to promote positive behavioral change.
The 10 Steps of Handwashing
Step 1: Wet hands with water.
Step 2: Apply enough soap to cover your hands.
Step 3: Clean the palms of your hands by rubbing them together in a circular motion.
Step 4: Clean the backs and in between the fingers of both hands, first by placing the palm of your right hand against the back of your left hand, interlocking fingers and rubbing back and forth, then changing hands to repeat the process.
Step 5: Clean the palms and in between the fingers of both hands by placing the palms of both hands together, interlocking the fingers of both hands and rubbing them back and forth.
Step 6: Clean the tips and back of the fingers of both hands by clasping your hands together at the fingertips and then rubbing them back and forth.
Step 7: Clean the space between your thumbs and index fingers by rubbing your left thumb in a circular movement while it is clasped in the palm of your right hand, then changing hands to repeat the process.
Step 8: Clean the fingernails of both your hands by rubbing the fingertips of your left hand in a circular motion against the palm of your right hand, then changing hands to repeat the process.
Step 9: Rinse hands under running water.
Step 10: Dry your hands by airing them. Now your hands are clean and safe!