To commemorate International Women's Day on March 8, International Medical Corps held awareness events in Mogadishu, as well as the Jowhar, Galkayo South, Abduwaq and Baidoa districts of Somalia, where our teams engaged community members to address some of the challenges faced by women and to help identify possible solutions. Issues discussed across the five areas included violence against women and girls in the community, education for girls, sexual abuse, early and forced marriage, and female genital mutilation. Our gender-based violence (GBV) program team distributed 240 dignity kits to GBV survivors and vulnerable women and girls.
International Women's Day celebrates the social, economic, cultural and political achievements of women, while promoting and advancing gender equality and the empowerment of women. This year's theme, "Balance for Better," promoted a gender-balanced world, which organizers hoped will spur collective action and shared responsibility for ending all forms of gender inequality.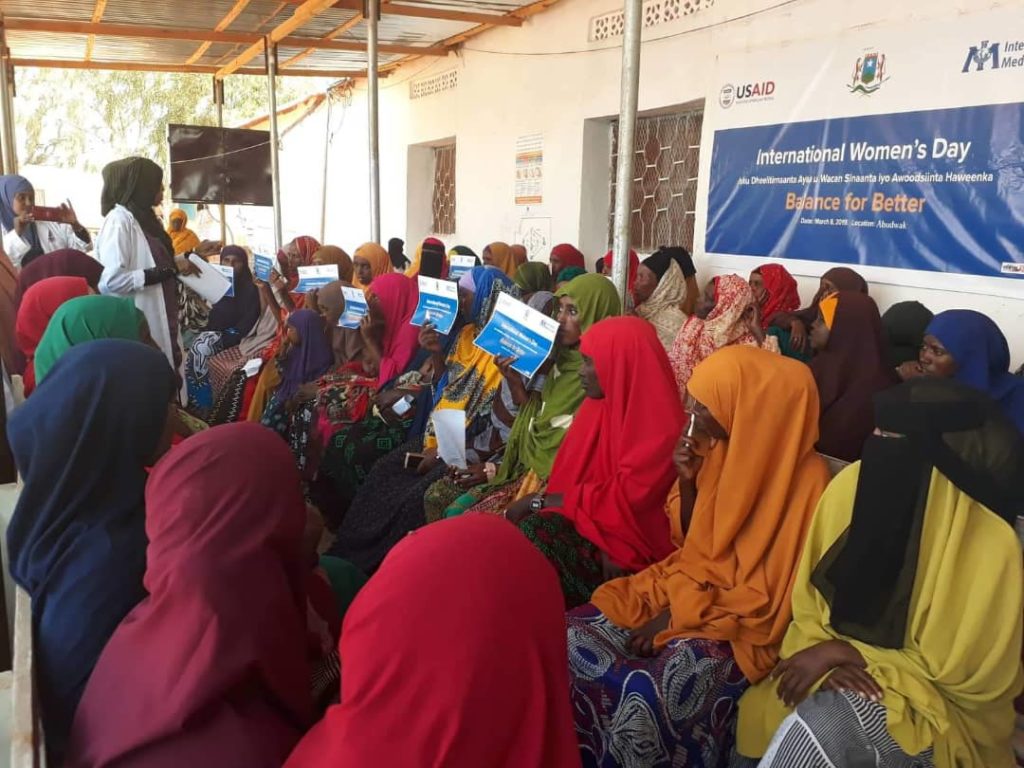 More than 280 community members across the five sites attended the commemoration, including religious leaders and community elders. International Medical Corps teams—comprising doctors, health and nutrition officers, key program officers and community health workers—shared key messages, responded to concerns and questions from the community and promoted the actions needed to advance gender balance.
Thirty-year-old Maryann was one of the women who attended the commemoration of International Women's Day in Mogadishu. A wife and a mother, Maryann lives in Macalin Nur camp for internally displaced persons (IDPs) with her husband and their five children. As a child during the country's civil war, Maryann and her friends found what they thought was a harmless piece of metal—but was actually a grenade that exploded while they were playing with it. The explosion claimed the lives of her friends, as well as Maryann's legs and one arm.
Forced to flee their home as the war and concurrent droughts escalated, Maryann and her family settled in the IDP camp, where they received humanitarian support. Though her physical disability compounded the inequalities associated with being a woman in Somalia, Miriam got married and began to raise a family.
When her husband, the family's primary breadwinner, was unable to find work, Maryann fell into despair. Unable to work, she could not earn a living to feed their children. Then, through our network of community health workers, Maryann was referred to the International Medical Corps' Protection Team in Mogadishu for three months of psychosocial support and counseling.
Maryann is grateful for the support she has received from International Medical Corps. During the International Women's Day celebration, Maryann described the improvements to her emotional well-being because of the psychosocial support she received. "Women are the most vulnerable people in our communities, particularly disabled women, who really need support," she said. "Also, women need to have one voice to end violence against women and girls."
Women make up slightly more than half of Somalia's population, and almost half of these are women and girls of child-bearing age (15–49 years). School enrollment is notably lower among girls compared to boys, which is reflected in the low rates of literacy among Somali women. Women make up approximately 70% of the more than 600,000 displaced people in Mogadishu. Although there are no official statistics on the number of disabled women in Somalia, displaced women with disabilities have been identified as a particularly marginalized group within Somali society, facing increased risk of forced marriage and rape in addition to numerous attitudinal and environmental barriers that exclude them.
With the support of USAID's Office of U.S. Foreign Disaster Assistance, International Medical Corps is providing lifesaving aid to the people of Mogadishu as well as to communities in other parts of Somalia. We are responding to the needs of displaced Somalis by providing access to much-needed primary healthcare, nutrition, protection, and water, sanitation and hygiene (WASH) services.