Not everyone is lucky enough to find their life's calling early and steadily fulfill their purpose over decades, but Dr. Dorothy Ekosso Dissake, International Medical Corps' Medical Director in Cameroon, has done just that: serving those most in need, with the conviction and commitment she discovered as a child. She grew up in the southwestern, Anglophone region of Cameroon in a family of eight children. As one of six daughters of "loving but strict" parents—a teacher and a housewife—she received much encouragement to excel academically. "There was no issue of choosing who goes to school or not," she remembers. From an early age, she knew that she wanted to work in the medical field.
"I think in the beginning it was linked to religion, as our family's a Christian family," says Dr. Dissake. "So I looked for ways to serve God." She even thought about becoming a nun or serving in a convent, but decided that she wanted to get married and have kids of her own when she grew up. "So I thought maybe the other best way to serve God was to serve humanity," she says.
She later attended university in the Francophone part of the country, which proved challenging, not only linguistically but culturally, too. She persisted nonetheless, taking the written test for medical school three times before passing, and then obtained her degree in medicine and biomedical sciences from the University of Yaounde.
She began working as a medical officer in a district hospital and spent the first several years of her career with the Ministry of Health (MoH), where she encountered many frustrations trying to serve those most in need. Because everyone must pay for healthcare in Cameroon, low-income people often do not have enough money for medicine. "Even when you give them the best diagnosis, they'll have to pay for their drugs—and if they don't have any money, that means you haven't saved anyone," says Dr. Dissake. "You haven't changed anything."
When she got a job with International Medical Corps in neighboring Chad in 2004, it gave her a new way of seeing things, she says. "Somebody else was paying for those who are most vulnerable, and for me, that was the most gratifying thing to see at the time, because I didn't have to worry about whether they can pay for healthcare or not," says Dr. Dissake. "You are just called to serve and give your best."
She returned to her home country a year later to obtain her Master's degree in public health, and after working in a few more government positions and consultancies, she joined International Medical Corps full-time in 2011. She served as a technical coordinator for four years, then as principal investigator for a Centers for Disease Control project. In 2021, she got promoted to Medical Director.
An Expanding and Diverse Program
International Medical Corps has been working in Cameroon since 2008—initially serving refugees from the Central African Republic and later responding to a devastating cholera outbreak—and today works in six regions in the country. We focus on providing primary healthcare, as well as on providing water, sanitation and hygiene (WASH) services, to prevent further outbreaks of disease. We also were one of the first NGOs to implement a mental health program and a protection program in the country, focusing on fighting gender-based violence and the exploitation and abuse of children. "In the beginning, when we started to implement the protection program, most people were saying this was not an issue—they didn't believe we have such problems in Cameroon," says Dr. Dissake. "But now our programs have grown tremendously and expanded to many regions of the country."
Dr. Dissake calls her team "solvers of diseases" in Cameroon. "International Medical Corps played a substantial part in the MoH's success in eradicating polio," she says. Likewise, throughout the COVID-19 pandemic, International Medical Corps had "a lot to do with being the solvers of the virus at the community level," through preparedness measures, case management and risk communication—and, most recently, by supporting the MoH's vaccination campaign. We have provided COVID-19 training for healthcare providers and MoH staff, and donated lifesaving medical supplies, WASH equipment and personal protective equipment—including masks, gloves and gowns—to the health facilities where we work.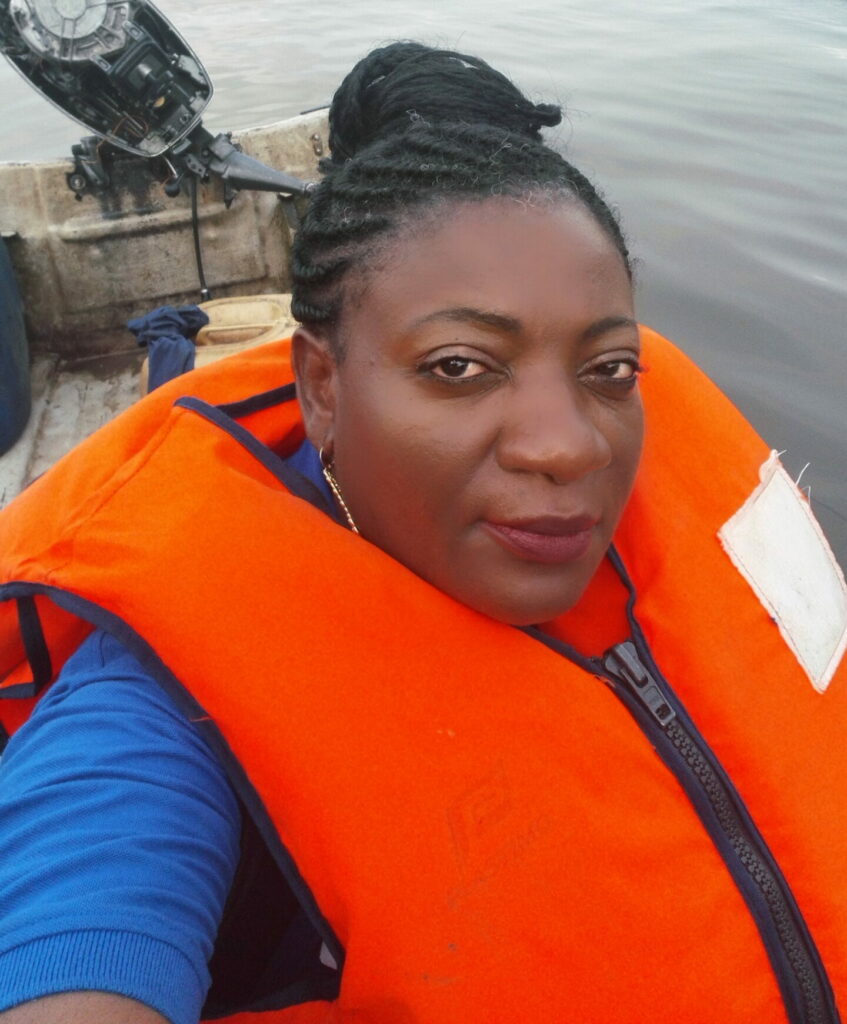 Across all our projects in Cameroon, training and other capacity-building remain a major focus of our work, ranging from the clinical management of rape, to disease surveillance, to how to conduct health education and much more. "Even in remote areas, our activities are tangible, and you can see the results for yourself," says Dr. Dissake. "Our beneficiaries understand what we are doing, and they support us a lot because they can see what we're doing to help."
Staying Motivated
Dr. Dissake, who calls her family "very supportive," has four children between the ages of 17 and 24, and has been married for nearly 26 years. Her family understands how busy she can get—managing a wide range of program activities, writing proposals, conducting field visits and navigating demanding stakeholders. Given the challenging and often overwhelming nature of her work, Dr. Dissake says she has had to develop coping strategies to not become frustrated. "So far, my support has been my family, and my colleagues in the office with whom, during breaks, I can chat and laugh, which diffuses the stress and tension," says Dr. Dissake. "Knowing that I have support keeps me going."
Knowing that the stakes are real and high also helps her stay motivated. "We say, 'It's not about you, it's not about me, it's about the vulnerable population that we're serving,'" she says. "It's about the fact that, if we are not there or we don't get that grant, it's somebody else who will be suffering." Bearing this responsibility is both a burden and an honor to Dr. Dissake.
Her favorite part of her job is when a proposal on which her team worked "so hard" gets accepted by a donor, and the program receives funding to implement more lifesaving services. "And then, when we go to the field and are able to meet the people who are benefiting from the various activities that we're conducting, it's really gratifying for me as an individual and for my colleagues," says Dr. Dissake. "We have a great team and we're serving as a tiny building stone to help our communities and contribute toward growth and development in Cameroon." After all, she says, "We are in this together."
International Medical Corps began working in Cameroon in 2008 in response to an influx of refugees from the Central African Republic (CAR) along Cameroon's eastern border. Today, International Medical Corps is working in refugee camps and with some of the most vulnerable populations in six regions in Cameroon—Far North, North, Adamawa, Northwest, East and Littoral—to implement health programs that include disease surveillance, nutrition activities, GBV response, mental health and psychosocial support,  and child protection. To learn more about our programs in Cameroon, visit: https://internationalmedicalcorps.org.uk/country/cameroon/.