When Mount Nyiragongo erupted last May in the Democratic Republic of the Congo (DRC), destroying more than 1,000 homes and forcing tens of thousands of nearby residents to flee their homes for safety, International Medical Corps launched a diverse and impressive response that potentially saved many lives and eased the plight of thousands of survivors forced to flee their homes.
For example, in the sprawling city of Goma, barely 10 miles south of the volcano, we partnered with DRC government agencies to establish "child-friendly spaces" where children could play safely and find a sense of normality in the aftermath of a disaster that had triggered panic attacks and nightmares for many youngsters.
Fear of the 11,384-foot mountain is understandable. It is among the world's most active volcanoes, with 34 eruptions reported since formal records of the mountain's activities first began in the mid-1880s. Mount Nyiragongo contains the world's largest lava lake, measuring about a mile across and more than 650 feet deep. It last erupted in 2002, displacing much of Goma's population and opening craters that unleashed enough lava to cover about 13% of the city's land, according to a UN OCHA fact sheet published three months after the eruption.
To help ease the distress that people felt in the wake of the eruption, our teams trained resident volunteers from the Mujoga refugee camp in northern Goma to administer psychological first aid (PFA) to camp residents. Camp volunteer Justin Bizamenya praised the training that he and other volunteers received, noting that—even after the project ended in October—it has enabled care to continue in the camp for those most severely affected. "The training is another way to continue this project," he said.
Camp resident Mwamini Bizimungu Julienne, a 35-year-old mother of seven, related how she had to shelter in extremely crowded, stressful conditions following the disaster. She watched fellow residents who had also been displaced administer PFA and recalled how their work motivated her and many of those around her. "Seeing them helping take care of us made us ask ourselves, 'Why can't we find our way out of this too? These other displaced people went through the same thing as us,'" she explained. "That's how many of us recovered."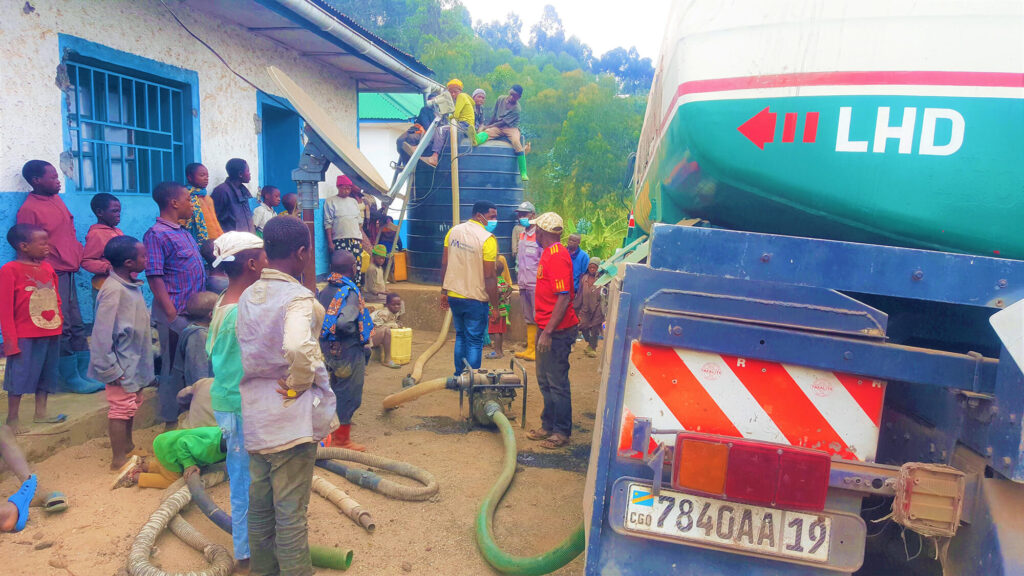 In addition, working with DRC Ministry of Health staff, we trained 18 people at eight health centers in northern Goma to take simple but important hygiene precautions to prevent outbreaks of deadly water-borne diseases that can spread easily in contaminated water. We supplied potable water to more than 10,000 residents in Goma's northern suburbs, giving a large displaced population a desperately needed source of potable water after authorities had declared local water supplies unsafe for drinking.
Finally, we provided equipment that enabled the health centers to practice effective infection prevention and control. "With this support, we have avoided the worst," said Freddy Bwira, a nurse who heads one of the health centers.
Though it was challenging, our volcano disaster response was just a continuation of the humanitarian assistance that International Medical Corps has provided to the people of the DRC since 1998, when we first offered emergency healthcare to those displaced by armed conflict.