The Horn of Africa—which includes Ethiopia, Somalia and Kenya—is facing a severe drought, the worst in four decades. Seasonal rains that farmers depend upon to water their livestock and nourish their crops failed for the fourth consecutive season when the April–May rains, called gu, fell far short of normal. The US government's Famine Early Warning Systems Network reported in late May that pasture conditions in southern and southeastern Ethiopia were now among the driest on record, leaving an estimated 2.5 million livestock dead between late 2021 and May 2022. Herd sizes were expected to decline further as new births drop, as more animals succumb to the extreme conditions and as farmers slaughter more of their remaining animals to keep their families alive—increasing poverty levels because, as herds decline, a family's fortunes decline with them. Conditions are expected to worsen even further as the dry season persists.
At the same time, the war in Ukraine has caused the prices of commodities such as fuel and fertilizer, and agricultural products such as wheat, maize and sunflower oil, to surge. For Ethiopia and Somalia, the loss of these supplies from Ukraine—their single-largest grain and fertilizer supplier—constitutes a disaster.
Where this crisis goes in the coming months remains uncertain. We don't use the word "famine" lightly, because it has a very precise definition—but it's headed in that direction. As many as 20 million people are at risk of starvation, according to the World Food Programme. Already, family mealtimes in many Ethiopian and neighboring Somali villages have dropped from three per day to just one.
Nazrawit Yohannes, our nutrition coordinator in Ethiopia, tells the story of a once-successful farming family in the eastern area of Oromia, not far from the Somalia border, that has been virtually wiped out by the drought. When several of the family's cows and goats died, the milk that made children's meals healthy disappeared—as did the cash that the mother earned by selling the remaining milk at the local market.
As conditions worsened, the father left to work as a day laborer in a town more than 100 miles away. He hoped to send money home, but the high cost of living in an urban area exceeded his meager wage. Out of money, the mother walked for miles each day to fetch polluted water to drink, along with bits of firewood that she could sell to put what food she could on the table. The family hit a new low when the children became malnourished, and then sick from drinking unclean water.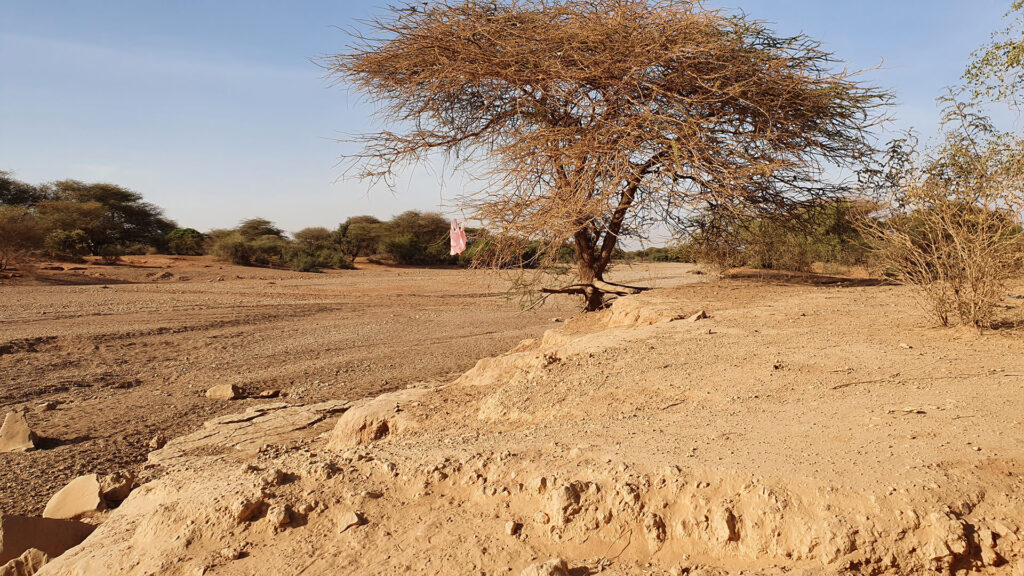 The picture isn't much different in Somalia, where families also are losing livestock and producing poorer crop yields due in part to shortages of Ukrainian fertilizer. As a result, these crops fetch less money at local markets—and less food for the family table. There is a sense of despair in many places now.
This downward spiral has left 80% of Somalia's population reliant on humanitarian aid for their survival. But this assistance is running short, and this reality leaves many communities and families facing a heart-wrenching decision: do they stay put and try to wait out a drought while conditions deteriorate further? Or do they risk a grueling journey to one of the large displacement camps across the border in Ethiopia, where they've been told there is food? Either way, it's a decision fraught with danger.
"Sometimes migration is the only answer,'' notes Yohannes. "We managed to help 620,000 people last year in Ethiopia—but there are 15 million affected. We are doing a lot, but this crisis is much bigger than we are."
To meet the increasing need, our Nutrition, Food Security and Livelihoods (FSL) and Water, Sanitation and Hygiene (WASH) teams are scaling up existing services in Somalia and Ethiopia, the countries in the Horn of Africa where we provide aid.
Nutrition
Currently, our nutrition teams run community-based management of acute malnutrition (CMAM) and infant and young-child feeding (IYCF) programs in Somalia and Ethiopia. With CMAM, we provide tailored treatment for both moderate and severe acute malnutrition among children under 5 and pregnant and lactating women. In the Banadir, Bay, Middle Shabelle and Mudug regions of Somalia, we are targeting more than 27,500 children under 5 with CMAM, while in Ethiopia we provide treatment for acute malnutrition for more than 17,000 children in the East and West Hararghe zones in the Oromia region. With IYCF, we counsel mothers or other primary caretakers about the importance of good nutrition and optimal breastfeeding practices, reaching close to 137,000 people in Somalia and 46,000 in Ethiopia. Even during a drought, most mothers are still able to produce a lot of lifesaving breastmilk for infants.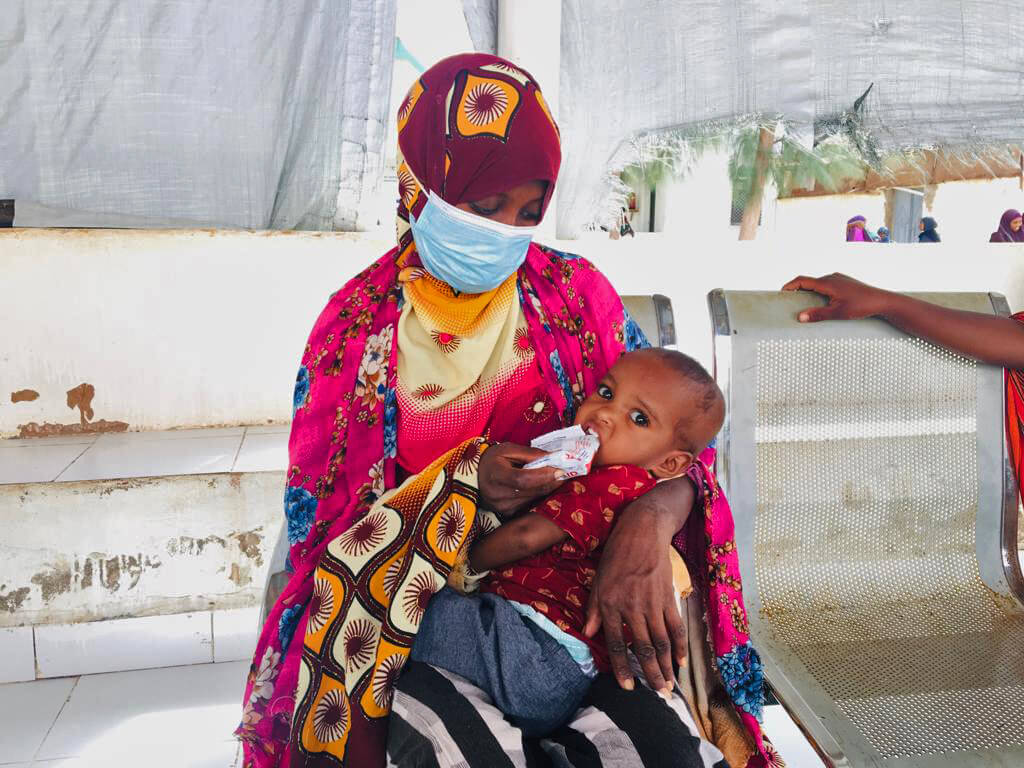 Our teams are now adding blanket supplementary feeding programs (BSFPs) to these two activities—and seeking funding to expand these programs even further. BSFPs typically provide supplemental food to all children in a community between the ages of six and 59 months—whether their families have adequate resources or not.
BSFPs are a very easy way of reaching a lot of vulnerable people. They prevent further deterioration in nutrition status among these vulnerable groups, as well as nutrition-related morbidity and mortality. Often, we also target pregnant and lactating women, which benefits unborn children and helps to prevent low birth weight and malnutrition among infants.
FSL
Though we are in the process of raising funding for an FSL response in Somalia, we are already at work in Ethiopia, providing emergency multipurpose cash assistance to nearly 2,800 drought-affected families in three high-priority woredas of the East Hararghe zone in the Oromia region, through the support of Famine Relief Fund. In the Dollo Ado and Gambella refugee camps, our team is providing fresh-food vouchers to families with malnourished children under 5 and promoting sack-gardening activities enabling families to grow their own fresh fruits and vegetables. In these two camps, our FSL team cultivates a plot of land next to our nutrition site, raising fruit and vegetable seedlings that they then hand out to community members to grow in their own gardens.
WASH
We have active WASH programs in the Oromia and Somali regions of Ethiopia. In the Somali region, we run a program that provides safe drinking water for as many as 20,000 refugees each day. We also use water trucking to provide safe water to people living far from the refugee camps. Our boreholes produce safe water in the Awubere and Sheder refugee camps, and the government or individuals collect and transport this water to drought-affected locations.
In Oromia, we are expanding our response into more areas: focusing on water trucking where there aren't any alternative water sources; providing soap, buckets and jerrycans to people; rehabilitating existing water schemes; and providing water-treatment chemicals to surface-water users. We plan to further expand our WASH responses in Oromia, focusing on the drought and ongoing conflict in the area, to cover more woredas and districts, and reach more people.
In our four sites of operation in Somalia—in the Banadir, Bay, Middle Shabelle and Mudug regions—we are focusing on rehabilitating solar-powered wells, boreholes and existing water infrastructure. We are also helping internally displaced people by providing water trucking in Baidoa, a city in the Bay region. In Galkayo, a city in Mudug, we constructed elevated 50-cubic-meter water storage tanks that have enhanced borehole water storage capacities and use solar power to fill with water during the day.
Thanks to Tyler Marshall and Dr. Javed Ali for their contributions to this piece.