Eight months pregnant and traveling alone, Muna* boarded a small boat in Turkey that was to take her to an island in Greece she had never heard of before. The trip would be dangerous, she knew, but it would take her one step closer to her husband, who was already in Germany.
"She told me she was terrified when she saw that the boat was being driven by a 14-year-old boy who had no experience and was under threat from the owner," says Lenio Capsaskis. "She said the boat nearly capsized four times before it ended up on a military island called Farmakonisi, and that she was stranded there for three days without food, water or shelter with hundreds of other refugees. Eventually the group was taken here, to Leros, and that's where we met her."
Lenio is the coordinator of a mobile medical team in Greece operated by International Medical Corps and its local partner Praksis. But her unofficial role has become hand-holder, comfort-giver and problem-solver for vulnerable refugee patients identified by the team's psychologist—most of them women.
"By the time Muna came to see our medical team for a consultation, she was weak and in lots of pain," Lenio says. "She told the team that she had stopped feeling the baby move a few days earlier and was afraid she might have lost it. Her first baby passed away as an infant in Syria and she said she couldn't bear the thought of losing another. We assured her that we would get her the best possible care—and I would take her to a hospital for an ultrasound to make sure the baby is healthy."
The mobile medical team has come to know the island's medical specialists for referrals, particularly the obstetrician. Lenio is on the phone to him often—asking him to come to the small hospital near the island's refugee camp, to examine newly arrived pregnant women like Muna who are in discomfort and pain.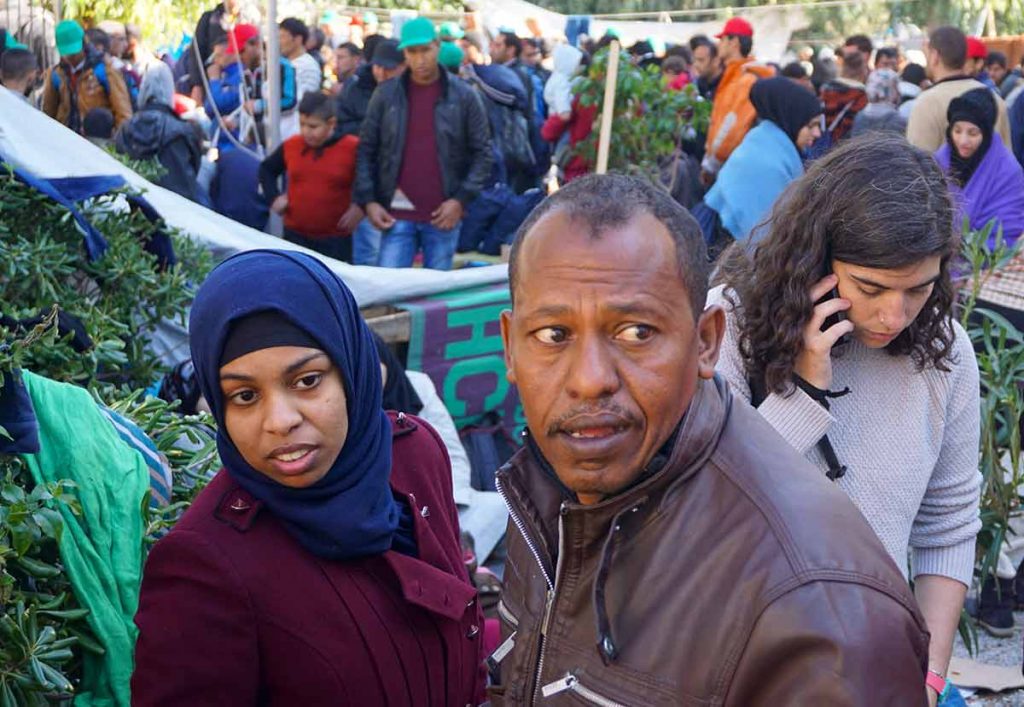 On this day, Lenio makes an appointment with the obstetrician for Zahra*, a pregnant woman from Yemen, who is suffering from sharp abdominal pain. Zahra and her family arrived a day earlier, and like all newcomers to Leros, they are required to stay at a detention center until they are registered.
Lenio gains the necessary permission to bring Zahra to a doctor, but must also convince her apprehensive husband, who has to stay behind while awaiting registration.
"He wanted the best for her, but was so afraid of being separated and losing her," Lenio explains.
Lenio, as well as the team's social worker and doctor all get involved—calming and reassuring the family. Lenio promises Zahra's husband that she will accompany his wife to the doctor and return her to him, safe and sound."These women have not had medical care in some time, and usually come to us exhausted, anxious and afraid of miscarriage," says Lenio. "It's very emotional for them when they can actually hear their babies' heartbeats and know that they are okay."
For both Muna and Zahra, there is tearful relief when they learn that they and their babies are healthy and doing fine.
Later that day, when Lenio returns Zhara to her grateful husband, she was approached by a 15-year old girl, also Yemeni, who was deeply distressed. Amal* had become separated from her mother and four younger siblings whom she was traveling with and ended up on the island of Leros a day ahead of them.
"Since she was here before her family, she was registered earlier and her travel papers were ready sooner," Lenio explains. "She was panicked that she was going to be forced to leave the island without her family and would be separated from them a second time."
The team talks to the girl while Lenio hits the phones again, this time seeking the help of the UN Refugee Agency, UNHCR.
"She had spent a night in Leros as an unaccompanied minor and we wanted to make sure that didn't happen again," says Lenio. "In the end, the whole family was reunited, mom and daughter were incredibly happy and relieved, and they were able to leave for Athens the next day, together."
Problem solved!