At only 25 years old, Hana'a* has already had to demonstrate immense strength and resilience to overcome hardship and insecurity amidst ongoing conflict and acute gender inequality in Iraq. She lives in Fallujah, located in western Iraq's Anbar governorate. The city's population suffered considerably under the Islamic State, which took control by force in 2014. During the Iraqi military operation to retake the city in 2016, Hana'a was forced to flee her home. She returned weeks later to a city that is still struggling to rebuild.
In addition to enduring the challenges of displacement, Hana'a has been forced into marriage three times by her father—for the first time when she was just thirteen years old. Her first two marriages ended quickly in divorce, and she also lost a baby. Hana'a has tried her best to make her third forced marriage work, but to no avail. "My husband neglects me and doesn't care about me," says Hana'a. When International Medical Corps spoke with her, she had just returned from court, where her third husband had failed to show up to their divorce hearing.
Having only attended school up to second grade, Hana'a has until recently been almost entirely dependent on her family and knows firsthand the difficulty and discomfort of asking others for support. But after years of making handicrafts as a hobby, she finally started selling her products: miniature decorative houses and ornamental trays. Hana'a is now able to support herself through this work. "I don't want to depend on anyone or ask for help," she says determinedly.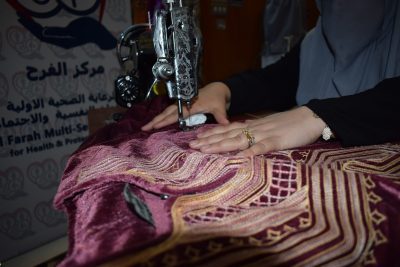 A few months ago, Hana'a joined a community sewing class, where she heard about Al-Farah Multi-Service Center, supported by the Government of Canada.
International Medical Corps opened the center in mid-2017 to provide life-saving primary health care, mental health and psychosocial support, and gender-based violence services to the local community. When Hana'a learned that the center was hiring facilitators to train women and girls in sewing and baking, she applied for a job. She now serves as a baking instructor, teaching three times a week, and hopes to facilitate handicraft trainings in the future. Skillsbuilding activities are provided through the multi-service center as part of efforts to empower conflict-affected women and girls. The type of classes offered depend on feedback received from beneficiaries. They serve as a means for women and girls to support themselves and their families with much-needed income after livelihoods have been depleted due to war and violence.
Hana'a encourages every girl she meets to pursue education and learning, as this has been her path towards independence and achievement. "Girls should continue their studies and find a job," she says. "I saw how difficult it is to ask for help." But now she knows how to help herself—and, in this way, is helping others.
*Name changed to protect identity