August 19th is World Humanitarian Day, which recognizes aid workers who deliver lifesaving relief, often at great risk to themselves. From Mosul to Mogadishu, International Medical Corps' First Responders brave war, natural disaster, and disease to bring medical care and other services to people in need.
Meet four courageous First Responders who are saving lives and restoring self-reliance every day in some of the world's most difficult environments. Please join us in sharing their stories in honor of the thousands of humanitarians around the world who make our work possible.
---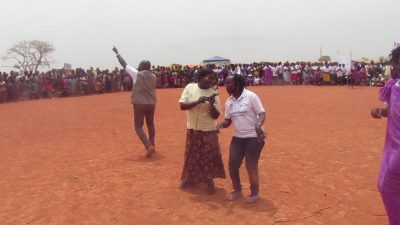 South Sudan: Veronica Agali
Now on its fourth year, South Sudan's civil war has produced horrendous human rights abuses, including rape sexual assault. As a gender-based violence case (GBV) worker, Veronica Agali works day and night to support survivors of violence in the displacement camp in Wau, a city in northwest South Sudan where civilians have repeatedly been exposed to intense bouts of fighting.
Known by everyone as Vicky, she manages International Medical Corps' hotline that people call to report cases of GBV and seek services. When she receives a call, Vicky works tirelessly to reach the survivor at the earliest possible hour and provide counseling and other care.
Her colleagues recall one woman who was carried to the women's space where Vicky works because she could not walk. Vicky started to counsel her and today, the women is one of the most active women at the center and able to walk once again.
It is because of this unwavering commitment that the GBV team estimates Vicky manages more than 70 percent of GBV cases referred to International Medical Corps in Wau. When asked what motivates her to keep going so tirelessly, she said, "The smile on the face of a survivor after receiving psychosocial support is the fuel behind the engine."
---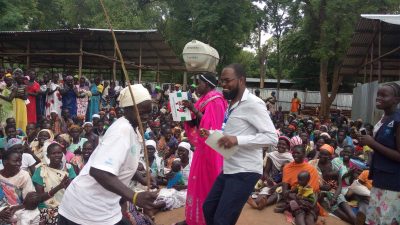 Ethiopia: Abdulwas Yusufi
A former university lecturer, Abdulwas Yusufi came to International Medical Corps in 2012 as a mental health and psychosocial support officer in the Somali refugee camps in Dollo Ado, Ethiopia. He always wanted to work with refugees and was inspired by International Medical Corps' approach to make mental health care more accessible by bringing it straight to communities at the primary health care level.
"In refugee settings, the prevalence of mental health disorders often rises, as people have left homes, lost loved ones, and are living in highly stressful and uncertain circumstances," Abdulwas said. "International Medical Corps worked to make mental health care available to Somali refugees by training primary health care staff to identify, manage, and refer common mental health problems, while also working with refugee families to raise their awareness about mental health issues."
He later transferred to Gambella on the western side of the country where South Sudanese were seeking refuge from civil war. He worked as a mental health and psychosocial support team leader in Gambella and built the program from the ground up. It eventually cared for approximately 700 clients, more than half of whom came seeking services on their own, a sign that the community outreach about mental health care was working and the stigma associated with mental health disorders was diminishing. "I personally saw many people who were trapped in mental illness recover and go on to live normal, productive lives," Abdulwas said.
Today, Abdulwas oversees all of International Medical Corps' programs in Gambella, including treating malnourished children, preventing and responding to gender-based violence, and providing sexual and reproductive health. In the past year, he has thousands of South Sudanese refugees stream across the border into Ethiopia, fleeing fighting and famine-like conditions. His greatest worry today is that aid organizations are not receiving sufficient funding to meet the increasing needs.
Despite the challenges, Abdulwas is more motivated than ever to deliver the highest quality programs to refugees. "I always wanted to work with refugees," he said. "I am personally very passionate about supporting women, girls, and young people living in Ethiopia's refugee camps. It is our duty to help them."
---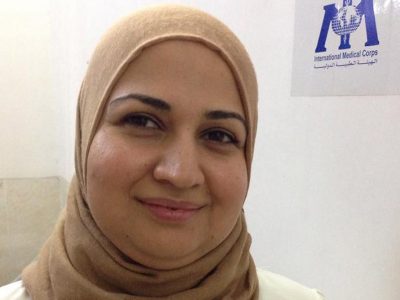 Iraq: Farah Waleed
Farah Waleed fled Mosul with her family when the Islamic State, or ISIL, invaded the city more than three years ago. She left behind her home and a job as a pharmacist at one of Mosul's government hospitals, uncertain of if and when she would return.
In Erbil, the capital of Iraqi Kurdistan, just 50 miles from Mosul, Farah saw an advertisement to work as a pharmacist for International Medical Corps. She was hired and now manages the supply chain for drugs and medical supplies for all of International Medical Corps' clinics across Iraq, from displacement camps in Kurdistan to Baghdad, Tikrit, and Mosul.
Training is central to Farah's work, as she is responsible for on-the-job supervision and training for all International Medical Corps field pharmacists as well as the staff of the clinics the team is supporting. "I help them with how to stock and manage medicines and work with our systems to have what they need, but also how to prescribe medicines responsibly," she said.
For Farah, working as International Medical Corps' senior pharmacy officer has allowed her to serve her community and help Mosul's health care system get back on its feet. Earlier this year, this included working with eight primary health care clinics in east Mosul to restock their pharmacies and train health care professionals in pharmaceutical management so that patients are prescribed the right medications in the correct dosages.
"I was so excited when I went into Mosul for the first time on an assessment," Farah said. "The clinics were broken, but then I saw the conditions get better and better. I was very proud."
The restored drug supply meant that many Mosul residents had medicines for the first time in three years—including for chronic health issues like diabetes. Farah is now working with the Mosul response team to support clinics inside the western half of the city.
---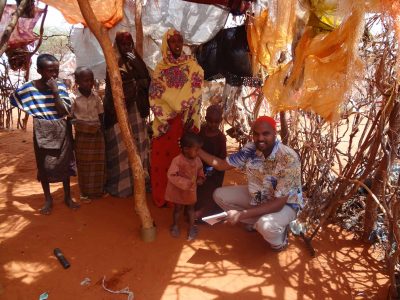 Somalia: Said A. Sheikh
Said A. Sheikh started his work with International Medical Corps in 2011 as a water, sanitation and hygiene (WASH) coordinator. At this time, Somalia was in the throes of a famine that went on to claimed the lives of more than a quarter a million people, most of them children.
As the WASH coordinator, Said's work was critical in preventing deaths from waterborne and sanitation-related diseases. Like today, the non–state militant groups controlled large swaths of the country, which made it extremely difficult for humanitarian organizations like International Medical Corps to reach people in need. Together with the International Medical Corps emergency response team, Said started in Galgaadud region, specifically Abudwak and Balanbal districts, and year later moved to the capital, Mogadishu. From there, they slowly ramped up programs that pushed further and further into more remote and volatile parts of Somalia.
"Our goal is to reach the most vulnerable people in hard-to-reach areas where needs are the greatest," said Said. "We are very hands on and a part of the communities we serve."
This is still true today in Said's role as field coordinator, where he is responsible for all of International Medical Corps' program sites in South-Central Somalia. Said starts each day by contacting each field site and troubleshooting any issues with the teams. His ultimate goal is to make sure International Medical Corps is delivering the highest quality programs while also maintaining the flexibility to respond to crises as they flare up—particularly critical in Somalia, where millions are teetering on famine and outbreaks of cholera and measles continue to spread.
When reflecting on the work he has done with International Medical Corps over the last six years, Said said, "I am proud of the team spirit and our strong bond with the communities we serve. Where there is need, we always manage to respond, even if we have very little resources to do so."