18-month-old Kubra Jawar lives with her family in Anani, a kebele (ward or neighborhood) in Fedis woreda (district) in rural Ethiopia. Kubra's parents, Fatuma and Jawar, are subsistence farmers supporting their four children by farming and raising livestock. Persistent drought and supply-chain disruptions have limited their production, and their family is one of the poorest in Anani.
Ethiopia has long been plagued by conflict and drought, leaving nearly 10 million people in need of food assistance for survival. Drought conditions force people to travel long distances for water, often collecting it from contaminated sources, which can lead to disease and death. The Ukraine conflict has exacerbated these issues, disrupting supply chains and raising the cost of fuel and agricultural products. International Medical Corps provides comprehensive nutrition programming to help people affected by these overwhelming challenges, like Kubra and her family.
In early May, Kubra showed signs of malnutrition, including diarrhea and loss of appetite leading to rapid weight loss. Her mother, Fatuma, took Kubra to a nearby healer who gave her traditional medicine. Fatuma administered the treatment to Kubra for one week, but her condition worsened. Finally, Fatuma brought Kubra to a nearby International Medical Corps-supported health post—Anani Health Center—where our team conducted a malnutrition screening.
A local health extension worker—a government health worker assigned to a community health post—screened Kubra and consulted Shame Abdurahman, an International Medical Corps Nutrition Officer.
Abdurahman examined Kubra and briefed her mother on the admission criteria for children under 5 suffering from acute malnutrition. Abdurahman found that Kubra suffered from swelling due to excessive fluid build-up, a common sign of malnutrition, and her mid-upper arm circumference (MUAC) was 11 cm, smaller than the healthy range. Kubra also failed the appetite test.
Based on the national guidelines for managing acute malnutrition, Abdurahman referred Kubra to a stabilization center at the nearest health facility, Boko Health Center, which International Medical Corps also supports.
"When I examined Kubra, it was clear that she was suffering from acute malnutrition and needed inpatient care at a stabilization center," says Abdurahman. "Thanks to the expertise of the International Medical Corps nutrition team at Boko Health Center, I could refer Kubra there with confidence, knowing that she would receive the treatment necessary to recover and thrive."
Even so, Fatuma initially refused to bring Kubra to Boko Health Center. She was worried about the distance, transportation costs and the cost of food during her stay at the health center.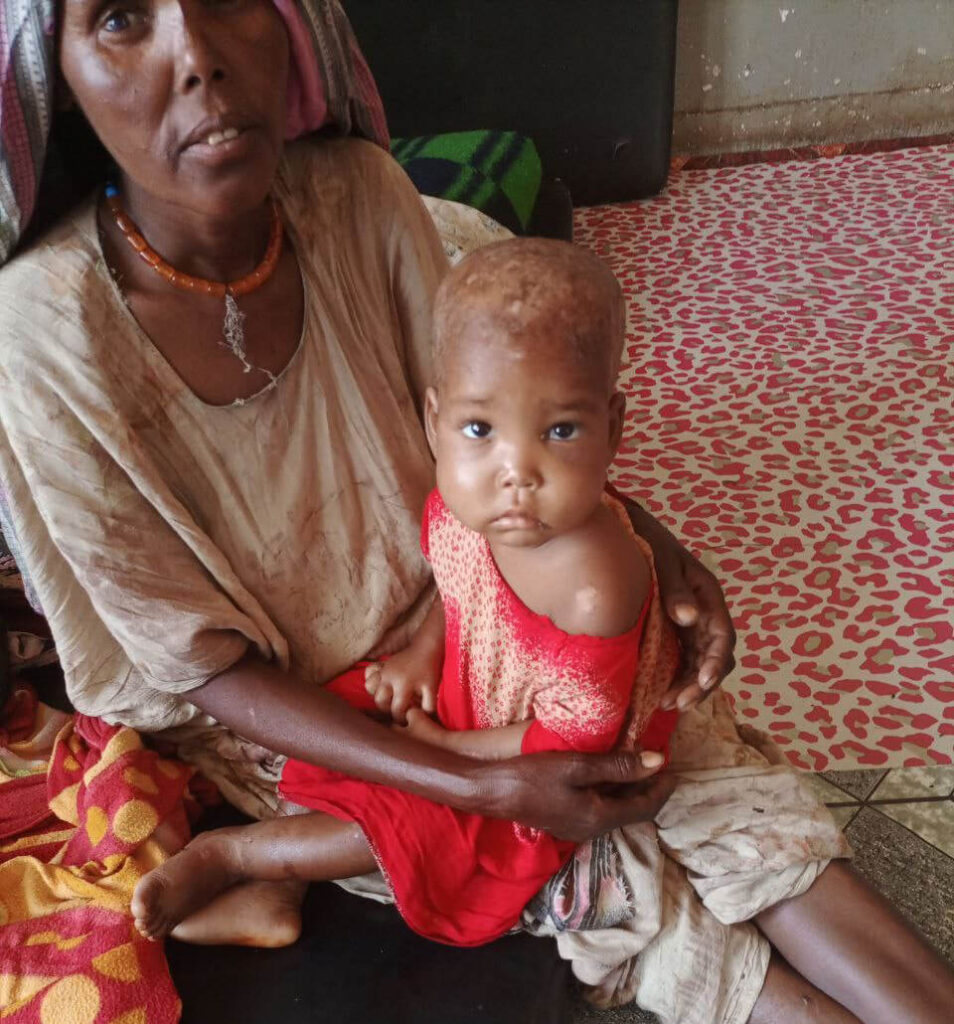 Our staff understood her concern, provided her with transportation and told her not to worry about food—International Medical Corps provides food and other support for caregivers whose family members are undergoing inpatient treatment. This surprised Fatuma, and she agreed to bring Kubra.
At Boko Health Center, our nutrition team examined Kubra again, confirmed that she was suffering from severe acute malnutrition and began the admission process. During admission, Kubra weighed 8.2 kg, her MUAC was 11 cm, and her symptoms included failed appetite, vomiting, diarrhea and lethargy. The stabilization center materials—including a mattress with synthetic cover, blanket, pillow with pillowcase, bedsheet and plastic mat—were all provided by International Medical Corps, thanks to funds provided by the United Arab Emirates (UAE) government through its Famine Relief Fund.
After admission, our nutrition team placed Kubra on antibiotics and therapeutic nutritional treatment. Her mother received food and accommodations, enabling her to stay with Kubra during her treatment without worrying about costs.
After eight days of hospitalization, Kubra's swelling subsided, and her other medical complications resolved. When Kubra was discharged from the stabilization center, our team referred her to the outpatient program at Anani Health Center. They gave Fatuma a one-week supply of ready-to-use therapeutic food (RUTF) and instructed her on the need for handwashing before feeding Kubra. The team also provided transportation for Fatuma and Kubra to return home.
A few days later, Fatuma brought Kubra to Anani Health Center to begin outpatient treatment and to collect more RUTF. The health extension worker was happy with Kubra's progress and provided nutrition counseling to Fatuma on preparing diversified food and on proper home hygiene practices.
After 10 weekly follow-up visits, Kubra was discharged from the outpatient program with a good appetite, a MUAC of 12.7cm and a weight of 11.6 kg.
As part of the discharge process, Fatuma received additional counseling on proper infant and young-child feeding (IYCF) practices and nutrition-related topics. She also attended IYCF demonstration sessions and IYCF individual and group counseling sessions, and discussed Kubra's nutritional status with an International Medical Corps IYCF officer.
"If the health extension worker and International Medical Corps staff had not taken all the steps they did to support me, I would have lost my beloved child due to this treatable problem," says Fatuma. "I want to thank all of you—you saved Kubra's life."
Thanks to the support of UAE and the Famine Relief Fund, International Medical Corps will continue to provide treatment and nutrition counseling to communities in Ethiopia as long as they need them. We are currently providing aid to 439 health facilities across the country, and this year alone have treated 44,183 children for malnutrition and provided nutrition counseling and services to 476,972 families.