Earlier this year, Hawalul, a mother of five, rested her hands on her swollen belly, feeling the gentle movements of a new life growing inside her. Then she took a deep breath, swallowed her fear and walked purposefully into a health center in Mogadishu for her midwife appointment.
Her apprehension was understandable. Six years ago, when she lived in Jowhar, she lost two children in short succession—and both deaths had been preventable. Like the majority of mothers in Somalia, Hawalul had given birth at home, without the assistance of a skilled birth attendant. The loss of these two children—neither lived longer than two months—threw her into an 18-month-long struggle with depression.
"There is no experience like welcoming a new life into the world," says Hawalul. "Thinking that I would never experience it again gave me a bad feeling in my stomach that I can't entirely explain. I felt a sense of emptiness but also outrage that women and babies are dying due to lack of medical services."
Right now, a Somali woman has a one-in-12 chance of dying as a result of pregnancy and childbirth. Child-mortality statistics in the country are worse, with 4% of children dying during their first month of life, 8% dying before their first birthday and 12.5% dying before age five. Behind every child's death, there is also an intense emotional toll. Heartbreak, grief and guilt haunt parents in Somalia like ghosts.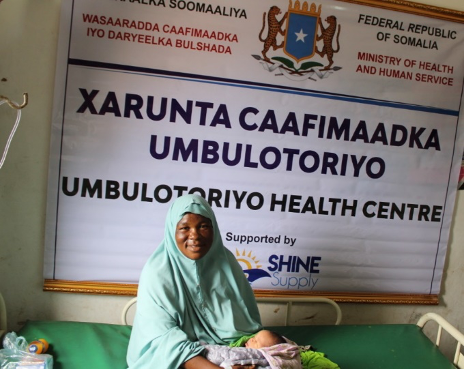 But there is hope. By ensuring access to well-trained midwives and nurses during antenatal and postnatal visits, and delivery at a health facility, we can prevent more than 80% of newborn deaths. Even so, lack of transportation to faraway health facilities often prevents women from receiving the medical treatment they deserve.
Hawalul is just one example of what happens when a mother-to-be receives the care she needs, as well as the knowledge to make informed decisions.
She didn't come by this care and knowledge easily. In late 2014, flooding and violence drove Hawalul and her family from their home in Jowhar, a city in the middle of the country, to Bacgaduud, a camp in Mogadishu for internally displaced persons. There, they found shelter and access to humanitarian assistance—including healthcare.
When Hawalul got pregnant a few months later, she was terrified that she might lose another baby. Following the advice of a neighbor, she visited Ambulatorio, an International Medical Corps-supported health center in Mogadishu that provides pregnant women with maternal health services—including deliveries and child immunizations—for free. Hawalul didn't lose any babies from that point on. Her latest delivery was a girl that was born October 3, 2020—Hawalul named her Iqra.
She didn't just choose the health center because of its services. "I chose Ambulatorio," she explains, "because of the humanity in them—skilled birth attendants with warmth and compassion."
Hawalul received support during her pregnancies and deliveries, as well as family planning information after each birth. In addition, she was able to ensure that her children all received up-to-date vaccinations at the center.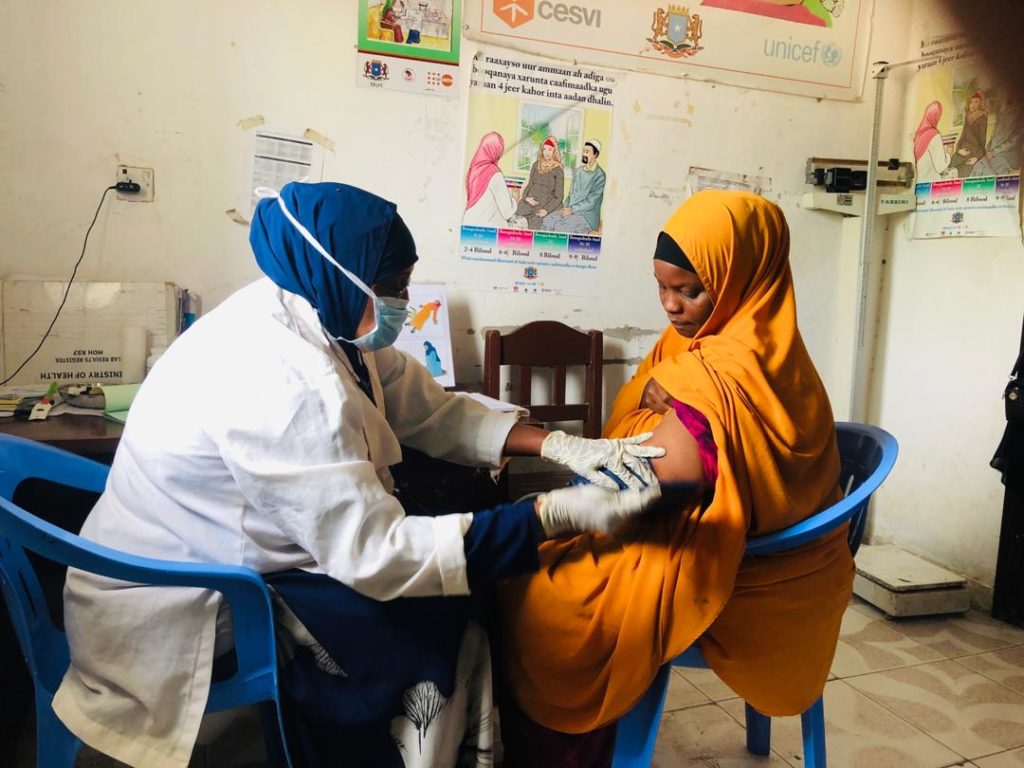 Most maternal deaths occur in developing regions, with Sub-Saharan Africa alone accounting for two-thirds of all deaths, according to the World Bank. Ensuring accessible maternal healthcare will not just yield better outcomes for mothers and their children, but —given the role mothers and their children play—entire communities.
International Medical Corps has worked in Somalia for 29 years, providing services that build local capacity and offer emergency relief in health, nutrition, protection, and water, sanitation and hygiene to communities affected by conflict, displacement and natural disasters. Thanks to the Somali Health and Nutrition Programme (SHINE), a UK Aid initiative, we currently support pregnant women, mothers and their babies at Ambulatorio Health Center, which we provide with financial support, including staff wages and hospital maintenance costs, and where we run staff training programs and district health coordination meetings.