Hassan Adam* used to be a successful mechanical engineer in Homs, Syria. He had a promising career at the water company. His family owned a successful rental car business. But on February 16, 2012, Adam's life took a dramatic turn when he was hit by a rocket, leading to several bodily injuries especially on his stomach and left hand. The latter had to be amputated.
"In February 2012, I was walking with five friends and when we approached a roadblock, a rocket fell down straight on us. Three of my friends instantly died while I ran with another friend for almost a mile until we reached a mobile clinic," he recalls, "holding my left hand, hoping to save it." After an unsuccessful treatment of the gunshot wound in his hand at the mobile clinic, Adam was sent the same day by an ambulance to Lebanon. Because of the continuous bombing and curfews in Homs, his wife and three children were unreachable. "Only three weeks later, they saw me on television and knew I was injured and was being treated in Lebanon. They were relieved because they thought I was killed," he stated.
Adam had hopes during the week-long stay at Tripoli Hospital that he would be able to recover with antibiotics and not have to lose his hand. However, the infection was severe. Doctors announced to Adam that amputation was necessary. "After the surgery, I asked everyone to leave me alone in my room. It was hard. I slept for long hours and when I woke up, I remembered simple scenes of everyday life like holding my baby girl with both hands. Such a simple pleasure is out of reach now," he recalled.
After the amputation, Adam could not imagine how he would meet his wife and children with his amputated hand. "I wanted to be the strong and able man my wife and children have always known me to be," he says. He asked the hospital for a prosthetic hand. The cost was too high for him. International Medical Corps Senior Health Officer Ruba Dahi, was paying daily visits to Tripoli Hospital to conduct a rapid needs assessment of injured Syrian refugees. "I met Adam the day he arrived at the hospital. Like other injured people, I was evaluating his health progress. When he underwent the surgery, I was amazed by how strong he was. He didn't want to let the event get in the way of his love for life. He only needed a prosthetic hand to be able to show his family he can still lead a normal life," she recalls. Ruba mobilized her contacts with several organizations and succeeded in obtaining a funding for a prosthetic hand.
"I was so happy when I got the prosthetic hand before my family arrived. I had a horrible experience but mine pales in comparison to the reality being lived by Syrians on a daily basis. I was lucky to remain alive. I know many people who were imprisoned, gone missing, or killed in explosions. I was offered a new life. I force myself to live a normal life and work. The prosthetic hand helps a lot. The only problem is that there was no ring on it," he concludes laughing. For several months, his wife nagged him to put a ring on the finger of the prosthetic hand, which he did.
Adam has started a new life in Lebanon and is working as a mobile phone seller for a Lebanese businessman.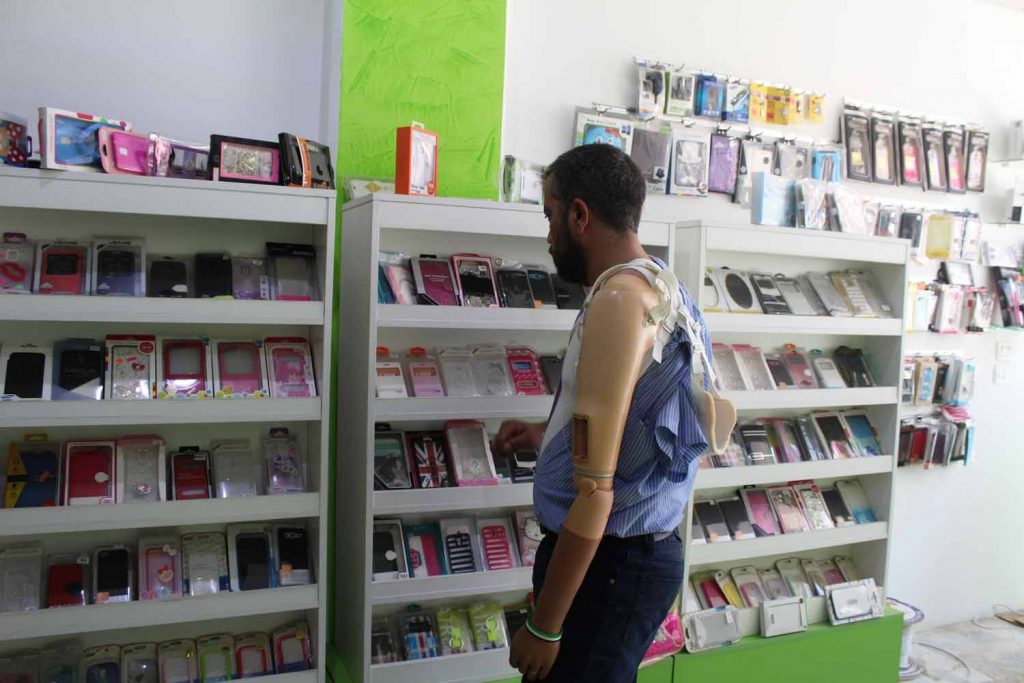 Since March 2011, with the situation deteriorating in Syria and refugees flowing into Lebanon, International Medical Corps has been assessing all clinics and partner hospitals to ensure that they have adequate supplies of medication and equipment for emergency situations. As a key healthcare provider in Lebanon, International Medical Corps has a well-established network through which to implement health programs in multiple locations. To improve the health and well-being of Syrian refugees and vulnerable host populations in Lebanon, we provide primary health care, health education, capacity building, and medications and supplies for health care centers.
* Names have been changed to protect the identity of those featured in this post