Getting through the winter months can be challenging. It's even more difficult to make it through the cold and dark months in the midst of an ongoing war. This is the situation faced by millions of Ukrainians, who continue to suffer as the war there—now in its 11th month—has left them without power and heating at a time when temperatures have dropped well below zero.
Yet they are not facing this challenge alone. International Medical Corps has been helping by distributing essential supplies to keep the population warm and comfortable during winter. As part of our response, we have distributed beds, mattresses, blankets and hygiene kits to internally displaced persons (IDPs). We also have provided electric heaters, water boilers and generators to IDP shelters and hospitals to ensure that vulnerable women, children and men have access to heating, electricity and hot water. So far, we have distributed these supplies to about 10,000 people in Chernihiv, Dnipro, Donetsk, Kharkiv, Kyiv, Lviv, Odesa and Vinnytsia oblasts.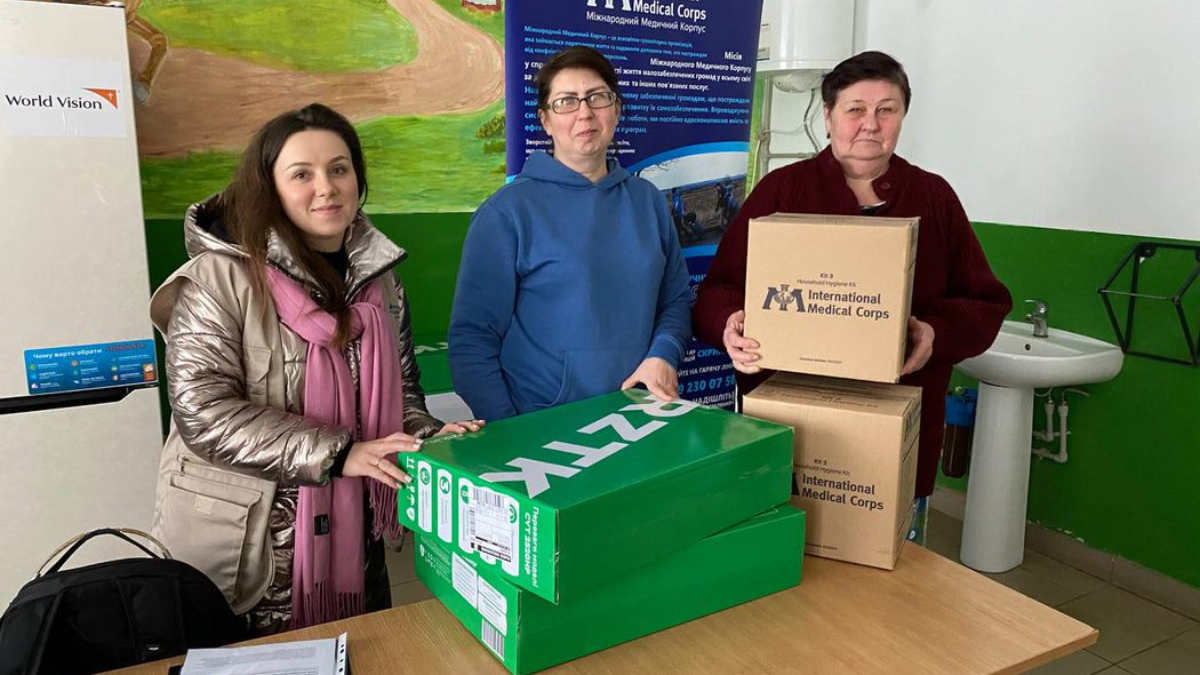 In October 2022, we began providing support to two hospitals—Bashtanka Central District Hospital and Snihurivka Central District Hospital—in Mykolaiv, one of the areas most affected by the conflict. We have so far donated 50 heaters to each of the two hospitals, and have provided 200 blankets to the latter hospital.
In November, we donated a boiler to an IDP shelter in Krivyi Rih, a city in Dnipropetrovsk oblast. The shelter hosts 200 IDP families, who had been living without access to hot water. "International Medical Corps is a blessing to us," says Tymoshenko Oleh, a 77-year-old resident at the shelter. "The water boiler has been our saviour this winter."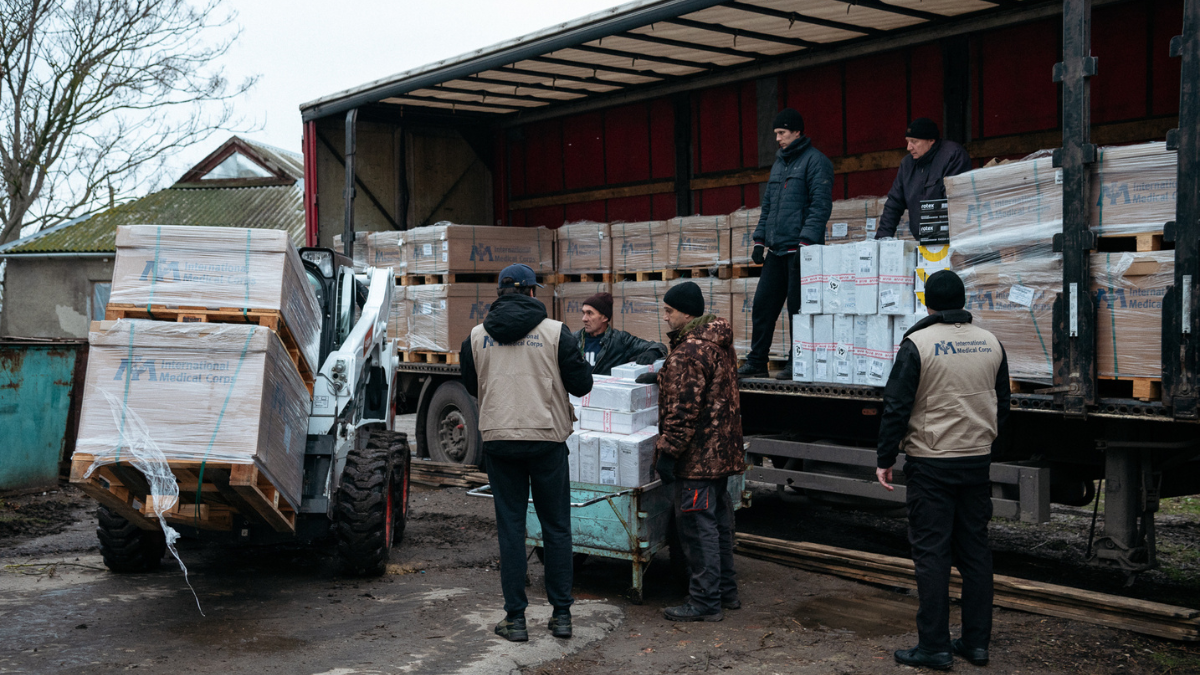 In December, our Water, Sanitation and Hygiene (WASH) team distributed water and blankets in newly liberated areas around Kherson. In addition, the WASH team distributed heaters and hygiene kits to IDP families living at the Zavadka Secondary School in Stryi, in the west of the country.
We also had provided multi-purpose cash assistance to these families in July. Such assistance is one of the components of our extensive efforts to help the citizens prepare for—and survive—the cold Ukrainian winter. "During our assessment, we ask people whether they prefer cash or in-kind distributions," says Joshua Zakary, Cash and Voucher Assistance Manager. "While most prefer cash, there have been instances where people specifically asked us for food and blankets. So, we need to establish the needs of the communities we support before we meet those needs."
Of course, International Medical Corps also works with local authorities to identify beneficiaries and their needs. Take generators, for example—with Russian forces targeting energy infrastructure and causing nationwide power outages, district authorities provided International Medical Corps with lists of health facilities that required generators as backup during such outages. We procured 83 generators and have, so far, donated more than 30 of them to health facilities and hospitals throughout the country.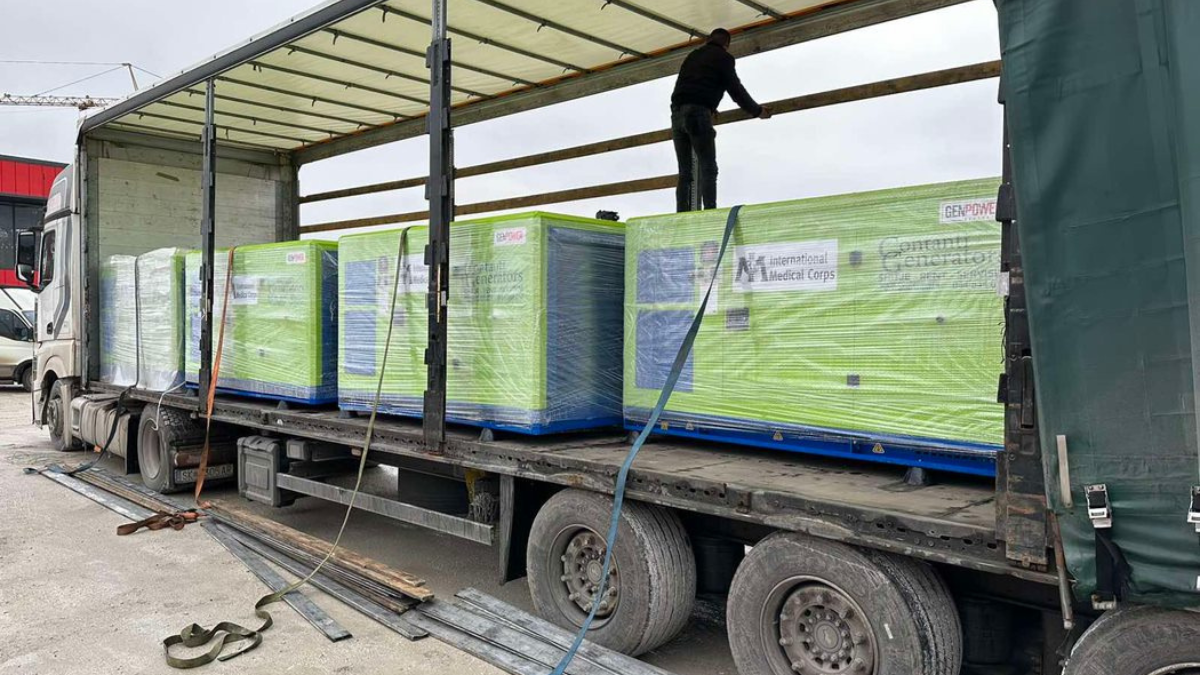 "During winter, the temperature can go down to minus 25 degrees Celsius, which can lead to freezing if people have no heating," says Sunita Sharma, Program Manager in Ukraine. "The generators, heaters and boilers that International Medical Corps is donating will help alleviate this problem."
For Polyakova Natalia, an 80-year-old woman from Rubtsi village in the Donetsk region, International Medical Corps is "no less than an angel."
"Your organisation is the first to come and check on us," she says. "The blankets you have provided have helped us to cope with the cold."
To find out more about our response, please visit our Ukraine emergency hub page.