Ahmad's mother is telling me her son's story. "I was so scared when the doctor told me that my baby had cerebral oedema. I was in my fifth month of pregnancy." She continues, explaining that her doctor at the time assured her that the diagnosis would not affect her son's development. "He will have a normal life," he said.
However, Ahmad's mother noticed that her son was in fact different to most other children his age. The way he walked, the way he moved, the way he played—it was clear to her that he was struggling. She also noticed that Ahmad would often get frustrated, and even aggressive, when he couldn't walk by himself. Eventually, his condition worsened, resulting in spasticity in his lower limbs. His physical condition had a detrimental impact on both his and his parents' mental health.
Ahmad is eight years old and has been living in Lebanon with his family for the past five years. Though they tried to live a quiet and normal life in Syria, after years of civil war the family decided to flee to Lebanon for safety.
In Lebanon, they settled in Burj Barajneh camp, located in the Southern suburb of Beirut. Established in 1949, it also has been a home to Palestinian refugees, and is in one of the most overcrowded and deprived neighborhoods in the country. The ongoing crisis in Syria resulted in new waves of refugees to the camp.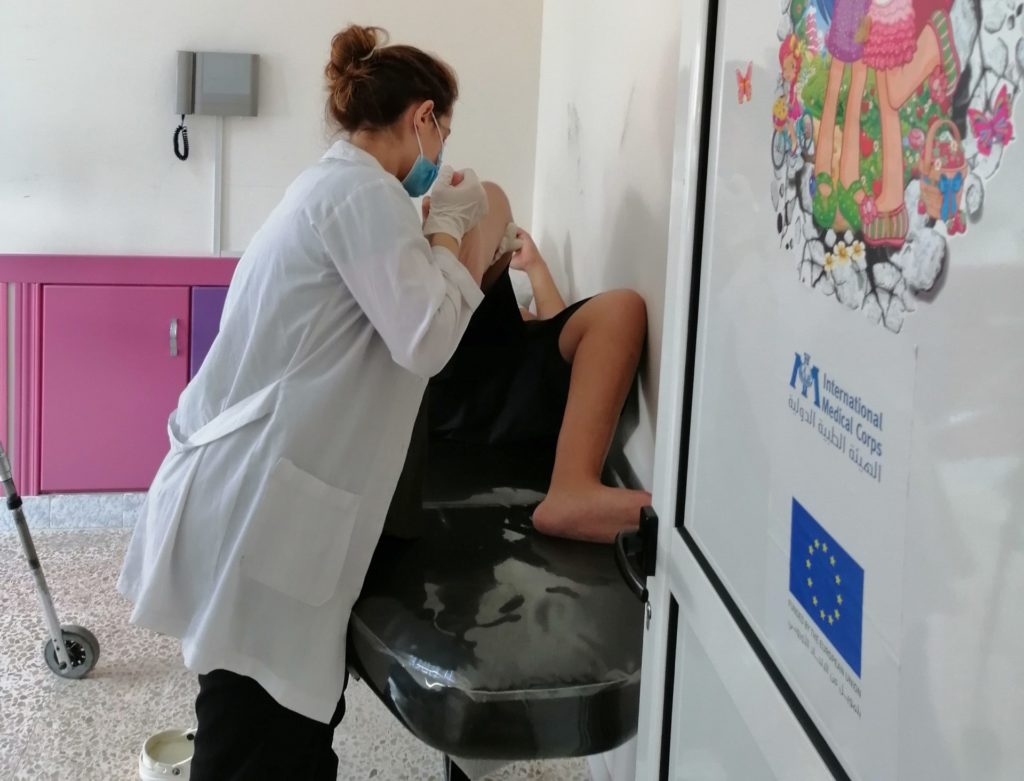 Living with a disability is challenging enough. Having to live with that in an overpopulated and deprived neighborhood like Burj Barajneh proved to be too difficult for Ahmad and his family.
As luck would have it, in November 2019, Ahmad was identified by a disability-outreach volunteer who works with International Medical Corps' project funded by the European Union, through the EU Regional Trust Fund in response to the Syrian crisis, the EU "Madad" Fund.
Ahmad and his family were referred to Al-Kayan primary healthcare center, where they were seen by a specialist. Following the consultation, the International Medical Corps health team, Ahmad's carer, with Ahmad himself, jointly developed a treatment plan that included a series of physiotherapy sessions. Ahmad was given a much-needed wheelchair, which helped him move around more freely and improved the overall quality of his life. The program also provided support to his parents, who received additional information and education about their son's condition, including how to provide the best care for him and his specific needs.
Ahmad's mother says that since her son received the wheelchair earlier this year, he is able to perform most tasks on his own and has grown to be more confident and independent. He plays with his friends and siblings, and is able to participate in most activities.
When asked about his experience, Ahmad says, "I am happier now, and my life is a lot easier. I also take good care of my wheelchair because it is now part of me."
Like Ahmad, Mortada—a 76-year-old Lebanese man, was seen by a specialist at Al-Kayan clinic earlier this year. Mortada couldn't stand or walk on his own—he used to rely on his children and wife to perform his everyday tasks. His case was assessed by the International Medical Corps' team and accordingly he was given a wheelchair and adult diapers. According to his wife, Mortada is now much happier. His mental health has significantly improved following this intervention.
Ahmad and Mortada's treatments, and associated improvements, are made possible thanks to the dedication of his parents, the health team supporting the family, and the assistance the European Union provides to him and his family through a project for Improving Access to Quality Healthcare for Persons with Disabilities in Lebanon. This EU funded initiative, which supports Lebanese and Syrian communities in equal measure, supports many other children and adults who like Ahmad and Mortada are in need of assistance.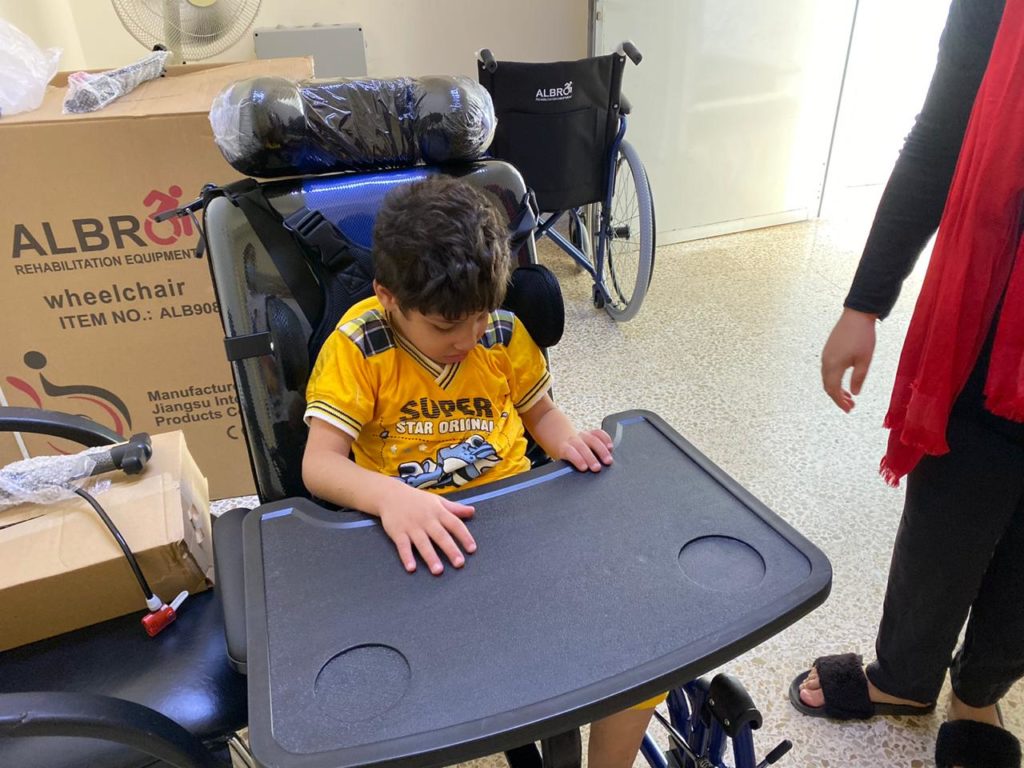 The EU support makes it possible for persons living with disabilities to access specialist services such as physiotherapy sessions, speech and language therapy sessions, as well as counseling and case management, and receive assistive devices like wheelchairs, canes, walkers and hearing aids.
The EU continued its support to ensure services to persons living with disabilities since the onset of the Covid-19 pandemic and in the aftermath of the Beirut blast on August 4. This continuous support is essential to enable families affected by the economic crisis to access specialized services required by children and adults living with disabilities.
International Medical Corps has partnered with Premiere Urgence Internationale to implement REBAHS II and bolster the capacity of the local health system to better deliver an affordable and comprehensive package of quality health and mental health services. By providing subsidized healthcare, the project aims to improve the physical and mental health of refugees and vulnerable members of the host population. The project is designed to allow people with disabilities to access these subsidized services while benefiting from a range of disability-specific services and support.