The Democratic Republic of the Congo (DRC) has been experiencing violence and conflict since 1996, with some periods of calm that are more precarious than others. After the first wars in 1996, which were aimed at changing the political regime, foreign armies waged wars on Congolese soil. Later, there were wars of rebellion against the government of the DRC, and today, there are wars between tribes, each of which is fighting for its own reasons, with no end in sight. Millions of women, children and men—mostly from agrarian populations—have been displaced to environments where there is less risk of being killed or of becoming the victim of gender-based violence.
However, many of those who have been able to escape the violence are dying of disease and hunger. In the DRC's tropical climate, hundreds of thousands have died from malaria. Though there is water, it is often unsafe, causing diarrhea and other waterborne diseases. Food is scarce, because even though many internally displaced persons (IDPs) are farmers, they often have no land where they can grow crops, which creates ongoing malnutrition. Hundreds of thousands of IDPs are living in camps and host households—but the host households are also struggling to get enough to eat, as it is mainly the war-torn areas that provided these small towns with food. As usual, it is women and children who suffer the most.
For more than 20 years, International Medical Corps has been at the side of the Congolese population, fighting on all humanitarian fronts so that the victims of the horrors of war can continue to live. Because many IDPs have fled to places that are far from healthcare facilities, International Medical Corps deploys mobile clinics in eastern DRC to bring free, quality healthcare closer to people who have difficulty getting the care they need.
"This approach to quality care in 35 health areas in the two provinces of South Kivu and Tanganyika allows us to take care of up to 1,200 patients on average per health area per week," says Dr. Ange Masudi, one of our staff members responsible for the mobile clinics, which have treated more than 16,000 people throughout the life of this project. "This is a very important support to the healthcare system of these two provinces."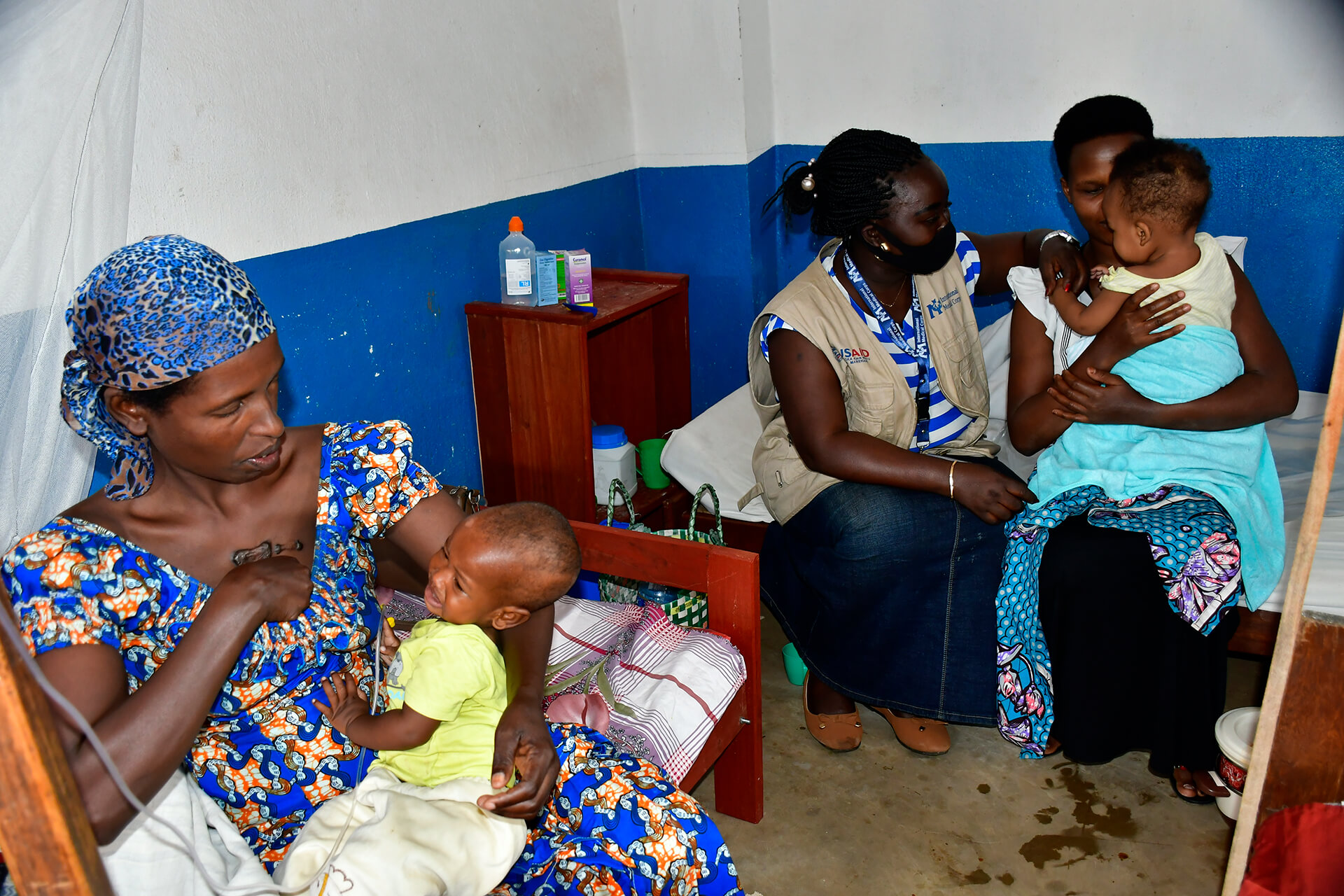 She adds: "The humanitarian need is always growing. We have difficulty in closing the deployment of a mobile clinic team because the number of patients is always increasing."
Because the mobile clinics operate in a region where malaria is endemic, more than 80% of all patients who come for treatment are suffering from malaria, on top of other diseases. Our team recently met two women from different tribes, victims of the same war between their respective communities. Both women currently reside about 80 kilometers (50 miles) apart in South Kivu province, in the eastern part of the DRC—and both came to International Medical Corps seeking treatment for malaria.
The first woman, Maua Kashindi, is the mother of seven children. When we met her in the small town of Bakara, she said she did not know where her husband had fled with three of them. "The war started while we were in the field," she explained. "The bullets and bombs started to whistle everywhere, and that's how I and these four children that you see came to the outskirts of Baraka. We didn't even have time to take anything to flee; I had to save my life and the lives of the four children."
Ms. Kashindi's story is like that of hundreds of other inhabitants of this part of South Kivu—including Nyamasoso Dyna, whom we met when she and some of her eight children came to the health center in Uvira for treatment of malaria and diarrhea.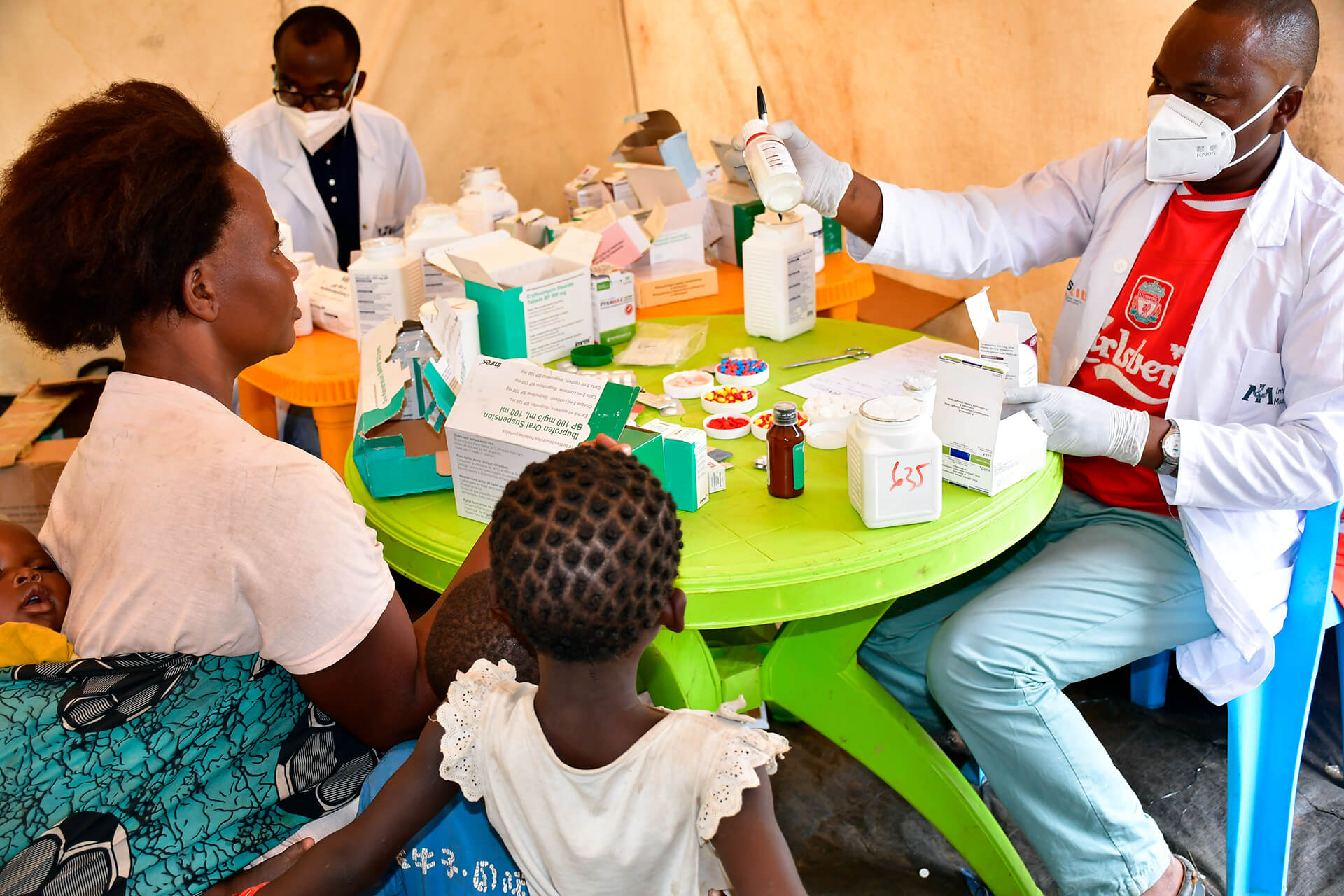 "The war broke out late at night, and it was a real 'sauve qui peut' ['run for your life']," she said. "There was not even time to take anything—just to save my life and that of the children. The father of my children fled in another direction with some of our children, and I am with the others. Unfortunately, we fell ill…. We had had to abandon our fields and our cattle to flee, so we are destitute, and we were self-medicating with herbs. We heard that International Medical Corps was taking care of war-displaced people. That's how we came to this health center."
Mrs. Kashindi talks about the hunger and lack of medical care that she and her family have experienced. "We can beg for food from the families we meet here, but we can never find medicine," she says.
But International Medical Corps has brought hope. "This is how International Medical Corps works—it is really to save the lives of us displaced people, because we don't have money for treatment in healthcare facilities. When we don't know how to get treatment, we are sure to die," she says.