Mahmoud (age 28) was a few months away from earning a law degree when the area where he lived and studied in Aleppo became consumed by violence.
"There were rockets coming down over us all the time, explosions everywhere, and that was the end of law school for me," he recalls. "There's no safe area left in my city. Our neighborhoods are destroyed. There's no water, no electricity, no life there anymore. There's no future, not for me, not for children, or anyone."
Mahmoud is now studying German on his smart phone. He downloaded an online course before fleeing Syria. "It's what I do when I'm waiting," he says. "I learn a little bit of German every day, when I'm waiting at camps and checkpoints and it helps me forget all the sorrows. If I can speak a little bit, I know it will be better when I arrive in Germany."
Like so many of the refugees trekking to safety in Europe, he dreams of settling in Germany and making a new life there for himself and eventually his family.
At this moment, he's one of nearly 1,000 refugees waiting at a congested, fetid and muddy camp in the village of Berkasovo, at Serbia's northwestern border with Croatia. He's been there nearly 12 hours, waiting for Croatian authorities to open the crossing.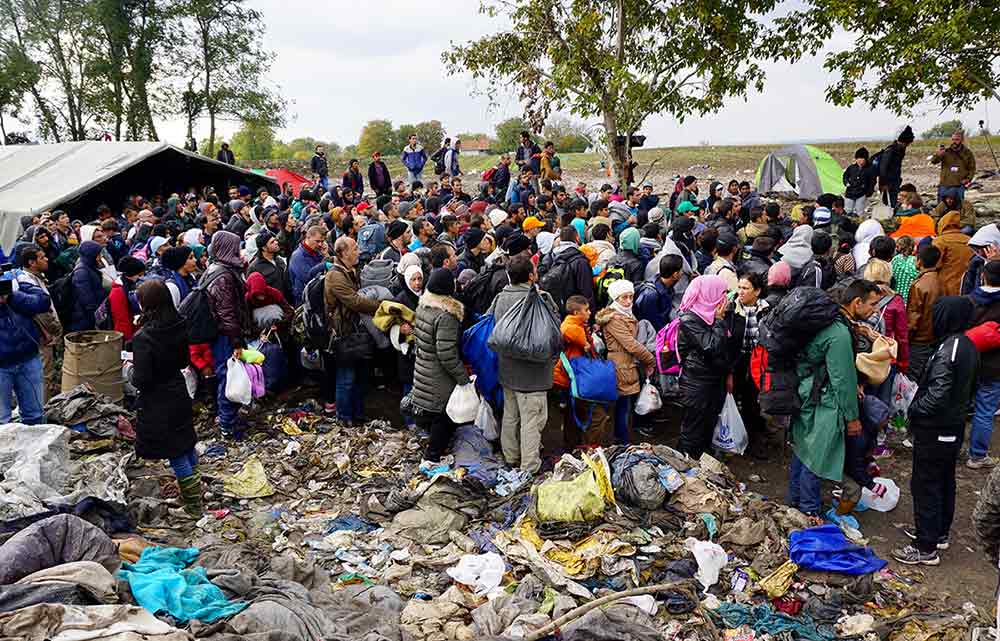 He picks up a crying child and tries to cheer her. He tells International Medical Corps' Sanja Djurica that the little one is the youngest of a Syrian family he met and befriended at a refugee camp in Turkey. He's traveled with the family ever since.
"I left my own family behind," he says. "But when I get to Germany, I will work and make enough money so that my family does not have to travel this way—like animals. I don't want my mother to sleep in the rain, and shiver in the cold, and sit for hours with piles of trash."
There's an announcement at the camp that the Croatian authorities will soon open the border. Mahmoud and his adopted family quickly assemble the children and gather their few belongings. The children are excited and the adults look anxious.
"Auf Wiedersehen," he calls out, waving goodbye, as he joins the masses converging in front of the gate.