My name is Angelina Nyanhial Madut, and I'm a participant in International Medical Corps' gender-based violence (GBV) program in Nyal, South Sudan. I also go to the Katieth women's and girls' safe space (WGSS). I thank International Medical Corps for providing me and other women the opportunity to interact together and access basic information about our rights as women and girls, which has contributed to reducing the risk of violence in my community. I also thank the management and entire staff of International Medical Corps in Nyal, especially the women support officers, for training us in various areas within the women and girls' safe spaces, which has enhanced our access to skills, knowledge and important information.
Before joining the WGSS, I wasn't aware of my rights. After joining, I received training and guidance that enabled me to cope with my personal difficulties. I was counseled along with other women, and we are no longer stressed by the challenges we face.
My fellow women in this community and I have been in the dark, not knowing our rights or how to live healthy and happy lives. However, with the establishment of the WGSS, I feel empowered because I can now socialize with other women and learn from their experiences—reducing my own stress and improving my psychological well-being.
There are numerous changes taking place in my community today, especially with women's and girls' well-being, through the GBV program. It used to be a common practice in my community for a girl to be forced into marriage at a young age. If she tried to resist, men and boys could beat her—and her mother, if her mother tried to protect her. But now, because of the training that International Medical Corps is conducting for community leaders, most of whom are men, this phenomenon is changing somewhat. Women are consulted over their daughters' marriages, and their consent is obtained prior to any marriage ceremony. Men's engagement in learning basic GBV concepts through training and discussions has caused a positive impact in this community today.
I have also benefited from materials distributed to us in small bags here in the WGSS. The bags contain soap, toothpaste with a brush, lotion, underwear, sanitary pads, a nail cutter and sandals. We appreciate and thank International Medical Corps for that.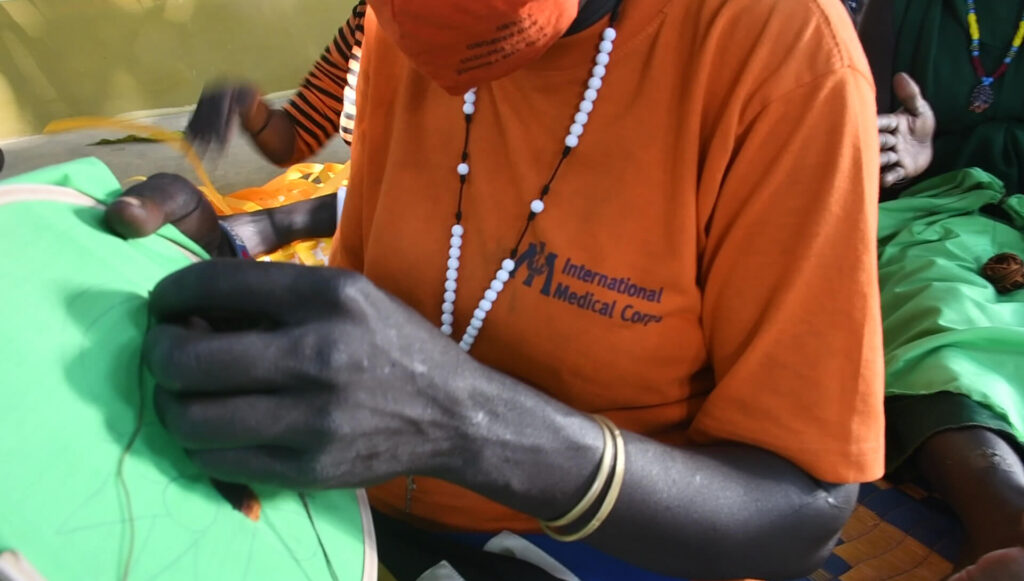 Initially, I didn't know how to make bedsheets, but now I can make my own bedsheets, table covers and bead necklaces, using the skills and materials I received from the WGSS. I either use the products for myself in my home, or I sell them to earn money and buy basic necessities for myself and for my children.
Also, in the WGSS, there is a small room separate from the main hall called the counseling room. In this room, women are offered counseling services whenever they face violence, including rape—either in their homes or at the hands of criminals in the bush while they are collecting firewood or doing other livelihood activities.
Many people in this community are receiving messages about International Medical Corps' activities and services provided in this WGSS, and they come from as far as Nyingong, Kol and other neighboring villages to participate in the activities and learn some skills. I hope that International Medical Corps and the donors can increase funding for this program so that my fellow women in this community and other neighboring villages can also benefit from the program activities and services.