Menstruation is a normal process for anyone with female reproductive organs. But the stigma associated with it—and the challenges that many women and girls face during this time—is far from normal.
"Period poverty" refers to the inability of women and girls to access resources⁠—such as sanitary pads, water, soaps, medicines and sanitation facilities⁠—during their monthly menstrual cycle in a safe and dignified way. According to UN Women, at least 1.25 billion women and girls across the globe do not have access to a safe, private toilet. This figure is almost equivalent to the population of the world's second-largest country, India.
In many parts of the world, menstruation is considered taboo. Menstruating women and girls are excluded from family and social life, forced into solitary confinement and prohibited from entering the kitchen or cooking. In some parts of the world, female students may be forced to stay at home during their periods, thus missing out on education and employment opportunities. According to UNICEF, 9 million girls in sub-Saharan Africa do not go to schools, many of which lack water and sanitation facilities.
Or, worse, they may be vulnerable to exploitation. A UNFP study found that some schoolgirls in Kenya engaged in transactional sex to pay for menstrual products. All these factors and experiences, in turn, can affect mental health and well-being—leaving behind hard-to-heal emotional scars, and preventing women and girls from realizing their potential.
This Menstrual Hygiene Day, May 28, we look at how our water, sanitation and hygiene (WASH) programs are fighting "period poverty" and helping girls and women have a dignified period.
Providing access to clean water, sanitation and hygiene services
Safe water, improved sanitation and proper hygiene are crucial to good healthcare, well-being and dignity. Menstrual hygiene management (MHM), which is interlinked to all of our WASH programs, includes a number of components, detailed below.
Dignity Kits
The lack of access to hygienic menstrual products can force women to use harmful sanitary materials—such as newspapers, plastic, leaves, clothes, sand and rags—to manage their menstrual flow, which can cause infection and rashes. As part of its MHM programming, International Medical Corps provides dignity and hygiene kits to women and girls to help them manage their periods safely. These kits contain sanitary pads, underwear, socks, hand sanitizer, and bath and laundry soap, as well as a whistle, reusable bag, towel, toothbrush, toothpaste, shampoo, flashlight and toilet paper. In addition to these, the hygiene kit contains a bucket, washing powder and liquid bleach. In Ethiopia, the WASH team has delivered 4,550 sanitary pads to internally displaced women and girls in multiple camps and communities, and has distributed 9,100 sets of underwear and 9,100 bars of laundry soap.
Access to clean water and sanitation.
Whether it's during their period or not, every girl and woman needs adequate access to clean water, and a private and safe toilet for personal use. The WASH team has built toilets all over the world for internally displaced persons (IDPs) and refugees. These toilets have durable roofs and walls, and a latch and lock, and ensure that women and girls can take care of their hygiene needs in a safe space. Our WASH teams also work with communities to provide access to clean water by rehabilitating and repairing water points, using solar-powered hand pumps, digging boreholes and treating water.
Training and awareness sessions.
Hygiene promotion is a critical component of WASH. We collaborate with schools, local authorities and community groups to conduct awareness and training sessions on health and hygiene. These sessions provide knowledge and skills on healthy hygiene practices—such as effective handwashing and maintenance of overall body hygiene—and include lessons on menstrual health, reproductive health, social cohesion and gender equality. In Somalia, for example, we have partnered with schools and community groups in Jowhar to provide adolescent girls with menstrual hygiene education.
"Access to adequate WASH services can save lives, and is essential to uphold the dignity of people who need these services. This is especially true for MHM for women and girls," says Syed Yasir Ahmed, Global WASH Advisor at International Medical Corps.
Recent efforts in menstrual hygiene management
In January 2022, International Medical Corps began providing training in Zimbabwe to 87 community health clubs on health and hygiene, with MHM a key topic. A trained community-based facilitator conducted the training, assisted by WASH staff and environmental health technicians from the Ministry of Health and Child Care (MHCC). Participants shared that they used unsafe materials to manage their periods, such as the inner stuffing of duvets, old rags, cow dung and the inner parts of maize cobs. With this information in mind, we are working with MHCC to establish acceptable standards for making reusable sanitary pads.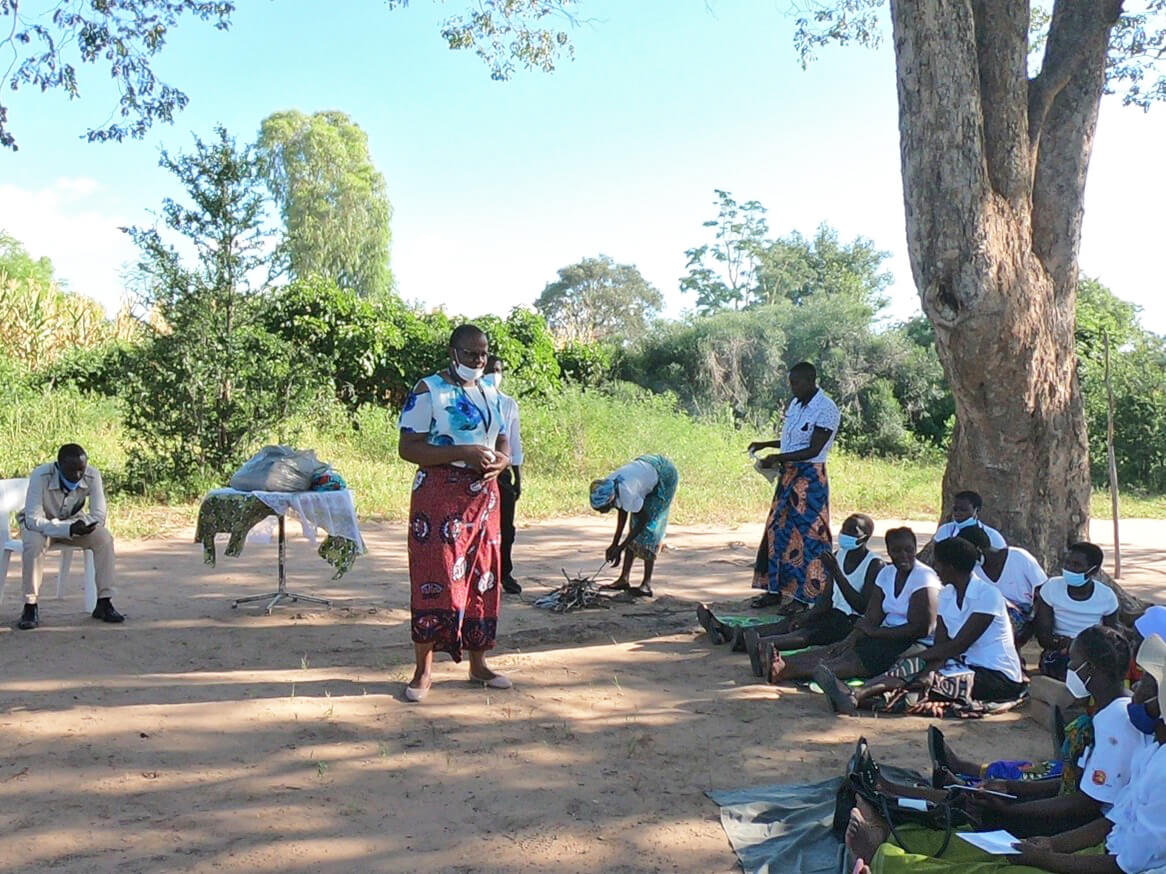 In February, the WASH team in Ethiopia conducted MHM training sessions for 100 IDP adolescent girls and women in Chinaksen, Meyu and Kumbi woredas (districts), to raise awareness among girls and women on how to effectively manage their menstruation. They learned how to make reusable sanitary pads from cotton cloth. The training comprised explanatory sessions, a question-and-answer round and a group discussion. The participants discussed the taboos associated with menstruation and the challenges they faced during this time. At the end of the training, the participants produced 200 sanitary pads.
"Before I got the MHM training by International Medical Corps, I would face difficulty during my periods because I did not have access to sanitary pads, and I did not know how to make pads from locally available material," says Oromia Muhammed, an eighth-grade student of Mino IDP Elementary School in Kumbi. "But now, I know about menstrual hygiene and how to make a sanitary pad. I don't need to be absent from school anymore during my periods."
International Medical Corps has helped hundreds of women and girls like Oromia across the world live with dignity during their menstrual cycle. Periods don't stop during a crisis or pandemic—so why should women?
Find out more about our WASH programming and how you can help women and girls have a dignified period.