Behind our Ukraine response is a dedicated team of logisticians who are working hard to make sure that supplies and people get to where they need to go. Some members of the recently hired team had never worked for an NGO before and have had to learn the ins and outs of doing their jobs amid conflict and violence. We recently sat down to talk with two staff members—Logistics Officer Pavlo Brylov and Senior Supply Chain Manager Oleksandr Buianov—which was hard to do because we were constantly interrupted during our conversation. Drivers asked Pavlo to sign the forms that enabled their business trips, while contractors kept calling Oleksandr to iron out purchase details. It seems the Logistics department is always in the middle of several issues simultaneously.
During War, There Are Shortages of Everything
Pavlo joined the Kyiv team in April, when Ukrainian Armed Forces had just liberated the capital's outskirts. The city was empty, but Pavlo wanted to help Ukrainians who were suffering amid the fighting. Luckily, he found International Medical Corps.
In his first week of work, Pavlo had numerous challenges to solve. Because the war had destroyed much of the country's infrastructure and driven many people to flee areas of active fighting, it was hard to hire staff. Then, as people started moving back to Kyiv, the competition for employees grew.
"At first, it wasn't easy to find candidates, but the procedure was simple," Pavlo says. "Now the number of candidates has increased, but the process is slower. We need to find a balance between procedures and meeting our needs."
The team had trouble finding vehicles to rent, so Pavlo had to look for vehicles in Lviv, where the situation was more stable. Even when there were vehicles to drive, the regular bombing of oil depots throughout Ukraine was causing fuel shortages, forcing people to wait in line for hours to get gas. With each passing day, it became more difficult to travel to places affected by the war. However, Logistics staff tried to find a quick solution to this problem. They began working with an organization that helped humanitarians procure fuel, and they negotiated with gas stations to take coupons for fuel. "We always seek alternatives," Pavlo notes.
Maintaining a car fleet is an essential part of Pavlo's role. During his work day, he often spends time checking the vehicles' fluids and wheels, as well as their overall condition. Making sure the vehicles are ready to go at a moment's notice helps our drivers accomplish their missions at any time.
But getting from one point to another is an additional challenge, because Ukraine is a big country. Getting from Kyiv, in central Ukraine, to Stryi, a city in the west, takes at least eight hours of non-stop driving and can be exhausting for drivers. If they stay overnight in the middle of their route, it takes them much longer to make their journey—and the Logistics department doesn't have any time to waste.
So to make long-distance drives more efficient, the Logistics team implemented a "kiss contact." For example, drivers will start from Kyiv and Stryi at the same time, and meet somewhere in the middle of the route. "We try to reduce our expenses and save our drivers' time so they can be involved in other activities during the day," Pavlo says.
Providing Essential Support
Oleksandr started working with International Medical Corps in Lviv as the Warehouse Manager in March. He had to hit the ground running. "On my third day of work, we had already made the first delivery to a medical facility in Lviv," he says. "In the following days, we started deliveries to other institutions." After three months in Lviv, Oleksandr moved to Kyiv to become Senior Supply Chain Manager, a position better suited to his qualifications.
Despite Oleksandr's 28 years of experience in logistics, working during the war has been much different than working during peacetime. He and his team need to consider many factors—the places where cargo needs to be delivered, fuel prices and shortages, and human resources.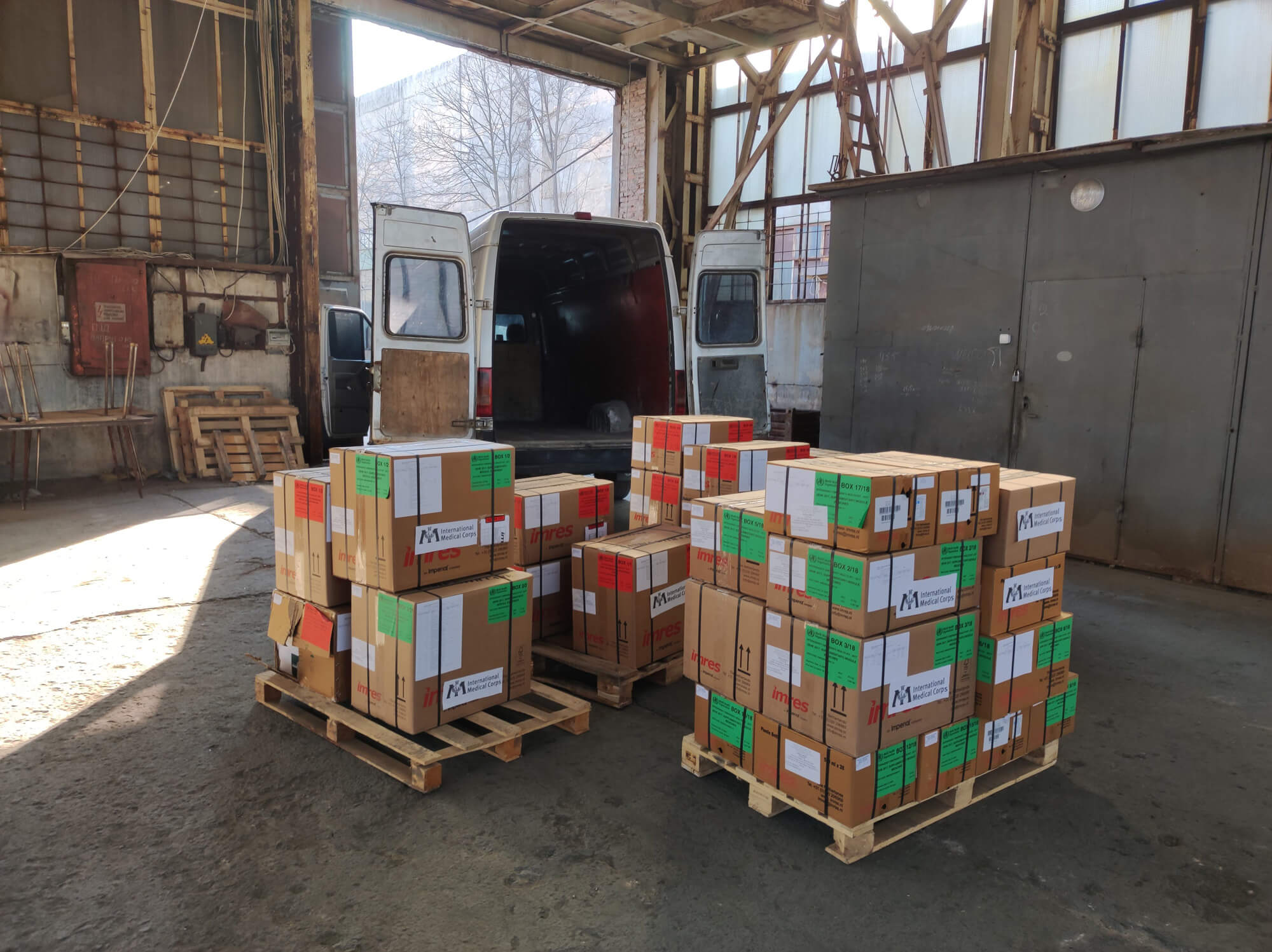 Due to fighting, Ukraine's medical facilities often don't have the medicines they need to treat wounded people. International Medical Corps provides medication, as well as equipment—including stretchers, defibrillators, scalpels and other medical supplies—to facilities all over Ukraine. Even as Kyiv was being bombed, Oleksandr organized deliveries of these vital supplies to hospitals. His decisions have to be fast—but well-considered.
Because International Medical Corps doesn't have its own fleet of trucks, Oleksandr usually works with contractors, who haven't been easy to find. "It's hard to find drivers who will agree to go to the frontlines," he says. But the team came up with a plan to make sure medical goods could find their way into the Donbas region of eastern Ukraine, which is experiencing heavy fighting: they delivered goods to Pokrovsk, 50 km (31 miles) away from the battles in Donbas.
"Our creative decision was to make a transport hub and accumulate our cargo there, so that medical workers near the frontlines could get what they need at any time," Oleksandr says. Because delivery dates often get pushed back, which increases shipping costs, the team also works to consolidate shipments by building routes to cover several cities.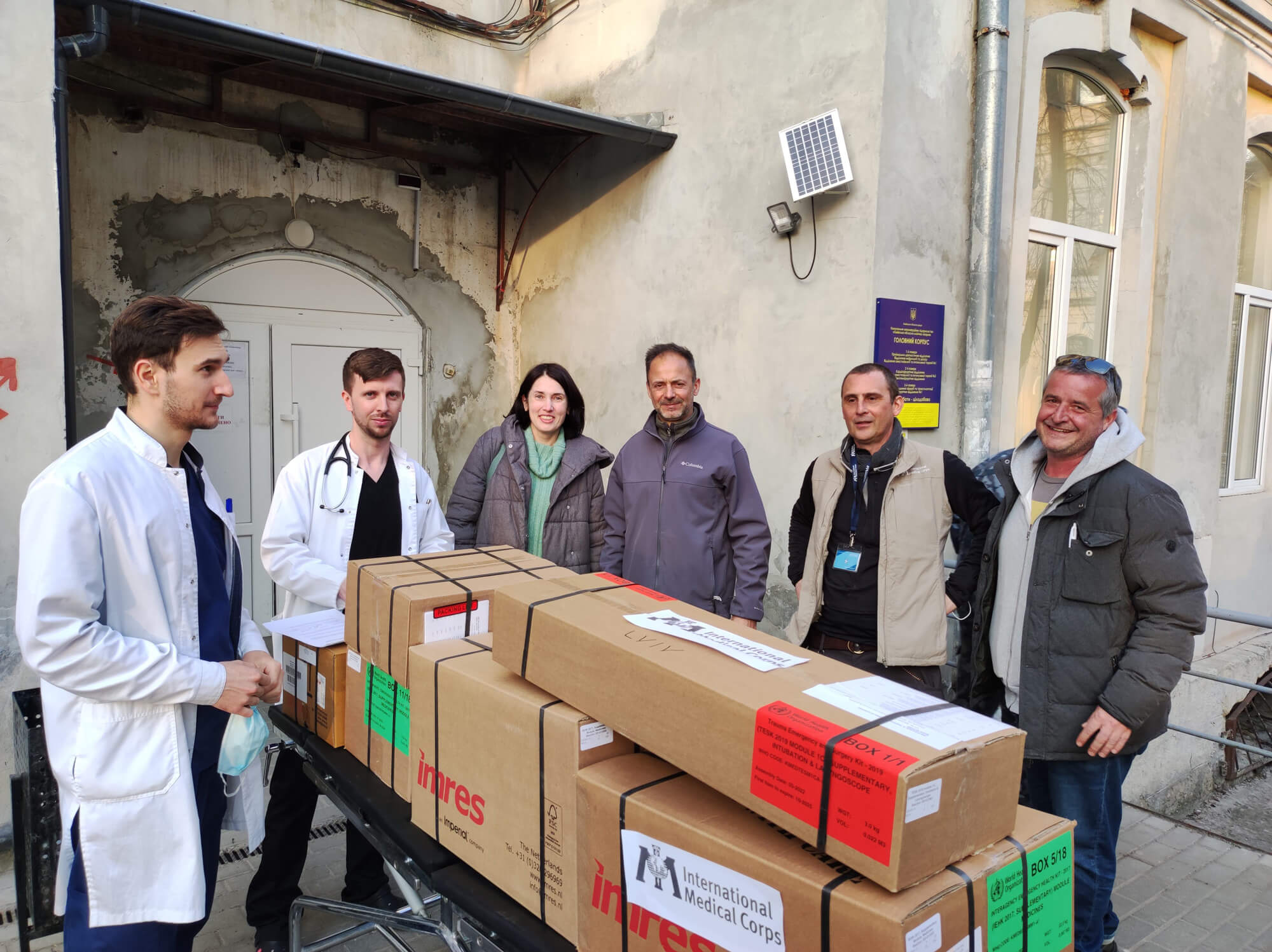 Many of the orders Oleksandr receives from the program team are for medical supplies or non-food items (NFIs), such as hygiene kits. We operate two warehouses—in Lviv and Odessa—full of NFIs, which enables us to provide appropriate support to Ukrainians and deliver hygiene kits to various orphanages and sanatoriums where internally displaced persons live. However, sometimes the orders are different—and much larger. This summer, Oleksandr had to make sure that Kharkiv, which had been shelled nonstop for five months, received a portable emergency field hospital that consisted of 17 containers weighing a total of two to three tons.
"It is essential to support those who need help, no matter what. This is the most important thing now. We try hard to do everything we can," says Oleksandr.