Sitting up in a hospital bed at a special-needs center north of Tampa, proudly showing off his new defibrillation belt, Dennis Etheridge knows he's lucky to be alive after the most tumultuous eight days of his life.
Now under the care of an International Medical Corps emergency response team that included two physicians and 15 nurses, the 63-year-old electrician was one of 36 people with special needs who were brought to the center after being evacuated from some of the areas hardest hit by Hurricane Michael on October 10.
His journey here included being trapped for two days inside his Panama City mobile home partially buried under fallen trees, without food or water, with no cell phone coverage to call for help, and no power to operate his oxygen tank or charge his defibrillation belt. He admitted that there were moments when he was unsure whether he'd make it out alive.
When finally found by a fire-and-rescue team, he was sent to temporary shelters—first at a high school in Panama City for two nights, then to a building on the Florida State University campus in Tallahassee, a two-hour drive to the east, where he spent two more nights. From there, it was another 200-mile trip south to reach the International Medical Corps-staffed special-needs center.
In the excitement of his chaotic, emotional discovery and rescue, Etheridge left his defibrillation belt behind on the couch of his mobile home. Worn by those suffering from heart problems, the belt produces an electric shock that corrects a potentially life-threatening arrhythmic heartbeat. With International Medical Corps' help, he now has a new belt—and he was happy to show it off.
Like others at the center, he was also happy about the care he'd received from the International Medical Corps staff and volunteers since arriving at the center.
"Fantastic," he said with a grin. "They've come from all over this country—from California, from Arizona, from Oregon, from everywhere, just to help us here. I can't believe they would care about us that much. The compassion they've shown is amazing."
Another patient, 52 year-old Sheri Botzong, suffers chronic pain and was also evacuated from her badly damaged Panama City home to the shelter, together with her Shih Tzu–Yorkie mix, May-May. She said the caring nature of the treatment she has received has raised her spirits.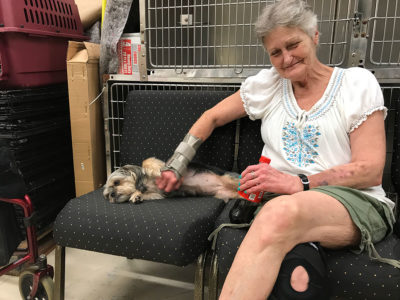 "They always treat us kindly," she explained. "They come around constantly to check on us, to make sure we don't need anything. What they are doing is what's given me the strength to take all that's been thrown at us in the past 10 days."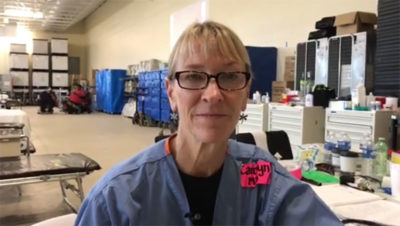 International Medical Corps volunteer physician Carolyn Haase, who headed the day shift team of eight nurses during five 12-hours shifts at the center, noted that it's important for medical staff to provide more than medical care—they also have to keep in mind what the evacuees have been through, and to acknowledge the severity of their experience. Several evacuees are in their 70s and 80s, she pointed out. One is 95.
Haase said that when working with patients whose lives have been turned upside down, she said, "sometimes a simple hug will do more than medication."
Added volunteer nurse Candice Cornero, "The most important thing is being there for these people who have lost everything. Just giving kindness can help."