Is home where your heart is, as the popular saying goes? Or is it, as Webster's dictionary defines it, just "one's place of residence"? What does home mean to the more than 65 million people displaced globally because of war, violence, natural disaster and persecution? They live in temporary, uncertain and often chaotic conditions, far from the people and places they hold close in their hearts. International Medical Corps works to reach and support them wherever they are, as they struggle to start over in places they may never expected would become "home."
Dr. Mena Abdulrazzaq, a Health Coordinator for International Medical Corps in Iraq, knows too well the precariousness of the places we call home. Born in the north of Iraq, Mena was in college during the U.S. invasion of Baghdad, in which her home became surrounded by "explosions everywhere." But it was not until sectarian violence broke out that things really started to change irrevocably, and the home she knew started to tear itself apart from the inside.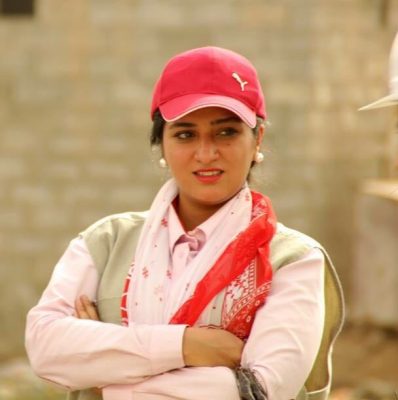 She remembers the gangs and thieves—capitalizing on the overarching violence and insecurity—that would enter her house with guns, demanding money and gold. It was just her mother and the children—and finally they reached their breaking point. After graduating from Baghdad Medical College in 2007, Mena took her loved ones and fled to Syria to escape the violence. When unarmed families like hers left, armed groups came and occupied their houses.
As refugees in Damascus, Mena and her family were relatively lucky to be living in an apartment. They were educated, but had no opportunities. All they could do was "wait for nothing"—constantly stressed and unsure when they would return home. Finally, Mena decided to take a medical internship in Kurdistan in northern Iraq, leaving Syria just before the brutal civil war there broke out, triggering the worst refugee crisis of the 21st century.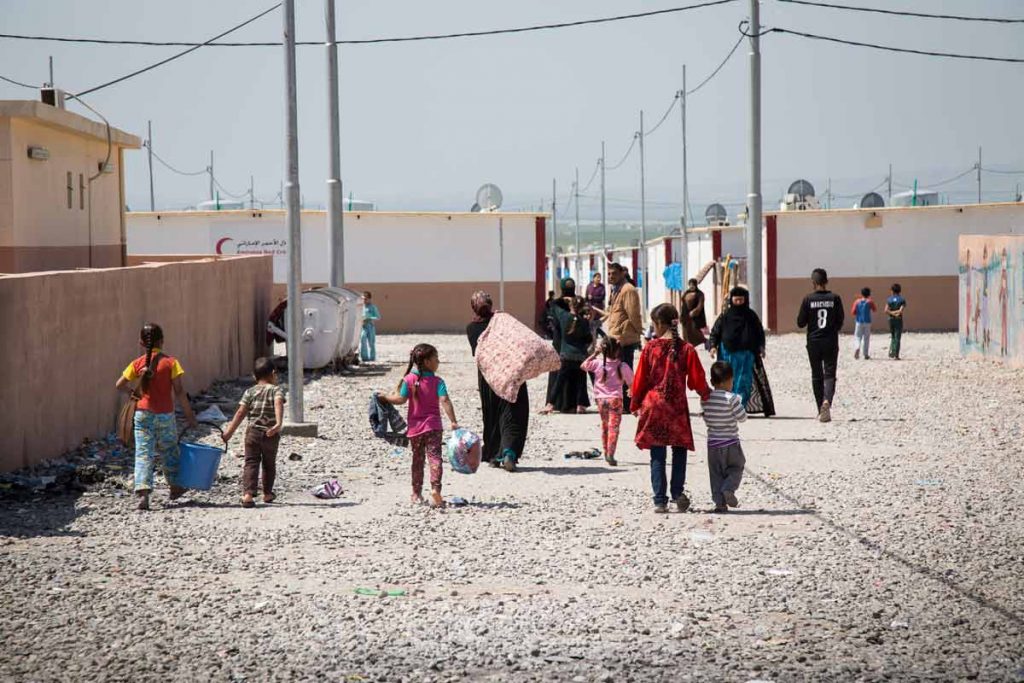 In a tragic reversal, Syrian refugees started flooding into Mena's home country. She spent a few years working as a governmental medical doctor at a hospital in Baghdad, serving displaced people and orphans. Then, the battle between the Islamic State and the Iraqi government started, and Iraq's governorates began falling one by one. Many of the millions displaced by the violence came flooding into Baghdad.
Mena recalls watching thousands show up every day in despair, having left their homes with nothing. "You feel desperate because it's endless," she says. She worked tirelessly to serve the displaced people, but was discouraged. "What can you do as a small volunteer team? It was a disaster. All these people had left their homes; there was nowhere for them. It was summer so you had extreme heat, and a shortage of water, shelter and toilets."
Mena joined International Medical Corps to work in our mobile medical units. She remembers that there were not a lot of other NGOs present to help. "There were so many obstacles, so many needs—no one can cover it all," she says. The International Medical Corps mobile teams went out to people who could not access services—orphans, widows, the chronically ill. Then the Iraqi government started its liberation campaign to retake the fallen governorates, and Mena went north with International Medical Corps, about 300 kilometers from Baghdad.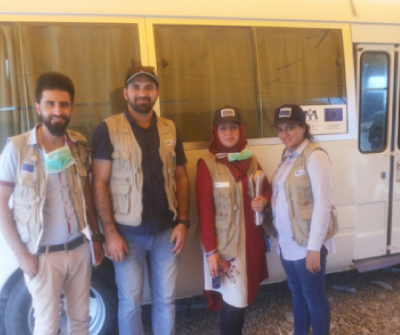 "It was a very difficult time for people," says Mena. Her team provided primary healthcare services and community health awareness sessions. She remembers a village, Alzwia Almsag, that International Medical Corps served. Everyone had said, "No one will go there"—but International Medical Corps did, discovering that there was no doctor or nurse in the village. The primary healthcare facilities were closed, and it was three hours to the nearest hospital. Everything had been stolen—even the generators—and there was no running water. So many families had fled. But after International Medical Corps rehabilitated the facilities and got medical services up and running again, the families started moving back.
Says Mena, "The whole team—we were trying our very best. The needs are huge, and yet you can see that you've made a positive impact. It makes you feel good."
She also remembers that "it's very hard work. Even if you try to be a strong, you will be affected. But working with International Medical Corps feels like what I want." She cannot pinpoint exactly why, but she loves her work—especially being in the field where she can directly interact with people and see the results of her work.
Today, Mena is working as a Health Coordinator for International Medical Corps. This means she is office-based, with rotating visits to the field in south-central Iraq. Things are still hard—and will be for a long time. "Most of the health facilities were affected by the war, so the needs are much more than before," she says. "Everything was destroyed, and there are still so many people displaced." So they wait, knowing there's little for them if they go back—no house, no work. Yet they still yearn for a place to call home.
International Medical Corps was among the first international NGOs to establish lifesaving humanitarian programs in Iraq in the wake of the 2003 US-led invasion. We have been there ever since and have helped those in need in all 18 of the country's governorates. Since 2014, our efforts have focused on meeting the needs of Syrian refugees and conflict-affected Iraqis in northern and central Iraq as we respond to ongoing violence and insecurity.