Kuramoto Shieko, 85, was in the bath when the ground beneath her began to violently shake, rattling the frame of her house. She and her husband rushed outside as quickly as they could. It would be Kuramoto's last time in her home, which her father had carefully built more than 130 years ago.
Kuramoto and her husband moved into the gymnasium of the elementary school she attended as a child, where they slept with some 30 other people on mats lined up side-by-side on the floor. Just 48 hours later, another earthquake hit. This one was stronger—7.0 compared to 6.2 in magnitude.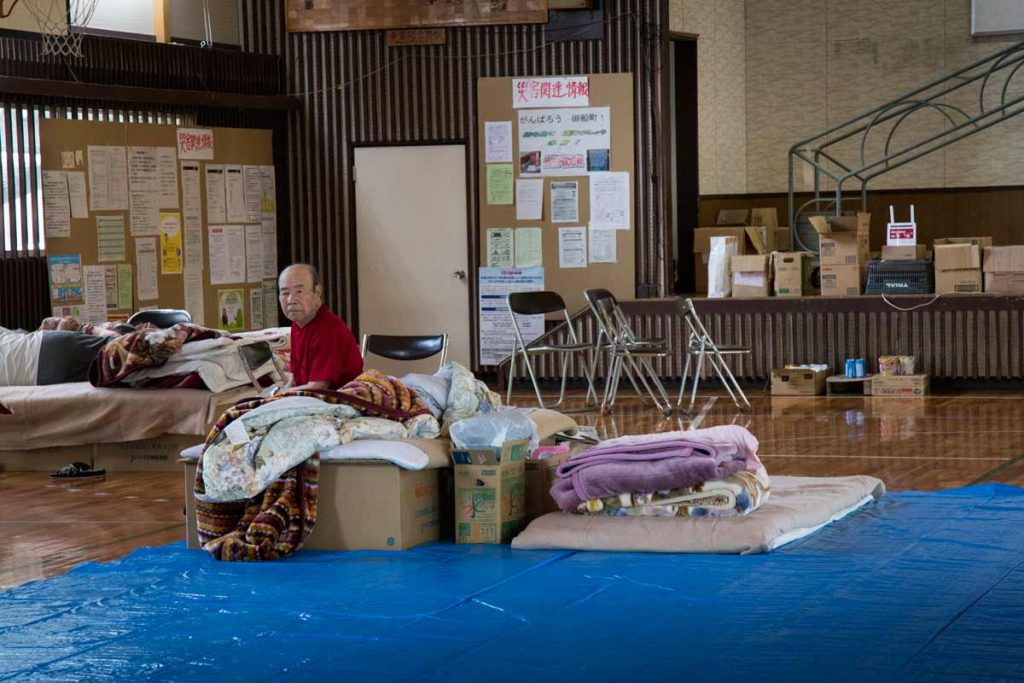 It was also the final blow Kuramoto's cherished family home. "It is totally destroyed," Kuramoto said, sitting on a mattress on top of a bed frame made of cardboard boxes. "That house lived through four emperors."
One month after the two earthquakes rocked Kumamoto prefecture in central Kyushu, the southernmost of Japan's main islands, more than 10,000 people are still living in evacuation centers, unable or too afraid to return home. Many of them are elderly and now uncertain of where they will live after losing what they so carefully built over decades in seconds.
At Kinokura Elementary School, where Kuramoto and her husband have sought refuge, 10 of the remaining 12 residents are over the age of 70. "I had seen footage from all over the world of earthquakes," said Kuramoto. "It looked terrible. I never thought it would happen to us."
International Medical Corps deployed an emergency response team to Kumamoto the day the second earthquake hit. "We quickly found that there was a high number of elderly living in evacuation centers," said Samuel Grindley, International Medical Corps' Emergency Response Team Leader in Kumamoto. "Our work over the past month has focused on trying to bring what dignity and comfort we could for older people after they were thrust out of their homes because of the earthquakes."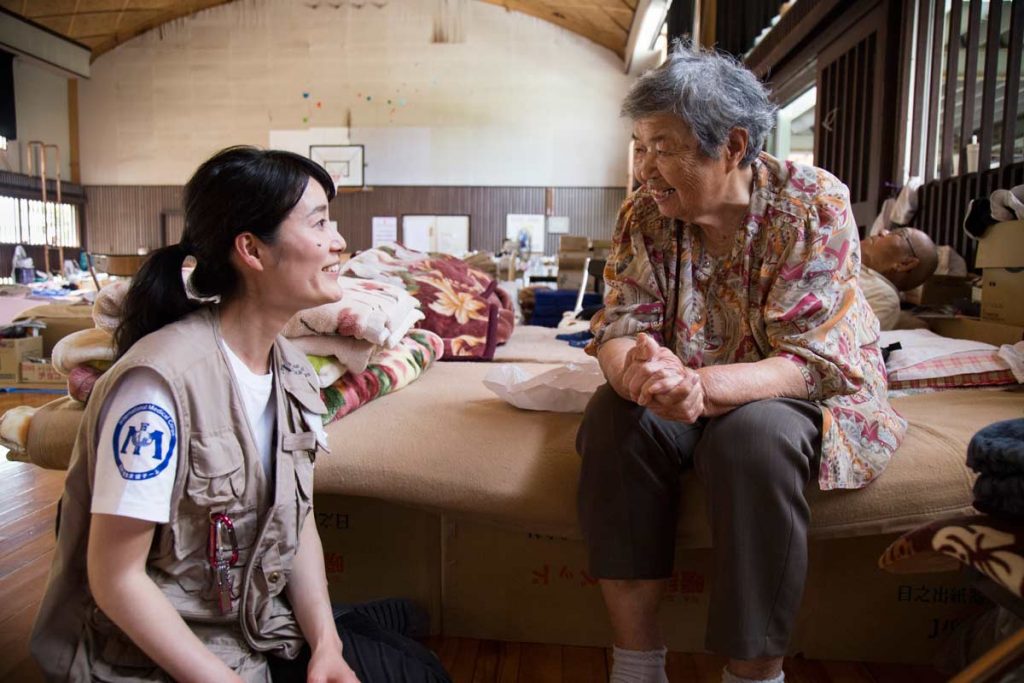 Many elderly people complain of pain since moving into evacuation centers, which range from schools to tourist centers, sporting arenas, and elderly care facilities, because they had no option but to sleep on the floor. Others spent days without bathing because private and accessible facilities were not available to them.
International Medical Corps organized teams of physical and occupational therapists who having been working six days a week in evacuation and elderly care facilities across the prefecture. They are also helping the elderly with baths and distributing mattresses and temporary bedframes. In the past month, the teams have provided more than 100 people with physical and occupational therapy, latrines to help support some of the 3,400 people in two centers, and provided hundreds of mattresses, hygiene items, towels, bed sheets, dishes, and other basic necessities.
Yukie Ueda, 88, lived alone in a home in the hills about Mifune, a town not far from the earthquakes' epicenters. "I didn't expect such a huge earthquake," she said. "I evacuated to my neighbors' car [the night of the first earthquake]. I was so scared and couldn't sleep by myself…Then the second one hit and it was beyond imagination."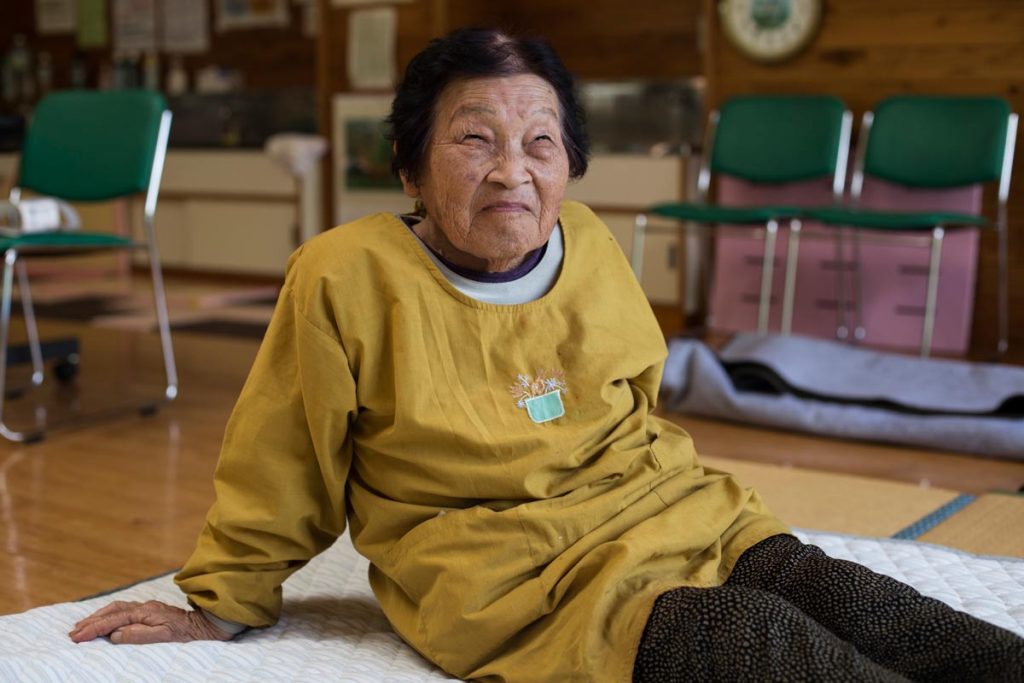 Her home survived the first earthquake, but the second largely shook the roof and walls to the ground and threw the foundation off-center. Yukie now lives in Nanataki Chuo Elementary School along with 10 other people. "When I first came here, I only had a blanket to sleep with," Yukie said.
It was not long before her back and legs started to hurt. International Medical Corps delivered mattresses to the school last week, which Yukie hopes will help and offer some comfort while her future plans remain uncertain. "I cannot go back to my house," Yukie said. "I have no place to stay. I would like to move into a temporary house, but I don't know when the house will be ready."
As emergency response efforts wind down and long-term recovery efforts begin, many evacuation centers are closing and remaining residents are being moved into facilities designated for those who do not have any other housing options. Plans for temporary homes are underway, but with hundreds of homes leveled or in need of extensive repair, thousands of people, many of them elderly, will be living in evacuation centers for some time, unsure of what the months and years ahead will bring.
"I feel like this has been a dream," Kuramoto said, looking around the gymnasium dotted with small piles of people's belongings. "It's already been a month. I don't know where to go from here."