Lebanon does not have formal refugee camps for those fleeing the conflict in Syria. Many Syrian refugees do not have the money to rent an apartment, and living in an informal tented settlement is the only option for the most vulnerable and impoverished households. Rajab is an informal tented settlement in Lebanon in the Western part of the Bekaa valley. The settlement is comprised of 360 tents and hosts 1,700 individuals, of which 70% are children and women. Families in Rajab settlement live in tents covered with plastic, cardboard and old rugs and access to basic services—such as food, sanitation, health, and education—is not officially established in settlements and can be intermittent.
Tents in the settlement are small and often shared by multiple families like the El Hussein family, which now has 15 members of the same extended family living in one tent. Youssef El Hussein, the father of a six-month-old baby, said, ''we ran away from the bombing in Idlib three years ago. Our situation is very bad. We borrowed money to get basic needs, except for health issues; thank God we have access to the doctor and get medicines from International Medical Corps.''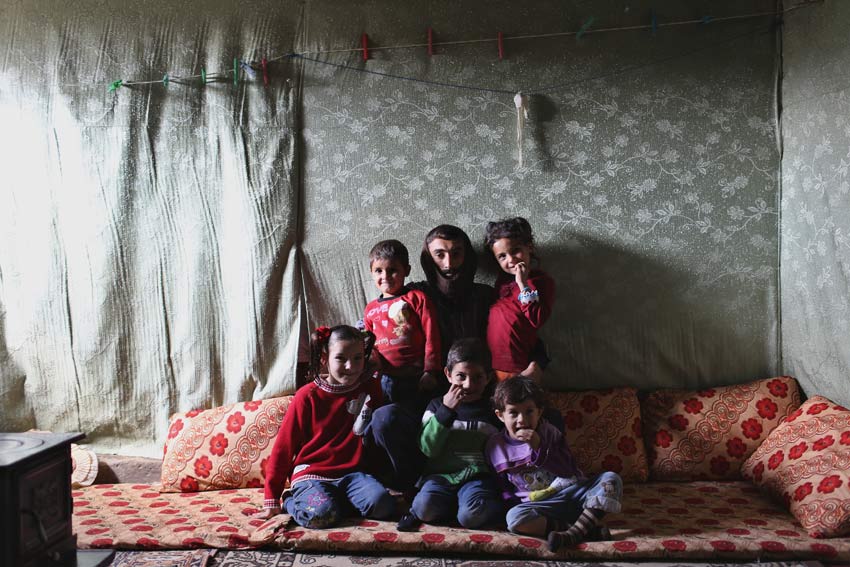 In addition to providing medical care at the clinic that operates daily inside Rajab settlement, International Medical Corps also fully supports Al Makassed mobile medical unit, which operates every Tuesday in front of the settlement. Everyone in the area can receive care and referrals at the mobile medical clinic, and the clinic has received 400 patients in two months. ''The overcrowding encourages the spread of infectious diseases. Poor hygiene practices lead to diarrhea; this is prevalent here because people have no access to private latrines since they are communal,'' says Dr. Hussein, working from inside the mobile unit. ''Thanks to this mobile medical unit, we were able to save lives. For example, during the last month, I received 10 patients who suffered life threatening emergency: very high fever, asthma and hepatitis. We sent them immediately to the hospital and they received the right treatment.''
Aicha Hassoun is waiting in front of the mobile medical unit for her turn to see the doctor. She is with her one-year-old child who has bronchitis. ''We came from Abu Dhur, in Idlib in 2012. Bullets were falling like rain so we had to leave. I fled with my seven children and husband. We came to this informal tented settlement because we could not afford to stay in an apartment.'' Aicha's husband was a taxi driver in Idlib, and he sold his taxi for USD $1650, allowing the family to buy a 107-square-foot tent in the settlement. Her household now includes 10 family members. ''We live, eat, bathe, cook and sleep in one room," Aicha says. "I came to this [International Medical Corps-run] clinic because I cannot afford to go to a private clinic. Here I don't pay consultations, and medicines are prescribed by the doctor then given to me by the nurse. This helps a lot.''
Thirty-year-old Mahassen Mehssen is seven months pregnant. Prior to her visit to the mobile clinic, Mahassen had not visited a doctor during her pregnancy. Dr. Hussein referred her to an obstetrician for consultation. ''The Rafic Hariri clinic offers three free echographies [or sonograms], so I gave her a paper to go there,'' said Dr. Hussein. Mahassen's husband does not have a job, and their two children, aged five and seven, are not attending school. ''We fled our home in Idlib to escape the bombing and settled at the Rajab informal settlement. Since we came here, our life has many burdens. But one of these burdens has been alleviated thanks to the health consultations offered by International Medical Corps.''
Residents of Rajab informal tented settlement are from the poorest socio-economic strata of Syrian society. Women have a low level of education and men are unskilled workers with low level of education as well. This severely limits employment opportunities in Lebanon, and most people only occasionally work in daily unskilled or agriculture labor. Families are almost all dependent on ad-hoc cash and humanitarian assistance.
Flooding is a significant problem, and winter's freezing temperatures only compound the difficulties for those living in the settlement. The dire conditions and the lack of adequate access to the most basic necessities—including clean water, soap and sanitation—have led to many cases of diarrhea, fever, skin and respiratory diseases.
Health Care
International Medical Corps provides medical consultations in Rajab settlement at Rafic Hariri clinic, which serves approximately 55 individuals every day. In addition, Al Makassed mobile medical unit operates every Tuesday in front of Rajab settlement. The mobile clinic began operating in mid-September 2014, and treats approximately 40 patients each week.
International Medical Corps ensures that the Rajab community receives holistic health care by integrating mental health into the primary healthcare setting. A mental health social worker accompanies the doctor and nurse in the mobile medical unit every Tuesday and conducts awareness sessions on mental health, particularly depression and psychosomatic disorder, to 20 women and men living in the Rajab informal tented settlement. ''This is a very helpful tool because we are experiencing trauma here and it is a collective suffering that we all share during the sessions,'' said Ibrahim, who prefers to remain anonymous.
Education and Relief Supplies
International Medical Corps' health education team, comprised of one community health educator and two community health workers, visits the Rajab settlement biweekly to assess the needs of refugees and identify emerging issues. During their visits, the community health workers conduct health education sessions to help prevent and identify health issues such as diarrhea, lice, scabies, leishmaniasis, hepatitis A, and tuberculosis. The health workers also raise awareness of the importance of good hygiene practices and proper food safety, proper pre-natal care and childhood vaccinations, among other issues.
International Medical Corps' health education team distributes hygiene kits containing soap, shampoo, toothpaste, toothbrushes, and other basic necessities. Feminine kits, which include feminine hygiene products, are provided to women, and newborn kits are provided to families with infants. In addition, medication to treat lice and scabies are distributed as needed.
During the last two months, the health education team has identified seven cases of diarrhea and 20 cases of feminine infection, all of which were referred to Hariri clinic for treatment. Referrals have also included 25 pregnant women for sonograms.
The programs provided in Rajab informal tented settlement are just one example of our work in Lebanon. International Medical Corps assists Lebanon with managing the needs of over 1 million Syrian refugees who seek protection from violence and insecurity in their own countries. Through our nine mobile medical units and support to 45 health facilities throughout the country, we provide primary health care, health education, mental health, and psychosocial services to refugees, as well as the local population hosting refugees.