In many ways, Sharif Al Osh is a typical International Medical Corps staff member. Each day, he goes to the office in Damascus, Syria, where he works as a Grants Manager—acting as the bridge between the programme and support units, communicating with donors and headquarters, and preparing grant reports. After work, he goes to the gym, where he does strength training.
But instead of going home after the gym, Sharif then heads to basketball practice. Throughout the year, he plays professionally on the Al Wahda basketball club's first team—but in the summer, Sharif joins up with the Syrian national basketball team, for which he's played point guard since 2010.
Balancing work with athletics hasn't been easy, but Sharif—and his team at International Medical Corps—have made it work.
"I have been lucky with supervisors who are very understanding of my professional sports career," he says. "As a national basketball player, I was given needed flexibility in exchange for my hard work and adherence to deadlines."
A Dream Come True
Born and raised in Kuwait, Sharif grew up spending summers with family in Damascus, where all of his cousins played basketball for a local club. Each summer, Sharif played ball with them. "That was the best part of my year," he says. When he wasn't playing with his cousins, he spent hours glued to NBA games broadcast out of the US. After he turned 14, he and his family moved permanently to Syria, where he immediately joined the Al Wahda basketball club to "re-ignite summer memories" and try to take his game to the next level.
And that's exactly what he did. Sharif progressed through each level of the Al Wahda club, and in 2010, when he was 22, he tried out for the Syrian national team. He had just graduated from the University of Damascus with a degree in economics, but says he was completely focused on basketball at the time.
"My first dream was to be part of the national team, which was very difficult with the existence of many good players in Syria at that time," he explains. "The professional basketball union monitored different players across their individual clubs for the whole season. Then they would invite those they thought were outstanding to try out. The process is very competitive."
He made the team on his first try.
But war in Syria broke out the next year, and the country understandably stopped prioritizing funding for sports. Furthermore, many high-level coaches and players fled the country.
"I was dreaming of achieving something special with the national team, like winning the FIBA Asia Cup," Sharif says, referring to an international basketball tournament that brings together national teams from Asia and Oceania every four years. "We tried a lot, but we couldn't make it. The circumstances were stronger than we were, and it is very hard to compete in basketball with other countries that have the opportunity to play more than you and have all the tools to succeed while you don't have the minimum standards to do that."
Sharif has proudly played with his team in many Asian and international competitions and has frequently been named the top player in assists during local tournament play. Though he now is in his mid-30s and planning to retire from the national team—he counts summer 2022 as his last stint playing for Syria, though he is open to returning if the team calls him back—he's proud of what he's accomplished during his 12 years with the team.
"Playing on the national team is a huge responsibility to the 22 million people of Syria. To win in these tough circumstances is not easy," Sharif says. "Still, with people experiencing bad times, we were happy to distract them with a game that makes them smile—even if it is for a short while. In Syria, we have a huge fanbase that is extremely passionate about the game. Seeing the power of basketball to make the crowd reach a high level of happiness and excitement has always touched me."
Though the humanitarian community is very different from the basketball community, he says he's found that his status as a national basketball player has often had the same positive effect on his international colleagues at work.
"Many of the expats who joined International Medical Corps' Syria mission were very excited and appreciative of my role as a basketball player," he says. "They would come and watch the matches. This made me feel like I was able to show them the real Syria and help them feel like they're living under normal conditions."
With retirement from the national team on the horizon, Sharif will continue lifting up the people of Syria through his day job. "Every service that International Medical Corps provides to the affected population in Syria that could reduce mortality or change people's lives makes me very proud," he says. "This also gives me the feeling that I am directly contributing to increasing the self-reliance of the people of my country."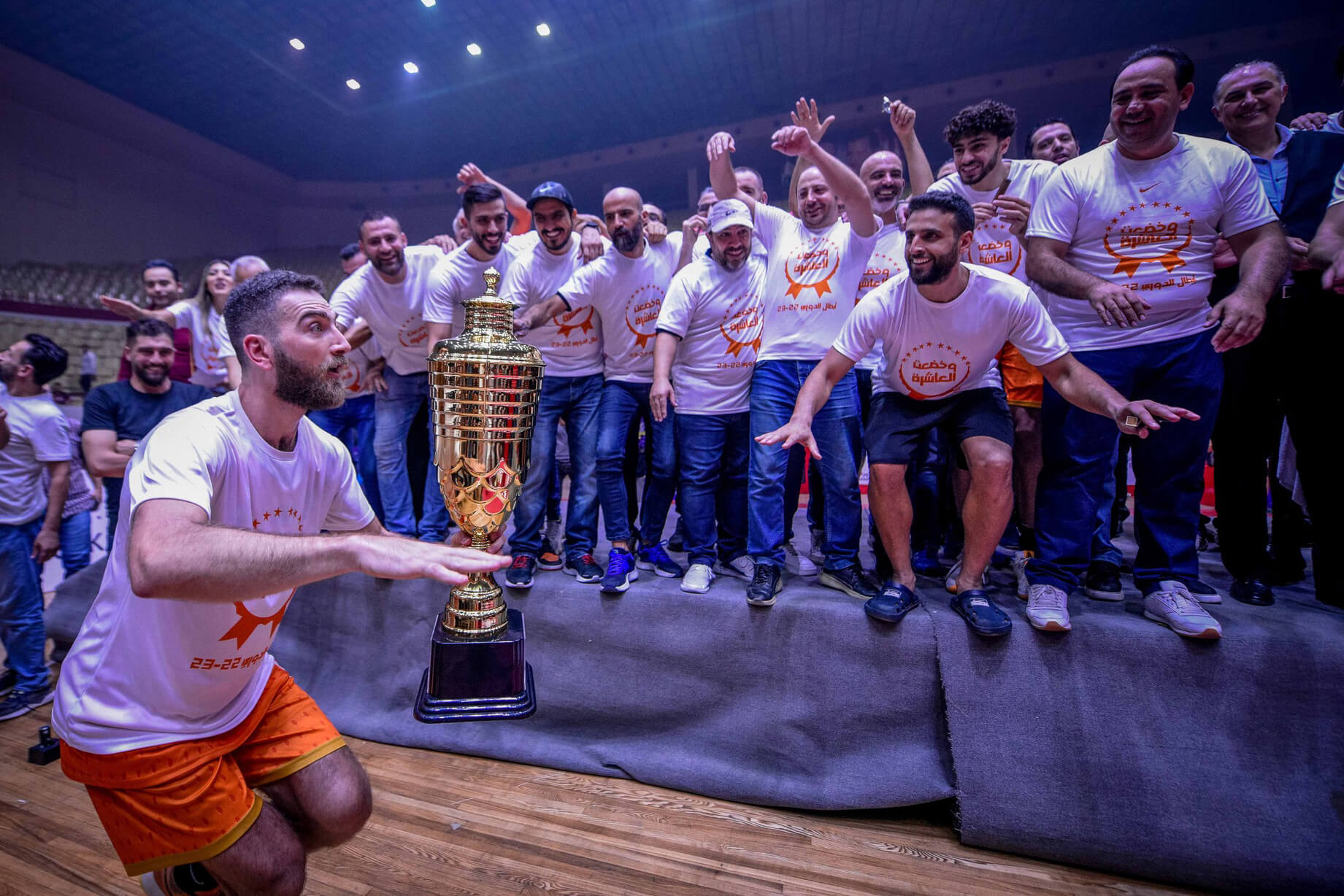 Al Wahda Wins the Syrian Basketball League Championship
In July, Sharif and his team—the Al Wahda Club in Damascus—won the Syrian Basketball League championship, beating out 10 other teams to take home the trophy after finishing the regular season with a 16–4 record.
"History will never forget this championship—ever," Sharif says, explaining that Al Wahda swept three games in a best-of-five final against 2022 league champions Ahli Aleppo—which has never happened before, he says.
Sharif was one of the top players in the finals, averaging nine points, five rebounds and three assists per game. In the final moments of the second game, with the score tied at 66–66 and only seven seconds left on the clock, Sharif blocked an opposing player's pass with his foot—like a goalkeeper, he laughs. His quick reflexes sent the game into overtime, and Al Wahda won. After the game, Sharif learned that he'd become a meme on social media, with fans superimposing his face onto Argentinian goalkeeper Emiliano Martinez's body!
As one of the oldest players on the team, Sharif thinks his time as a professional basketball player may be drawing to a close. "I hope that the new generation does better than we did, has better circumstances than we had and leads Syria to be one of the best Arab and Asian basketball teams," he says.