Three women, three excruciating journeys. Like lines, converging and separating, weaving toward and away from each other over time, Alona, Anastasia and Natalia each were born and raised and were living in Ukraine when their lives suddenly shattered. Each woman remembers the exact moment when she got the news that war had come to her doorstep: just after five in the morning on February 24, 2022. Each woman wound up fleeing Ukraine—one of them in a wheelchair, alone—seeking safety, refuge and a new life for themselves and their families. They all wound up in Warsaw, Poland, where they have turned their trauma and suffering into resilience, generosity and industry.
Alona
When Alona tells a story, she smiles and laughs often, even when describing the hard times, the painful times—even as her eyes well up with tears.
Infectiously sunny and positive, Alona, who's in her early 20s, came to Warsaw from Cherkasy, a town on the Dnipro River in central Ukraine.
She was at home, sleeping, on February 24 when a friend called and woke her to say that Russia had invaded. Alona, who uses a wheelchair, lived independently and had a job as a seamstress. After the invasion began, Cherkasy was subjected to missile strikes for months, and Alona's parents repeatedly pressed her to leave the country. She resisted, wanting to stay in the country with her family. She began helping in the war effort, sewing metal plates into soldiers' flak jackets and vests to make them bullet-proof. "But when I started to realize I'd have to get used to war in my country, and it was increasingly hard to get around, I knew I had to leave," she says. "My parents wanted me to be safe and get the assistance I needed, including a new, lighter and better wheelchair."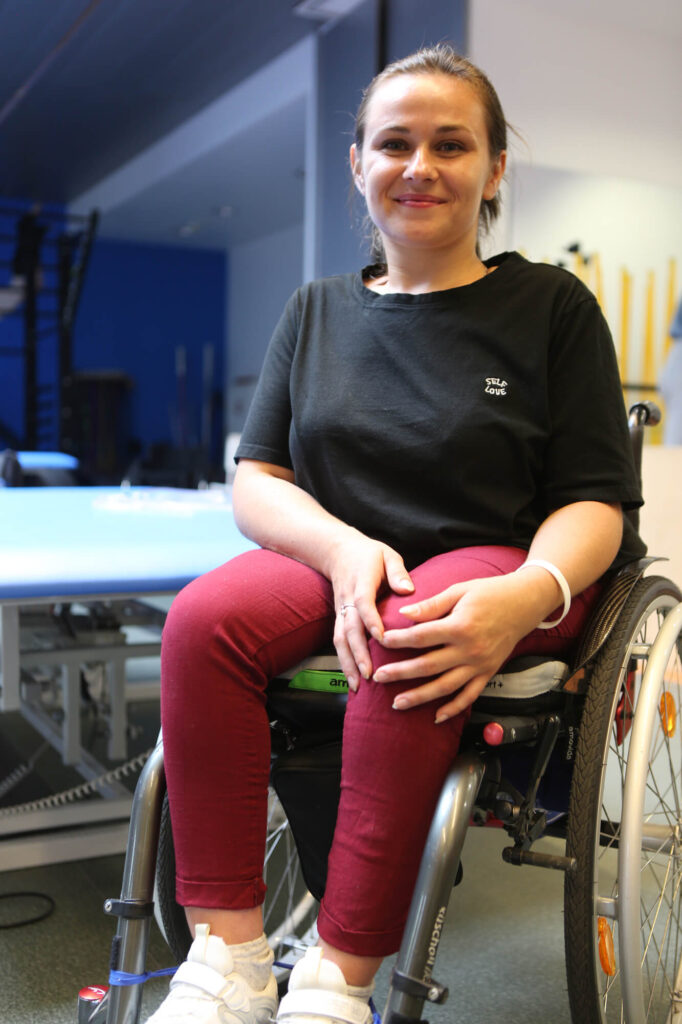 She escaped last July in an arduous and frightening days-long trip alone by bus, traveling halfway across Ukraine before crossing the border into Poland. Every step of the way, on both sides of the border, people helped her to navigate from situation to situation, location to location. She managed to secure a room at a hostel in Warsaw. And then she found a local NGO—Avalon Rehabilitation Foundation, supported by International Medical Corps—that gave her a new, light and versatile wheelchair, as well as physical therapy and financial assistance.
Alona is now learning Polish and continuing her physical therapy. She hopes to find work doing embroidery.
"It was really scary to leave my country for a place where I don't really know anyone or the language," she says. "But my mother told me, in this world there will always be people to help you. This kindness was the common language between me and the people of Poland. Now I see that Warsaw is much more accessible to people in wheelchairs—the roads, public transportation—very different from Ukraine. Now I believe I'm chasing my dreams with my new light wheelchair, in a new and different way."
Anastasia
It was Anastasia's father who first called her at 5 a.m. to say that he was hearing from friends that bombs were dropping over Mykolaiv. When texts from her friends started streaming in, saying the same, she sat in bed and cried. "For so long we all thought it was just talk, that it wouldn't happen. It was horrible," she remembers.
For a few weeks, her town of Skadovsk—outside Kherson, on the Black Sea coast—was relatively calm and safe. But then Russian troops took over the town. "It was morally devastating," she says. "We were always clearing our phones. We could not speak about war. If the soldiers heard you, they'd take you and drive you somewhere, keep you without food and water. We had lots of people taken. One girl I saw, she was wrapped in the Ukrainian flag—and they took her husband, instead of her. We didn't see him again. Then in May, the internet went away."
In June, missiles began landing just across town from her apartment. "It was so loud. My boyfriend and I were watching videos in bed with our cats. The sound was like a huge block of the house fell right next to you," she explains. "We hid under the bed with the cats. It was really scary. Within a week or two the rockets were flying overhead from both the Russian and Ukrainian side. That was the turning point. We left a week later. My parents stayed, and I gave my cats to them."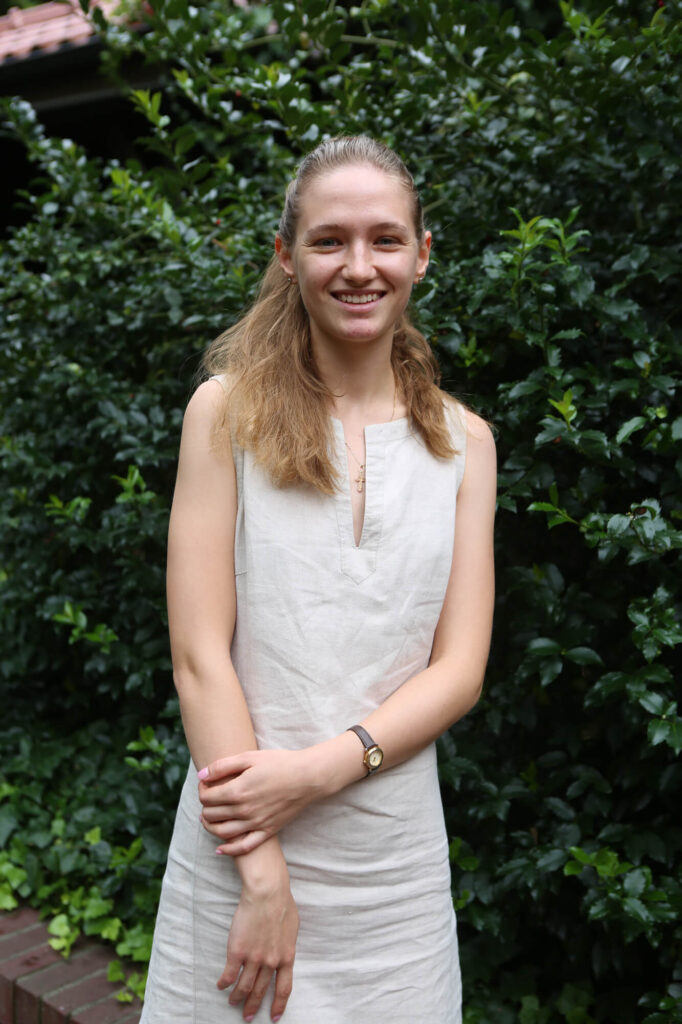 The only safe way to leave was through Russia. She says she and her boyfriend were lucky, because they had money. They traveled to Moscow, then Lithuania, then Poland, over three days, by bus.
After one of her teachers from Ukraine put her in touch with the Women's Center in Warsaw, Anastasia applied for a counselor vacancy there. She is now working in the center—which is supported by International Medical Corps—to help adults and children transition more easily to their new lives in Poland.
"I am so happy to be here, to be honest," she says. "I really love this place. I feel it can be my home and I can find myself here, in helping people. I really love helping people. When they feel my support, I feel back their happiness and gratefulness that I helped them. I feel fulfilled. I see this place as a remedy to my problems that I had back there. This job can be stressful, but helping others is a remedy to my own stress."
Natalia
Natalia was a psychiatrist, living in Odesa with her husband and two children, when the invasion began. A few months later, she decided to leave. "I got really scared for my life and my family," she says. "It was unbearable. The sirens were constant and we had to keep going down to the shelter. My husband and I sat at the kitchen table one night and I told him, `I can't do this anymore.'"
Because of Ukraine's martial law, her husband had to stay behind, so in March Natalia left with the children. "It's so difficult to leave your husband, your parents, your whole life. When you go, you're afraid, you don't know what will happen next. But I was really lucky because of all the people who helped us along the way."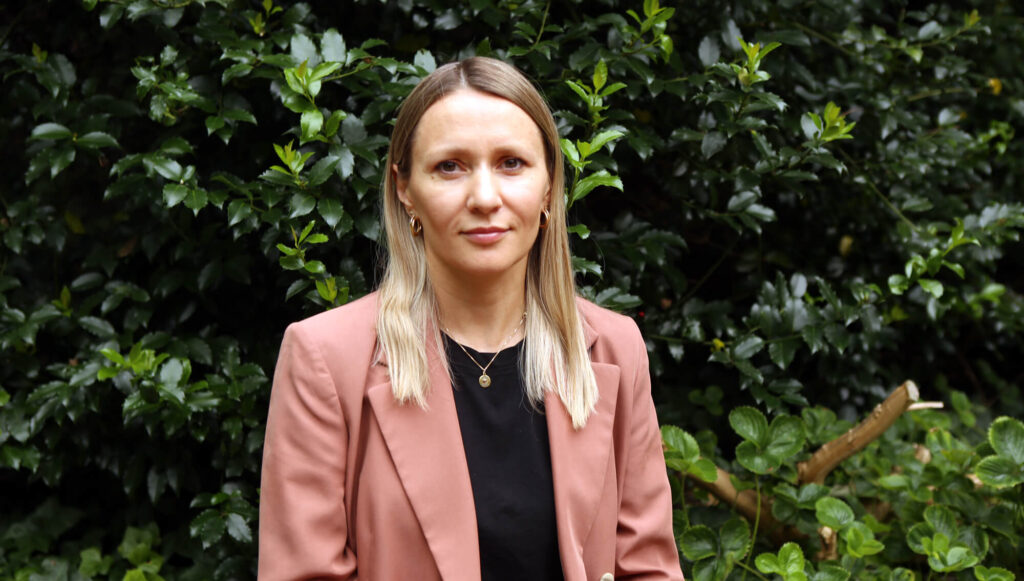 When I ask how her husband is doing, she sighs hard and ponders. "He's safe for now, but we don't know what will be next. I'm afraid for him, my parents, friends—for all of Ukraine."
Once in Poland, Natalia found part-time work teaching young schoolkids. "And then I found this place," she says, speaking of the Women's Center. When she enrolled her children there, she asked if she could assist in any way, even as a volunteer, putting her skills as a psychiatrist to work. The Women's Center recognized her value and hired her in July.
"It helped me to feel normal, helping kids and teenagers and women," she smiles. "For some of them, my just sitting with them—not even talking—helps. There are a lot of women who are suffering, and I really want to help them adapt and feel safe. I'm really thrilled, and fascinated with myself, because I didn't even know I was able to do this—to stretch and learn. This place is basically a miracle for me."