"It was so beautiful here you couldn't believe it," says William. "We lived here and we couldn't believe how beautiful it was."
He says this while standing in front of a boat submerged in what used to be his front yard. Over his head, the remains of his ravaged beachfront house droop against a stunning blue sky, overlooking a turquoise sea. I nod skeptically, trying to conjure the image he's painting—but I know he's right. Though it's hard to believe now, the apocalyptic scene around me used to be a paradise.
Born 50 years ago in McLeans Town, a small community on the northwest corner of Grand Bahama island, William Pinder has seen his share of tropical storms. But nothing could prepare him for the one that arrived on September 1: Hurricane Dorian, the worst storm in recorded history to hit the Bahamas. As of September 19, Dorian had officially claimed 51 lives, but thousands more are still missing. Like most of McLean's residents, William managed to escape before the storm hit, then returned to survey the devastation. But those who stayed behind lived through a kind of hell no one saw coming.
William points to Harry, a man loading rubble from his decimated home onto the back of a nearby pickup truck. "Harry was one of maybe 10 who stayed behind," says William. "Six died. Harry saw two die."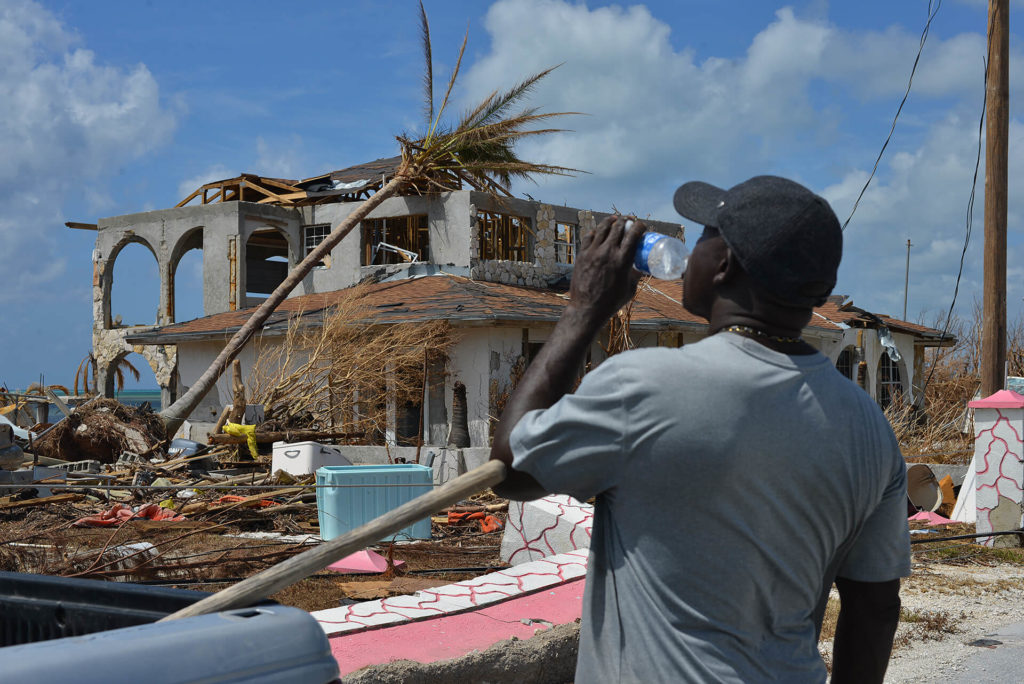 Harry bows his head and remains laser focused on his task: picking up the remains of his life, piece by piece. When he finally takes a break from the oppressive heat, I cautiously approach.
"You stayed here during the storm?" I ask gently. He nods, stoically. "How did you…survive?"
"I went to the church. I climbed into the attic. I clung to the rafters."
"How long were you there?"
"Thirty-six hours."
I try to see the things he saw through his eyes; the things he won't be able to un-see. I picture water and wind so powerful it picks up roads and washes away cell phone towers. I try to fathom the fury of the storm that settled, stubbornly, over the island for nearly two days without letting up. But I can't imagine facing a demon that relentless and then coming out the other side.
"I try not to think about it," says Harry. "I don't let it get in my head." He picks up his wheelbarrow and starts moving again. There's too much work to do.
During assessment efforts, the International Medical Corps emergency response team making its way across Grand Bahama island finds more like Harry scattered through the mostly abandoned towns: the ones who stayed behind and the ones just starting to make their way back—all of them unsure how to move forward.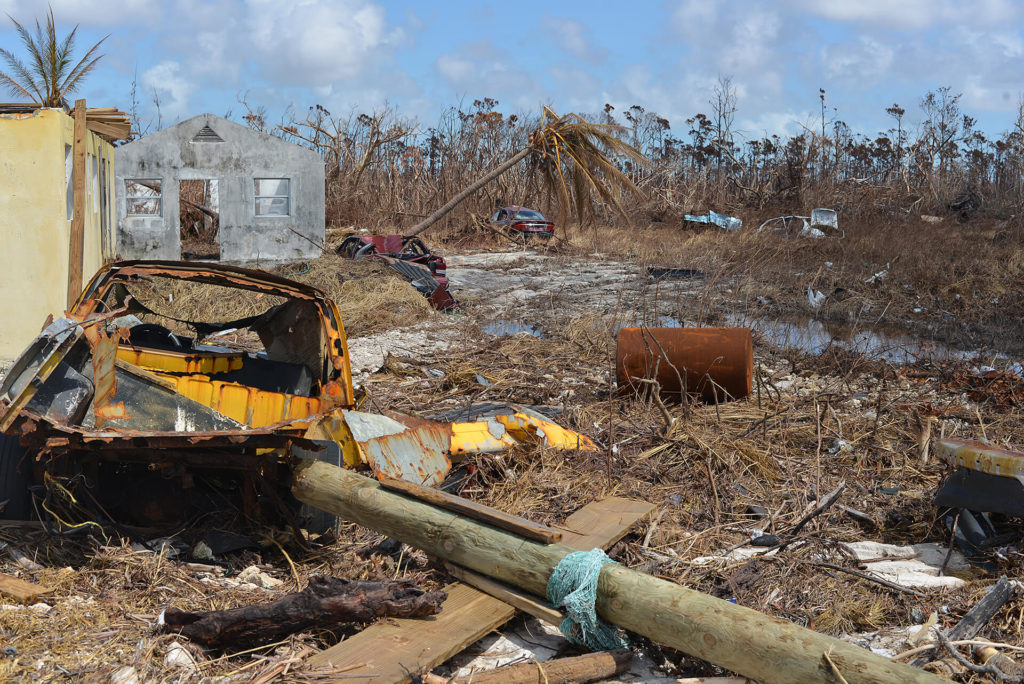 Road damage and power outages kept them largely cut off from assistance for days. No one knew what we would find. Along the way, it was hard to reconcile the Bahamas of our dreams—the vibrant green palms dancing in the playful breeze—with the island in this nightmare: flattened trees, brown and dead, their limbs violently severed. Sticky black oil spill, from huge storage tanks that had their roofs blown off by the storm, smothering acres of foliage and animals. We held our breaths each time we approached a new town, then gasped in disbelief as it came into view.
"Shock's not even the word," says Lano, our local driver, seeing his community for the first time since the storm. "There's no coming back from this—it's just too much."
He explains the dynamics of these tight-knit communities, where homeowner's insurance is mostly nonexistent, leaving the largely low-income residents with a precarious path to rebuilding. For generations, families tended lovingly to this former slice of heaven, passing down homes to their children, who looked out for each other. Most have left and many are now homeless—but their interwoven memories haunt the land. Amidst a sea of crumbled houses, the loss of close community connections might be the most devastating thing of all.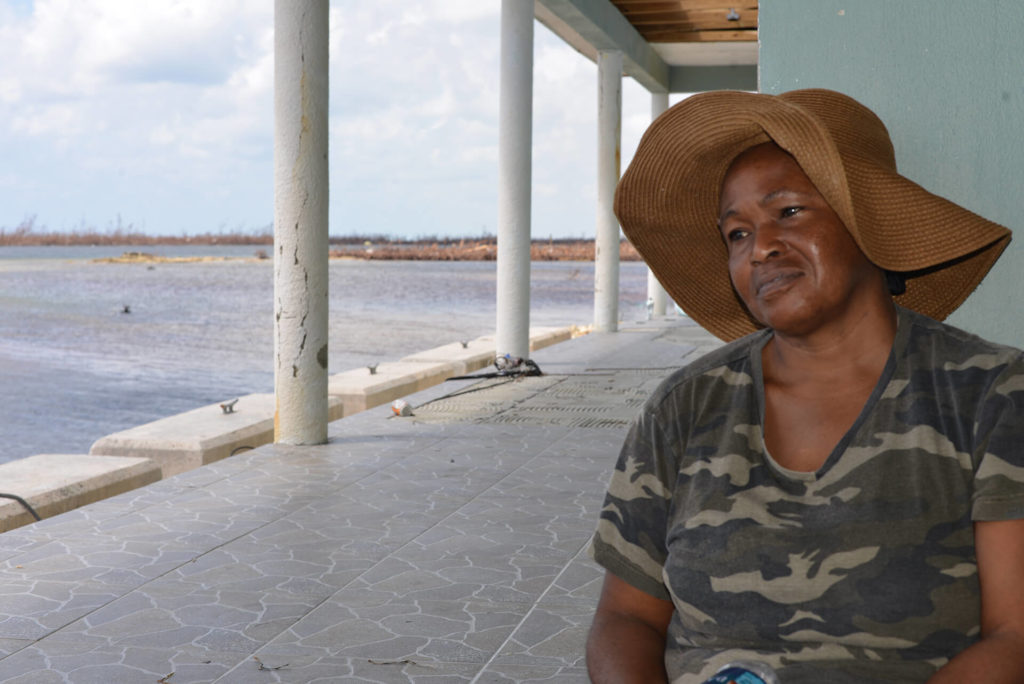 "Everybody from Abaco to High Rock is my family, so I've got too much family to feel for," says Joyce, a woman I encounter resting under the shade of the pitiful remains of a local government building. "Some died; most have nowhere to go." She looks out at the eerily calm sea, her eyes alternatively full of emotion and empty of hope.
"He was here for it," she says, motioning to a man who appears briefly in the corridor of the blown out structure. "She wants to hear your story," she calls out to him, pointing to me. But he just shakes his head and disappears like a ghost.
I encounter this juxtaposition over and over again. Some want to talk and talk. Some can't utter a word.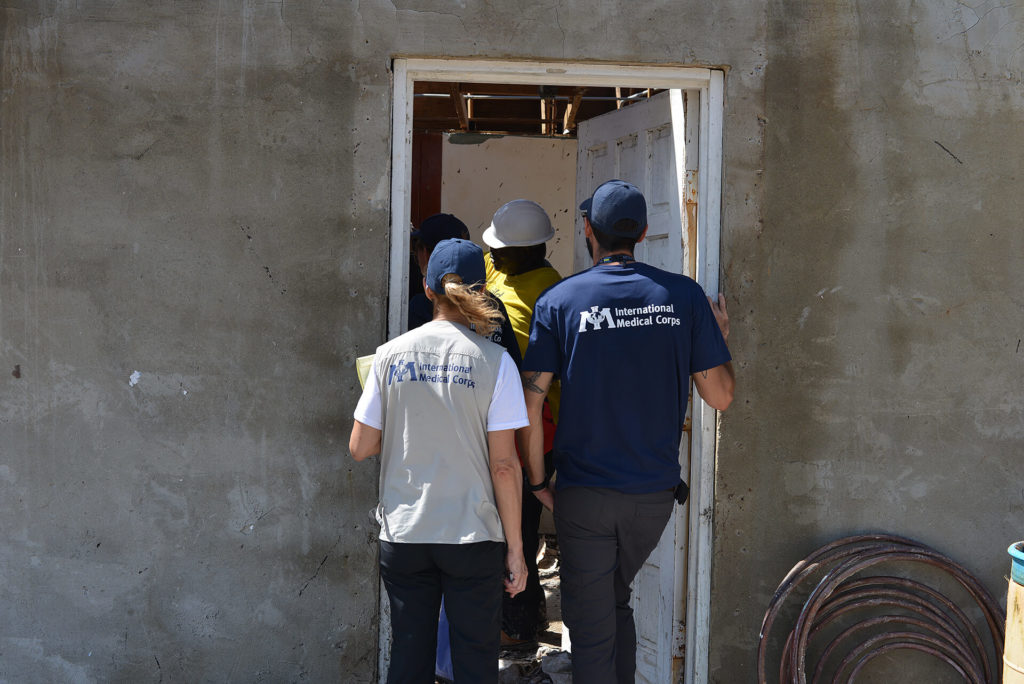 As we go door to door checking in on those picking through the rubble in homes smelling of mold and death, some eye us warily. But in spite of their visible exhaustion, they eventually show their famous Bahamian warmth and hospitality, and respond gratefully as our volunteer doctors and nurses tend to them compassionately—treating wounds, filling medication requests and giving tetanus shots. We are the first to reach them, after all. And, with their health clinics and roads destroyed, they can use all the help they can get.
"No one thought it would be this bad," says Tina, another woman taking refuge from the blazing sun. "The weather reporter said a hurricane was coming, but this wasn't a hurricane. This was a hurricane, tornado and storm surge all at once."
The 20+ foot waves bludgeoned the shore like a tsunami, swallowing large swaths of coastline. "I saw my cousin and his three kids wash away," says Joe Tate, a man we find hanging clothes on a line. "They were sitting right there." He points to a corner of his decimated house. My gaze sweeps across his property, which looks like it could be hosting a yard sale—if everything weren't smashed to pieces.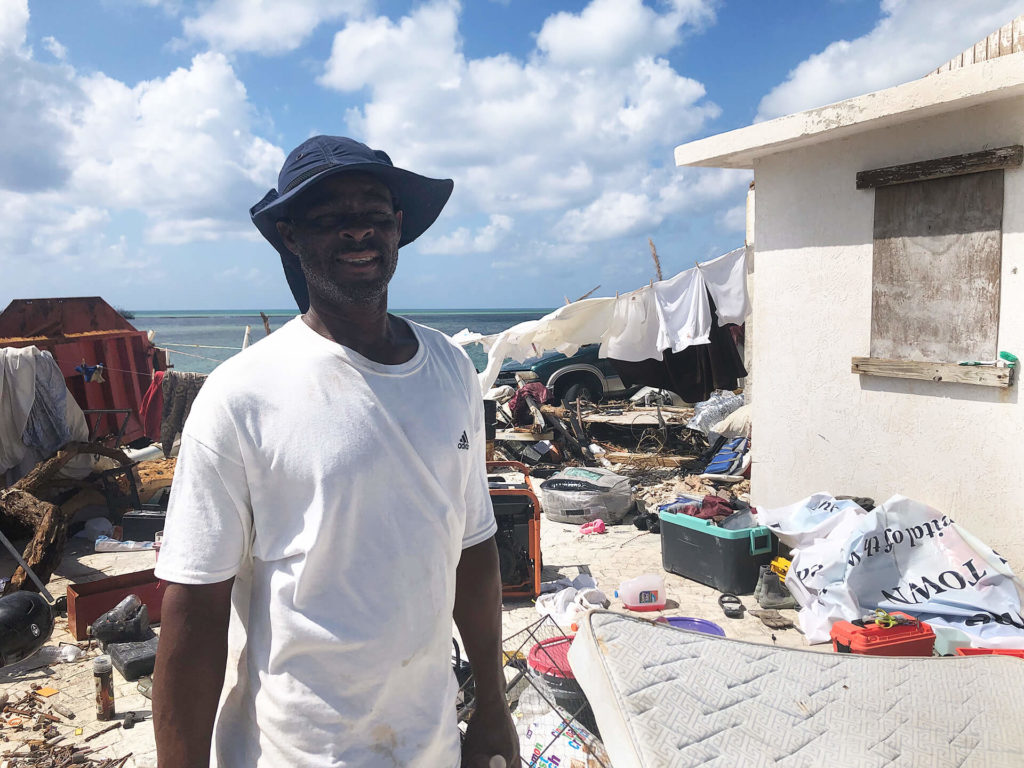 It feels invasive—studying the innards of someone's home spilled across the earth, belongings lying naked in places they don't belong. A shoe tangled in seaweed. A tub in the front yard. Mud splattered along the inside walls where a bed once stood. These were people who took pride in beauty—you can see it in the things they owned.
"How are you doing?" I ask Joe, instantly regretting the absurdity of my question.
"Oh, I'm okay…" he says bravely. But I look deeper into his eyes and his gaze falters. "My body's strong," he clarifies. "But my…" he points to his head. "And my heart…" He can't finish it.
"I know," I say. But I don't. I will never know what it was like to sit in the eye of that hurricane.
"It was a monster storm," William tells me, the older man with the boat in his yard. "It didn't want to go away." When it finally did leave, it took everything with it. Now there's little to come back to—but most won't come back.
"What are you going to do?" I ask William. "Where will you go?"
"What do you mean?" he asks with a smile. "This is home."
However broken it is, his heart is still here.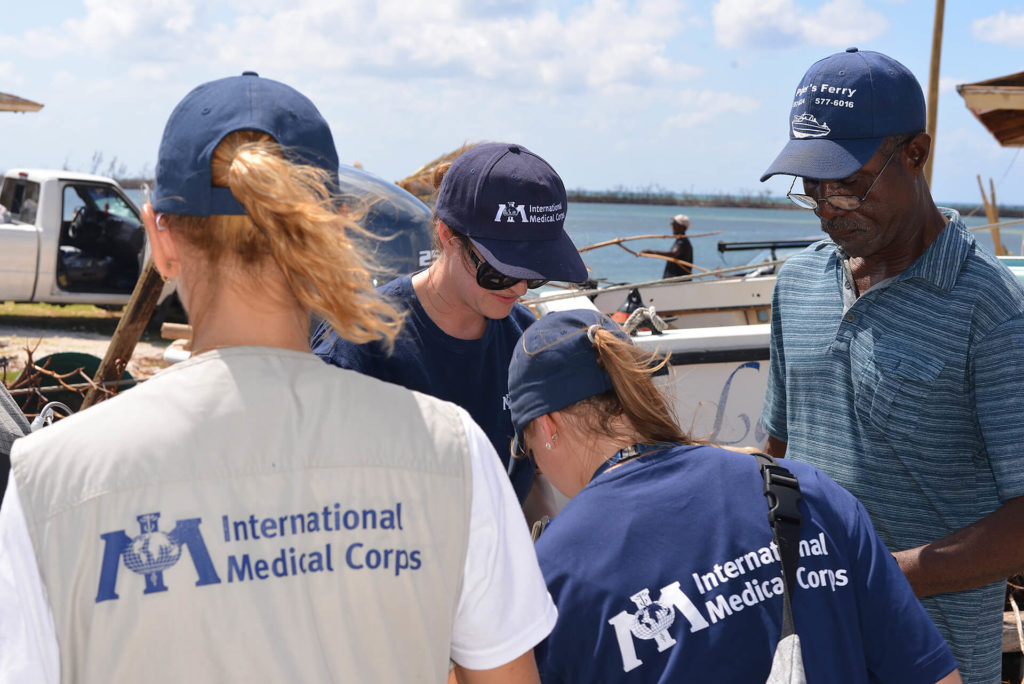 "Come back in a year," says William as we hug goodbye. "Come back and stay with us and we'll cook you food. You'll see how beautiful this used to be."
I return his smile. "Okay," I say, believing in his faith.
He stares out at the gently rocking water. "Come back and you'll see…" he says, more to himself than me. "We'll rebuild."
I nod and turn to leave. "I'm holding you to that," I say, praying that he's right.
International Medical Corps was among the first on the ground in Grand Bahama to provide medical relief to hard-hit communities following Hurricane Dorian. Our teams are continuing to work closely with USAID, the Pan American Health Organization (PAHO) and the World Health Organization (WHO), along with local partners, to ensure that critical medical and mental health care reaches those most in need. As in our responses to disaster, disease and conflict all over the world, we are committed to staying long-term in the Bahamas, to help the people there recover and rebuild.