Situated on the outskirts of South Sudan's capital, the clinic in Juba's camp 1 for internally displaced persons (IDPs) is a busy health facility with high patient turnover. For more than six years, International Medical Corps has provided patients at this clinic, as well as one in IDP camp 3, with comprehensive and integrated health, nutrition and protection services.
One of our main objectives at these clinics is to provide essential medicines, medical supplies and equipment. Because providing proper pharmaceutical care is critical to many of the health services our patients receive, International Medical Corps introduced the Pharmaceuticals Information Management System (PIMS) to South Sudan in September 2021. PIMS is a software solution that International Medical Corps designed to help medical and pharmaceutical teams more efficiently manage pharmaceuticals within the last mile of the supply chain.
To demonstrate the difference our pharmaceutical innovation has made in the way we operate in South Sudan, we would like to introduce you to two of our pharmacy team members.
Jacob Doboul, who trained at the South Sudan Institute of Pharmacy Technicians, became an IDP himself in December 2013. He resides in Juba IDP camp 1 and works in the clinic dispensary as a pharmacy assistant. We trained Jacob, along with other pharmacists and pharmacy technicians, in how to use PIMS; he also attends our capacity-building training sessions in pharmaceutical supply-chain management. "The introduction of PIMS in the facility has drastically changed our way of work and has improved the management of pharmaceuticals at the dispensary level," Jacob says.
"Before the introduction of PIMS, we used to have an extensive manual workload, as we were dispensing medications, and tracking and recording daily consumptions of medicines while keeping records on paper and reconciling inventory at the end of our shift," he continues. "Now, PIMS has reduced the workload on us. We are able to allocate more time for patient counselling and keep digital records of patient's prescriptions. Inventory records are automated by PIMS."
A pharmacist with more than three years' experience, Nhial Bol is the Juba IDPs camp's Pharmacy Supervisor. For Nhial, the implementation of PIMS has been both a relief and a game changer, as he can spend more time monitoring and improving the quality of pharmaceutical services in both camps. PIMS eliminates the need to manually update bin cards and stock cards—physical recordkeeping documents used to manage stock in a pharmacy or warehouse on a daily basis. It also automates refill requests and keeps track of all medical commodities that go in and out of the pharmacy and warehouse. According to Nhial, PIMS is the solution to many challenges and issues he has faced in his daily management of pharmaceuticals in the camps. Moving forward, he knows it will help us provide better-quality services to people.
"PIMS has helped a lot in our work, particularly for me as a Pharmacy Supervisor," Nhial says. "For instance, tracking medicine consumption is amazingly accessible. I can see and track all the movements of pharmaceuticals in the supply chain all the way to the dispensary, check when medicines are due to expire and monitor all other dispensary activities—all from my laptop."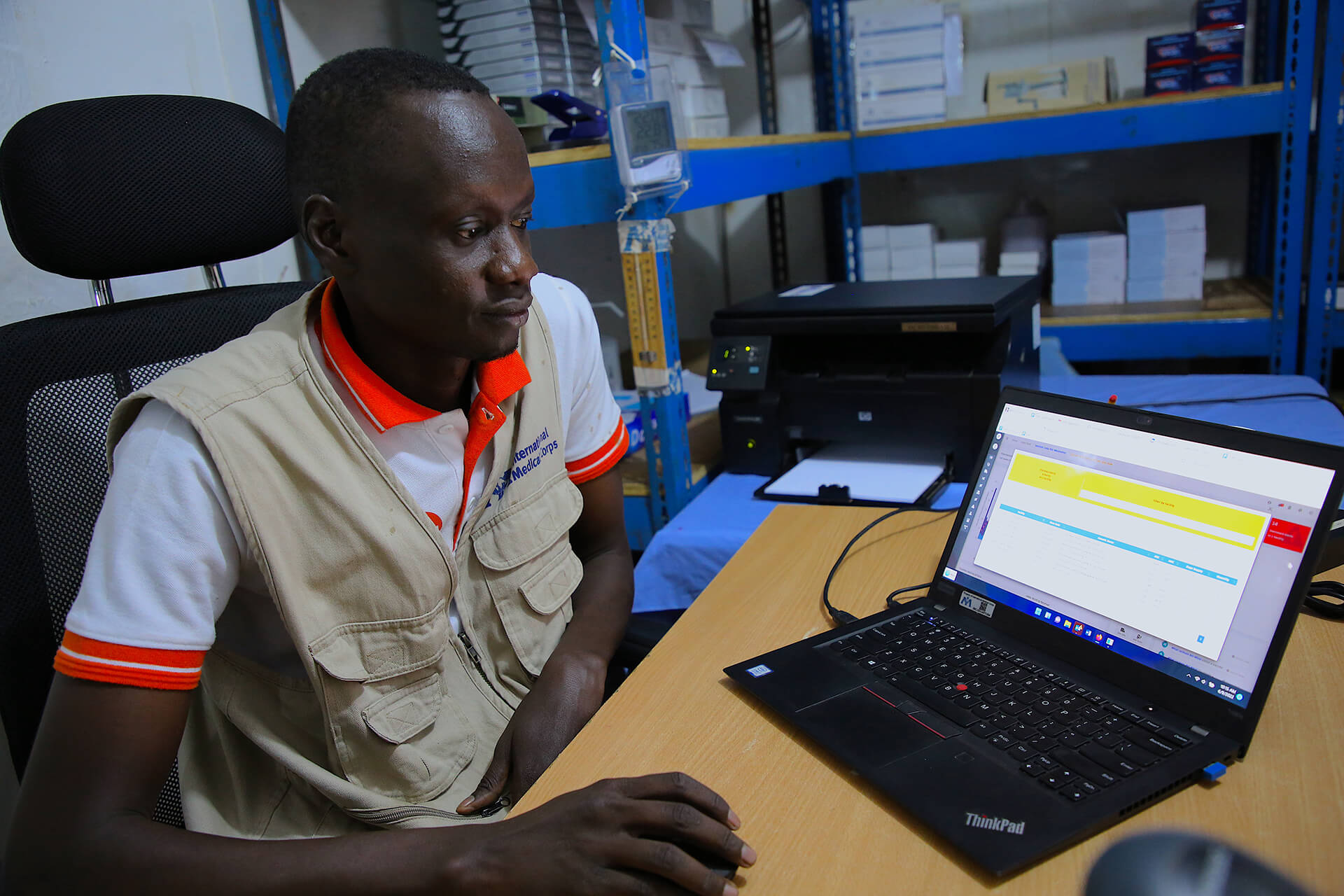 "PIMS also helps the people we serve and the community through the efficiency of services we could provide. In the past, patients stood for long hours to get their medicines, but now wait times have been reduced, due to PIMS automation. It's also a user-friendly system. It alerts us to any harmful drug interactions. The system automatically gives a warning, which in turn reduces irrational use of medicines and improves our adherence to rational prescribing. I wholeheartedly send my appreciation to International Medical Corps for providing us with this excellent software for last-mile pharmaceuticals management."
Thus far, International Medical Corps' Global Pharmaceutical Services unit and Health Informatics Systems team have deployed PIMS in 12 countries, where it is active in more than 100 sites, including hospitals, primary healthcare facilities, mobile medical units and medical warehouses. Most countries have the full PIMS package deployed, while others use just parts of the software.
As we complete the deployment of PIMS throughout International Medical Corps, we are also planning to expand use of the software, including adding the ability to manage medical consumables and equipment. We are also planning to offer PIMS to other humanitarian agencies and government health systems. PIMS ultimately will enable many organizations to improve their pharmaceutical supply-chain management at the last mile and provide better services to their patients.