Though the November 2022 cessation of hostilities agreement was signed between the Ethiopian federal government and the Tigray People's Liberation Front, the effects and trauma of the war in Tigray still linger among community members in the northern regions of Ethiopia. In the Afar region, displaced people, host communities and returnees are experiencing these compounding consequences. Chifra, a small town in the Afar region, became a destination for many families displaced during the fighting. There are currently close to 50,000 internally displaced people in Chifra, and gender-based violence (GBV) is a huge concern for the community.
Although the exact numbers are unknown due to widespread underreporting and lack of information gathering in affected areas, the prevalence of GBV is high. Sexual violence and rape, often used as tactics of war, have affected large numbers of women and girls. Girls are commonly forced into marriage to alleviate economic difficulties. And intimate partner violence has been exacerbated by the breakdown in social structures, changes in gender roles and responsibilities during displacement, and increased stress or trauma.
International Medical Corps established a women's and girls' safe space (WGSS), which offers the opportunity for respite and support for local women and girls. Housed in the main hospital, the WGSS was designed with the community in mind. It is a space where women and girls can feel free from judgment or harm. They can socialise and rebuild social networks, receive life skills training and participate in psychosocial support activities to relieve stress and difficulties related to the conflict. The WGSS also serves as an information and intake center for survivors of GBV.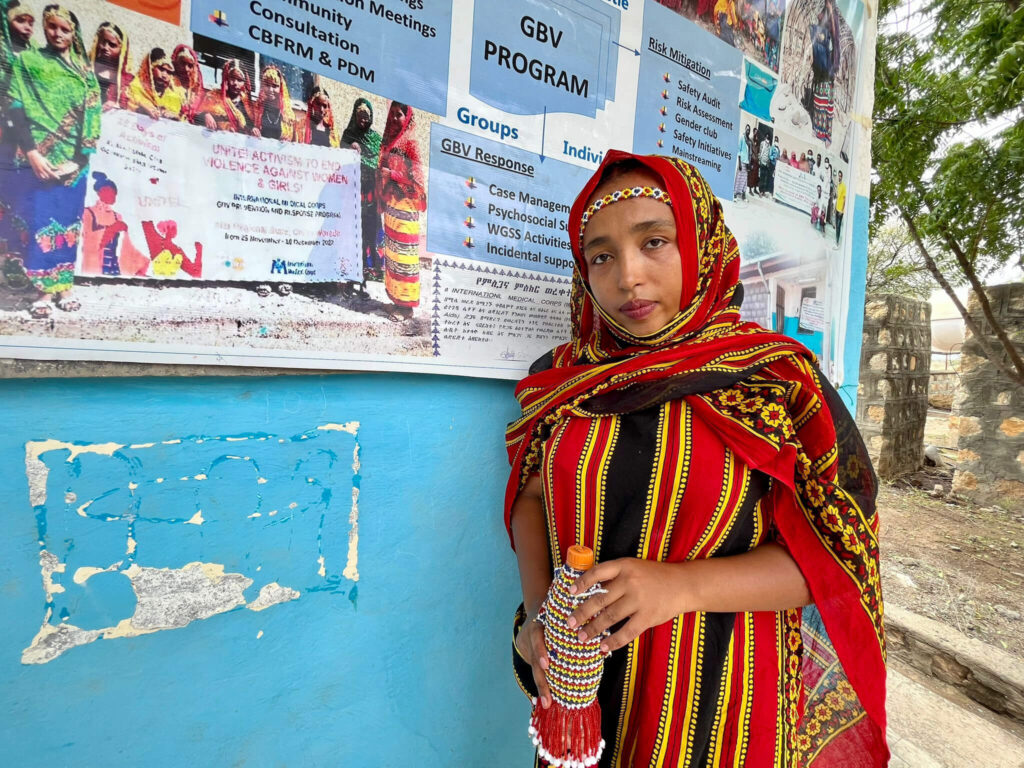 Amina and Zahara are two young women who have been attending sessions at the WGSS for more than one year.
"I receive sexual and reproductive health education [when I come to the WGSS]," said 23-year-old Amina. "It is taboo to talk about such things elsewhere, but here, I feel like I can ask anything."
She draws beautiful henna designs on the hands of her friends sitting around her. The girls are clearly comfortable enough to laugh and tell stories together. This space has become their refuge.
"Once we returned after fleeing the conflict, this place was where I reunited with my friends," explained Amina. "This is where we find hope that everything will get back to normal again."
"We often come here because it is the only place where we can speak freely," said 17-year-old Zahara, as she showed us her handmade items and ornaments, which include beading, a traditional activity for the Afar people. "We learn new skills, and I share ideas with my peers."
After facing two years of fighting and displacement, communities are trying to rebuild. However, a sense of uncertainty and ongoing stressors, including the threat of GBV, continue. International Medical Corps' program addresses the ongoing cycles of violence.
Through community outreach, the International Medical Corps GBV team facilitates information sessions focused on preventing GBV and increasing women's and girls' access to services. Often, this outreach encourages women and girls to attend sessions at the WGSS. Word spreads to those in need about a safe space for reporting GBV cases and receiving appropriate and lifesaving services.
As GBV Response Officer Iman Jemal explains, the impacts and benefits of the integrated protection and response programming are clear.
"I love these girls," said Iman. "They teach me new skills and inspire me. And our programs give them the confidence to be here."
Iman oversees the WGSS and provides case management activities for survivors of GBV. She is the first point of contact for many of the people receiving services. Iman is supported by Assistant GBV Response Officer Sofia Seid, and together they are changing the way women and girls in Chifra access the services they need.
Often, when shame and stigma become the burden for the survivor, cases of GBV are widely underreported. These challenges don't deter the GBV response staff in Chifra. Through WGSS activities and case management services, survivors are given the confidence to make decisions for themselves again. This simple act begins the healing process, and our commitment to the community remains steadfast.