Recovering from one crisis after another, Iraq and its people have demonstrated a profound ability to stand up to adversity. Decades of war, sectarian violence and sanctions have taken their toll. The country's most recent hardship—the fight against the terrorist organization ISIS in 2014–2017—caused death, injury and displacement on a massive scale, as well as reducing many cities to unrecognizable rubble.
Despite the Iraqi government's victory over ISIS in 2017, life in Iraq continues to be—as the United Nations (UN) recently described the situation—"unpredictable." In late 2019, civil unrest swept over Baghdad and other parts of the country, leading to the deaths of several hundred protestors. The unrest also severely hampered humanitarian aid efforts—which, according to the UN, an estimated 4.1 million people still need. For nearly 1.8 million of them, the situation is acute, with the country's 1.4 million internally displaced persons accounting for the majority of them.
A Healthcare System in Overdrive
Decades of hardship have also severely curtailed access to healthcare for millions of Iraqis. The public healthcare system is the main source of medical care, particularly for poorer populations—and it's in overdrive. Doctors rotate between primary health clinics on a quarterly basis, often leaving a clinic with just one trained doctor.
Overwhelming needs—paired with a shortage of health workers and medical supplies—means that health inequality is staggering in the country, with only an estimated 40 percent of Iraqis having access to a referral system. In addition, the vast majority of Iraqis don't have health insurance and find themselves having to pay for secondary healthcare out-of-pocket—not a viable option for most people in Iraq.
The situation also puts health workers in Iraq under a lot of pressure. However, massive needs and lack of resources aren't the only challenges they face; violence is another. According to the World Health Organisation (WHO), in 2018 alone there were at least 42 attacks on health facilities in Iraq, 40% of which were against health workers.
Ruaa Raheel: One Doctor's Fight to Heal Her Country
Ruaa is a medical doctor specialized in dermatology, with a particular focus on treating vulnerable populations impacted by conflict and displacement. The latter is an aspect of her work that she strongly identifies with:
"Every morning when I wake up, I hope that no child will die of malnutrition, no patient will suffer from a severe infection because he or she doesn't have antibiotics. No pregnant woman should have to suffer from complications in her delivery because there were no health services available."
Ruaa has been supporting International Medical Corps' mission in Baghdad since 2018. But Baghdad isn't just where Ruaa works—it's where she was born and grew up. And it's where she, together with her husband, is raising her two children. It's her home.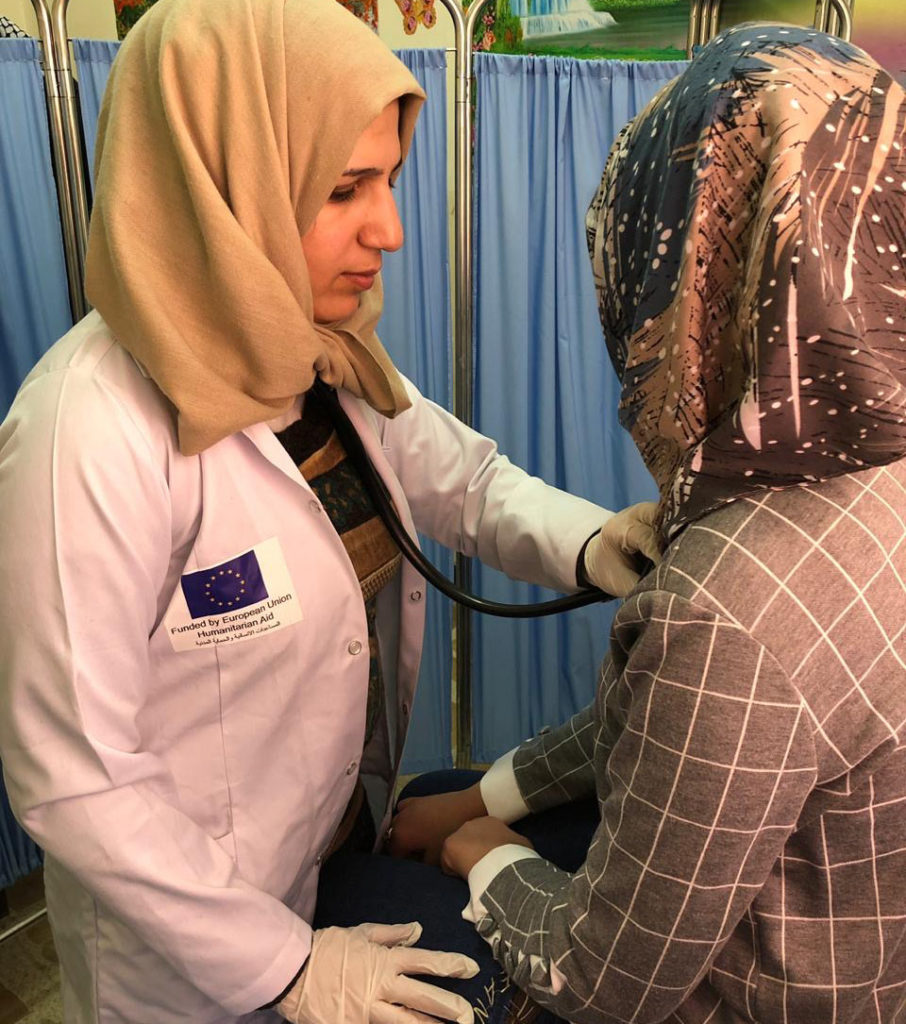 Over the past year, she has been working in International Medical Corps mobile medical units (MMUs), in Sadr City, Al Maamel and Al Hussienya—three of the poorest and most densely populated districts of Baghdad, a role that is more than just a job for Ruaa:
"I have started to live my life with purpose and found a larger family with International Medical Corps".
As the name suggests, MMUs are primary health clinics that can deploy where they are most needed. For instance, MMUs set up next to Ministry of Health clinics can ease the burden on the public healthcare system and collectively have the capacity to care for hundreds of thousands of people every year.
According to Ruaa, 'health outcomes have improved' thanks to the MMUs. The increased services, availability of drugs and additional staff that they provide mean that people receive appropriate care in a timely manner—instead of being sent to another health facility, which can both delay care and increase transport costs.
In these three districts, where many people lack an income and suffer from poor health, people's gratitude is tangible, according to Ruaa. This reminds her—together with all of us at International Medical Corps—why serving vulnerable communities is one of the most important aspects of our work.
International Medical Corps has been providing lifesaving humanitarian assistance in Iraq since 2003. Starting in June 2016, International Medical Corps has been operating MMUs in underserved parts of Baghdad—assistance made possible thanks to funding from the European Civil Protection and Humanitarian Aid Operations (ECHO).