In the early hours of February 6, people in Türkiye and Syria were jolted awake by a massive 7.8-magnitude earthquake, followed hours later by a second devastating 7.5-magnitude quake. Eventually, the two quakes and thousands of aftershocks killed more than 50,000 people, and displaced nearly 6 million.
International Medical Corps responded immediately in both countries, working alone and with partners to deploy mobile medical teams (MMTs) and deliver desperately needed supplies. Recovery efforts have been especially challenging in Syria, where access and infrastructure are already affected by more than 12 years of war.
Six months after the disaster, significant challenges remain. Wherever our teams visit to provide aid, they witness massive needs—from basic food and shelter, to health, to psychosocial support and a need for protection from gender-based violence (GBV). Though the situation is marginally better in some shelters—in Aleppo city, for example, the shelters have partitions, clean and separate showers, and portable latrines—many displaced people still do not have access to permanent shelters. The situation is worst in rural areas in Aleppo and Latakia—two of the hardest-hit areas—due to scarce resources and limited accessibility to services. Damaged water systems are prompting additional concerns about people's access to clean water, sanitation and hygiene (WASH), triggering a fear of such waterborne diseases as cholera.
Here is a quick overview of a few urgent needs in Syria, the challenges faced by Syrians and the ways in which International Medical Corps is helping.
Gaps in Healthcare Services
Before the quakes hit, 12 years of war had already taken a toll on Syria's healthcare system. After the quakes, thousands of people lost their livelihoods and started prioritising basic survival needs over healthcare—leading to additional risks for disease and chronic health conditions. In addition, many healthcare facilities were damaged in the earthquakes, leaving thousands in the affected areas deprived of essential services. Yet the need for basic healthcare services continues to be massive. On average, one gynaecologist provides at least 45 consultations per day, while the number of pediatric consultations per day per doctor is 52.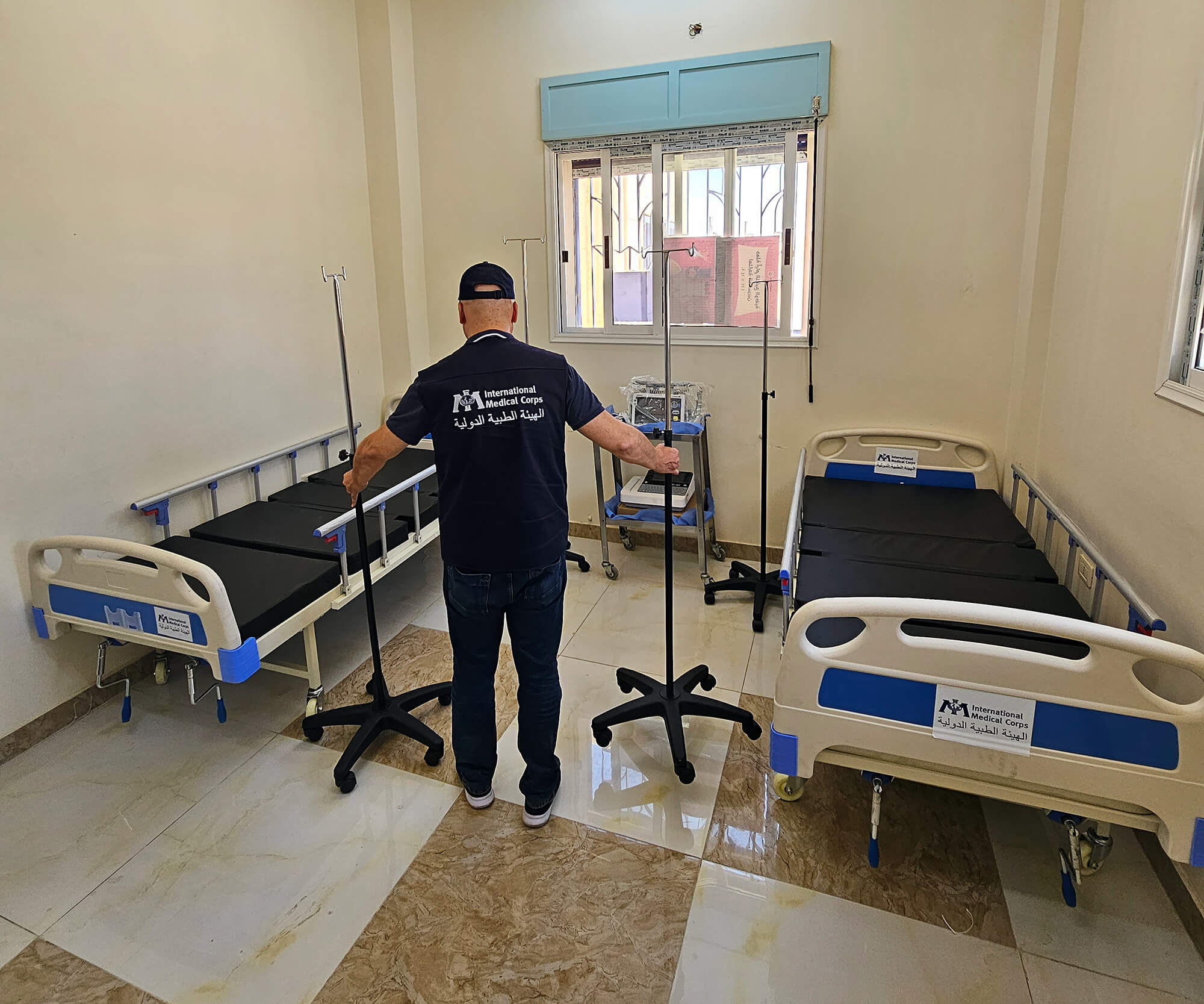 To address the gaps in healthcare services and meet the high demand from patients, International Medical Corps has deployed MMTs to affected governorates to help those in need. We also are working to re-establish contact with hospitals in these areas to start referral services for more advanced cases.
Between February and June, we delivered more than 149 metric tonnes of medicines, medical equipment and supplies to 63 health facilities; and deployed 12 MMTs that have provided more than 52,500 people with health, MHPSS, protection and nutrition services. We also have worked to provide hospitals with emergency equipment and medical consumables.
Increasing Need for Mental Health and Psychosocial Support (MHPSS)
In the last six months, our MHPSS team has seen an increase in the number of people needing help with trauma, severe depression, anxiety, panic attacks, post-traumatic stress disorder, adjustment and behavioral disorders. There is a lack of specialized MHPSS services, such as uninterrupted follow-ups with psychiatrists and proper treatment. The lack of privacy in shelters also aggravates MHPSS needs. "My home was severely damaged in the earthquake," says a displaced woman in Latakia. "We do not have any privacy in the shelter where we're staying. I live in constant fear and anticipation—my heartbeat really goes up sometimes, and I have nightmares."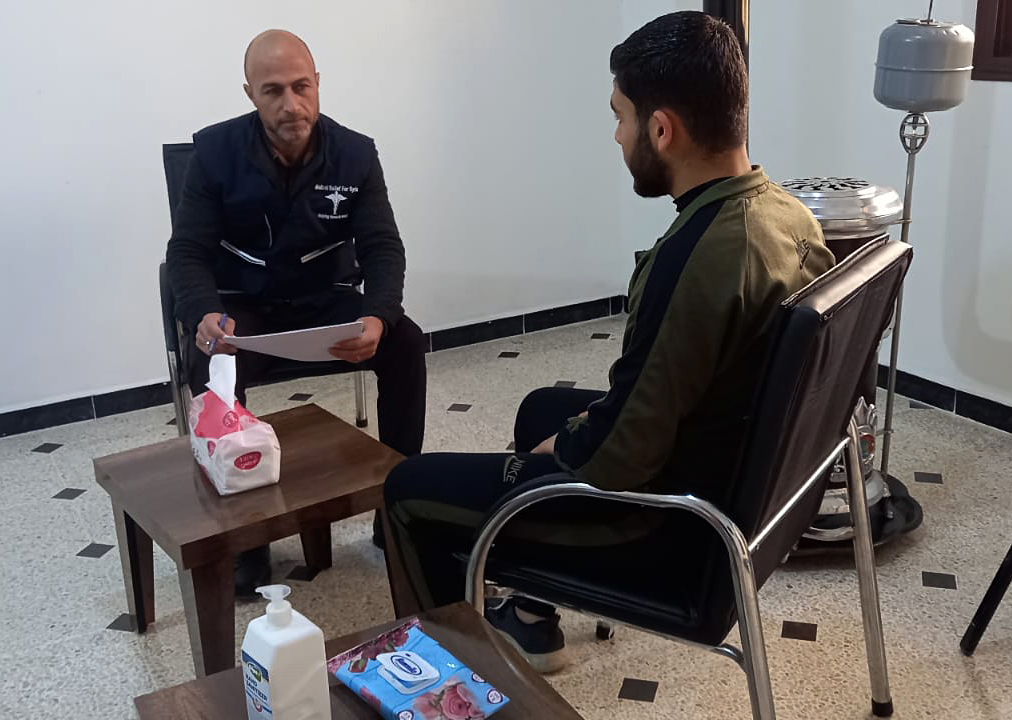 In many affected areas, very few local, national and international nonprofits are present. Those that are there typically focus on psychosocial support, such as recreational activities, rather than specialized mental health services.
Since the quakes, International Medical Corps has conducted 3,797 individual mental health consultations and provided psychological first aid (PFA) to 14,254 internally displaced persons (IDPs) living in temporary shelters. In addition, we have deployed four mobile MHPSS clinics, providing case management, consultations, referrals and psychotropic medications, and deployed four specialized mobile PFA units with a team comprising psychosocial, child protection (CP) and GBV specialists.
Gender-Based Violence (GBV) Cases Have Worsened
The earthquakes have exacerbated gender inequality and increased protection risks for children. Violence between married couples living in collective shelters has increased in the last six months, according to our GBV team in Syria, due to daily stress and overcrowding. Our team has come across cases of sexual harassment, abuse, and emotional and domestic violence, while divorce cases also have increased. The situation of children is no better. Many displaced children have been forced to work to support their families, and have reported experiencing sexual abuse, emotional violence and bullying.
In response, International Medical Corps is operating 12 safe spaces for women and children. We have provided MHPSS services, information on sexual and reproductive health (SRH), and referrals, and organised group and recreational activities. As of June 30, we had provided nearly 400 women and children with GBV and CP case management, and with GBV and SRH sessions. We also had distributed dignity kits to 2,400 women and girls, and had provided financial support to 1,965 women, children and caregivers facing economic hardships.
Limited Accessibility to Nutrition in Rural Areas
The deadly earthquakes destroyed many people's livelihoods, leading to food insecurity for more than 50% of the Syrian population. During routine assessments since February, our Nutrition team has seen a continuous need for food supplies—although the needs vary between cities and rural areas. Access to food and non-food items is more easily available in cities, meaning affected populations in rural areas are especially vulnerable.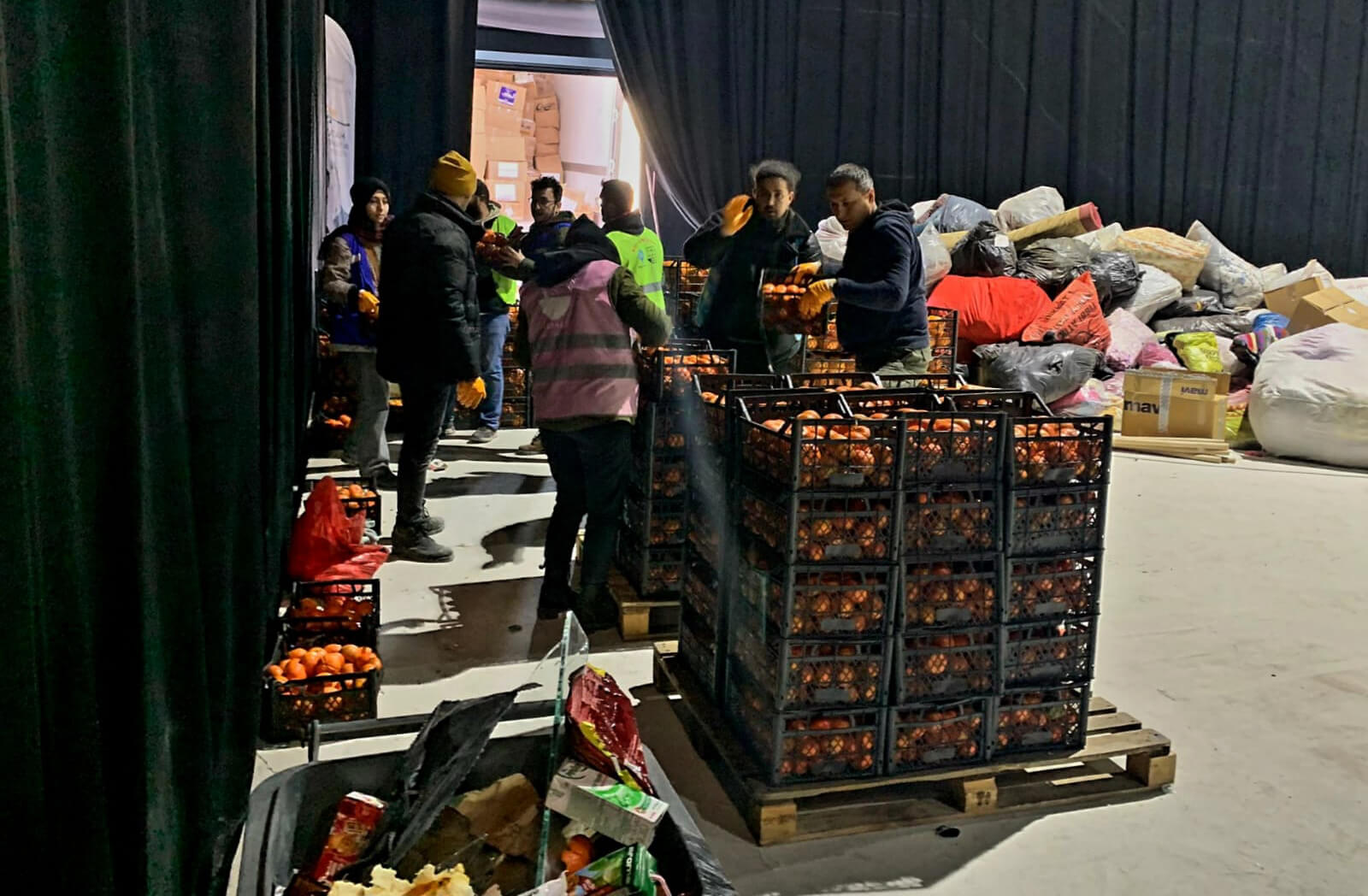 To address this issue, International Medical Corps has provided more than 11,400 pregnant women, children and caregivers with nutrition interventions, including counseling. We have distributed nutrition supplies to more than 7,150 women and children, and reached more than 10,594 children under 5 with nutrition services, including screening for malnutrition.
However, nutrition services alone cannot contribute to good health if clean water and sanitation services aren't available. Water and sewage lines across the affected areas were damaged in the quakes, increasing the risk of disease outbreaks. To mitigate this risk and prevent the spread of communicable and non-communicable diseases, our WASH team in the country is working closely with local authorities to install latrines, provide clean water and distribute hygiene kits among affected populations, especially IDPs. We have reached at least 1,400 people with hygiene-related educational sessions, and distributed NFIs—blankets, food baskets, diapers, towels, hygiene kits and winter clothing—to hundreds of IDPs.
For more information, please read the latest update about our response in Syria.