Standing United Against Gender-Based Violence
On November 25, we marked the International Day for the Elimination of Violence Against Women, kicking off 16 Days of Activism Against Gender-based Violence.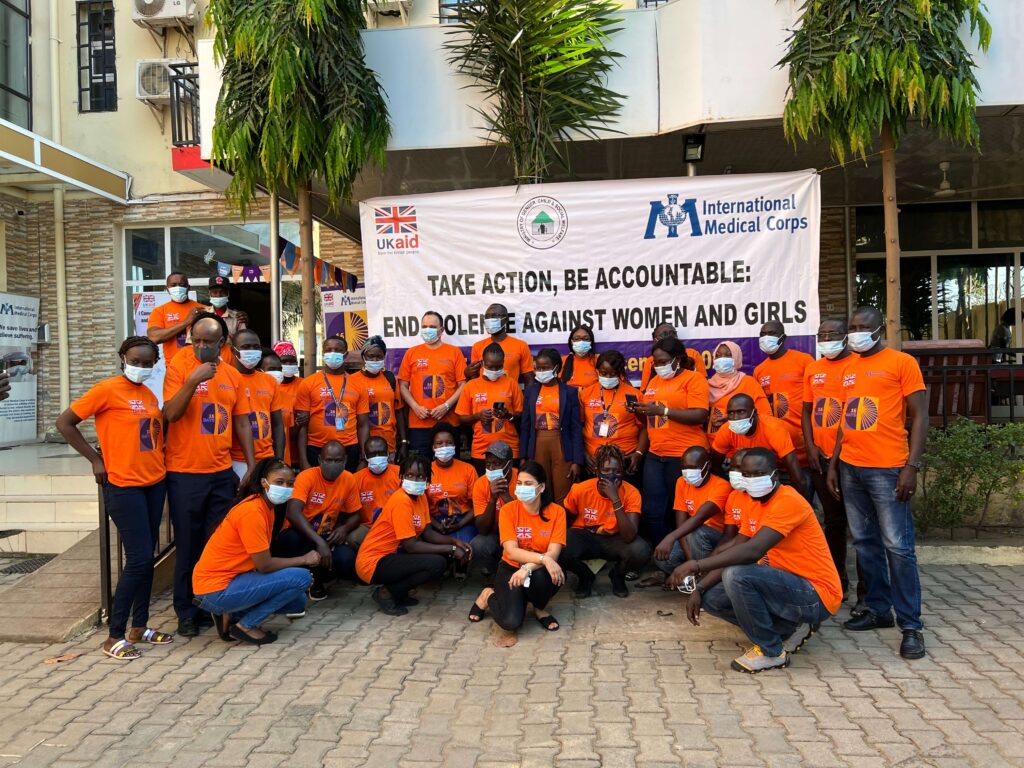 From South Sudan to Pakistan to Iraq, many of our teams around the world began their 16 Days campaign with a series of community activities and discussions about how everyone can work together to end violence against women and girls.
Fighting COVID-19 Around the World
We continue to fight COVID-19 and support vaccination efforts in the US and around the world.
Supporting Vaccination Efforts
As the Omicron variant starts to spread, we're reminded that the pandemic is far from over. Awareness is growing that no one will be safe from COVID-19 until everyone has access to effective vaccines. We continue our fight against the virus around the world — by supporting vaccination campaigns, treating cases, distributing personal protective equipment (PPE) and more.
In India, we're supporting immunization efforts by our local partners, including Doctors For You, which has deployed teams throughout the country to reach rural populations struggling to access the vaccine. Watch them in action on PBS Newshour.
In the nooks and crannies of the vast nation, the omicron variant has brought new urgency to India's ambitious goal of fully vaccinating all adults — some 940 million people — by the end of this year. https://t.co/wWWZ7gdr62

— PBS NewsHour (@NewsHour) December 2, 2021
Continuing to Provide Services in Tigray
It has been more than a year since the start of the Tigray conflict, and northern Ethiopia's security situation continues to deteriorate. The conflict has displaced millions of people and rendered more than 1,500 health facilities non-functional.
We have 23 mobile medical units that have reached more than 1 million internally displaced persons (IDPs) settled in 37 sites spread across the region. Our teams are providing integrated healthcare, nutrition services, gender-based violence treatment and prevention services, mental health and psychosocial support, and water, sanitation and hygiene services.
Celebrating World Toilet Day
On November 19, we celebrated World Toilet Day — a day to raise awareness about the importance of toilets and sanitation.
As part of our celebration, our Pakistan team and those they serve shared creative expressions of what the toilet means to them.
Our team in Yemen also celebrated the day by raising awareness of the importance of sanitation. With the cooperation of teachers, students, elders and community health volunteers, our staff held a celebration in Mathbah, Ma'ain district, next to an International Medical Corps-supported water point. The team also gave a handwashing demonstration and spoke to community members about the dangers of open defecation and the benefits of toilet use.
Providing Healthcare in Afghanistan
Afghanistan is tragically becoming one of the world's largest humanitarian crises, with 8.7 million people facing emergency levels of hunger this winter. As we have since our founding there in 1984, we're providing emergency and primary healthcare, as well as training.
As winter and the possibility of famine approaches in #Afghanistan, our work in the country providing emergency and primary healthcare provides a crucial lifeline for people in need.

Please support our work by donating today: https://t.co/j9sWjg5YoHhttps://t.co/BntNcLlzXJ

— International Medical Corps (@IMC_Worldwide) November 10, 2021
Offering Mental Health Training in Libya
Training saves lives. In collaboration with the International Organization for Migration, we conducted a two-day training in Tripoli on guidelines and best practices on how to connect persons in need of mental health support to the right services available to them in their communities.
Delivering Lifesaving Services in Lebanon
In the face of crippling economic decline, a struggling health system and a dire medication shortage in Lebanon, our team continues its lifesaving work.
Amid increasing difficulties and a dire medication shortage in #Lebanon, our team continues its lifesaving work. Our Country Director, Eduard Tschan, spoke to @trtworld about the situation on the ground. Hear more below ⬇️ https://t.co/YAPJQeO29d

— International Medical Corps (@IMC_Worldwide) November 30, 2021
Recognizing World AIDS Day in Cameroon
Our team in Cameroon marked this important day by raising awareness, tackling stigmas around the virus and providing consultations for patients. Thank you to our fantastic team!
Take a Look Back at Our Annual Awards Celebration
To each of you who joined us for our virtual Annual Awards Celebration on November 2 — thank you! If you missed it, you can still take a moment to celebrate the courage of our colleagues on the frontlines.
You will see tonight that our global impact is extraordinary. Its more than 7,300 staff members working together across 30 countries to reach people whose lives have been struck by disaster.

Join us now at our virtual Annual Awards Celebration➡️ https://t.co/a3oFnQFJvF pic.twitter.com/JZ2J4h7C5M

— International Medical Corps (@IMC_Worldwide) November 3, 2021