In the East Hararghe and Guji zones of the Oromia region in Ethiopia, International Medical Corps runs a multi-faceted program that offers emergency health, protection, and water, sanitation and hygiene (WASH) services to conflict-affected internally displaced persons (IDPs). For Radia Jilo, the project has made improvements to everyday life—and helped her feel valued.
Radia is a 45-year-old mother of 12 who lives in the Derara IDP site in the Guji zone with her husband, Bakalcha Chanfu. Because of conflict in her village, Radia's home was burned, and she and her family were forced to flee their home with nothing. Before they were forcefully displaced by warring factions, the family had kept a herd of 70 livestock, and cultivated corn, barley and teff on three hectares (7.4 acres) of land.
At the IDP site where they now live, Radia and her family had no access to a latrine and were forced to defecate in the open. Our WASH team educated residents about hygiene, handwashing, safe water practices and how to prevent COVID-19 throughout Goji zone, spreading their messages through household visits, interactive community sessions and loudspeaker campaigns. They also constructed a communal latrine and provided families like Radia's with hygiene and cleaning supplies—including soap for bathing and laundry, a bucket, a filter cloth and 360 packets of water-treatment chemicals. Supplies like these have been difficult for families in the IDP site to procure.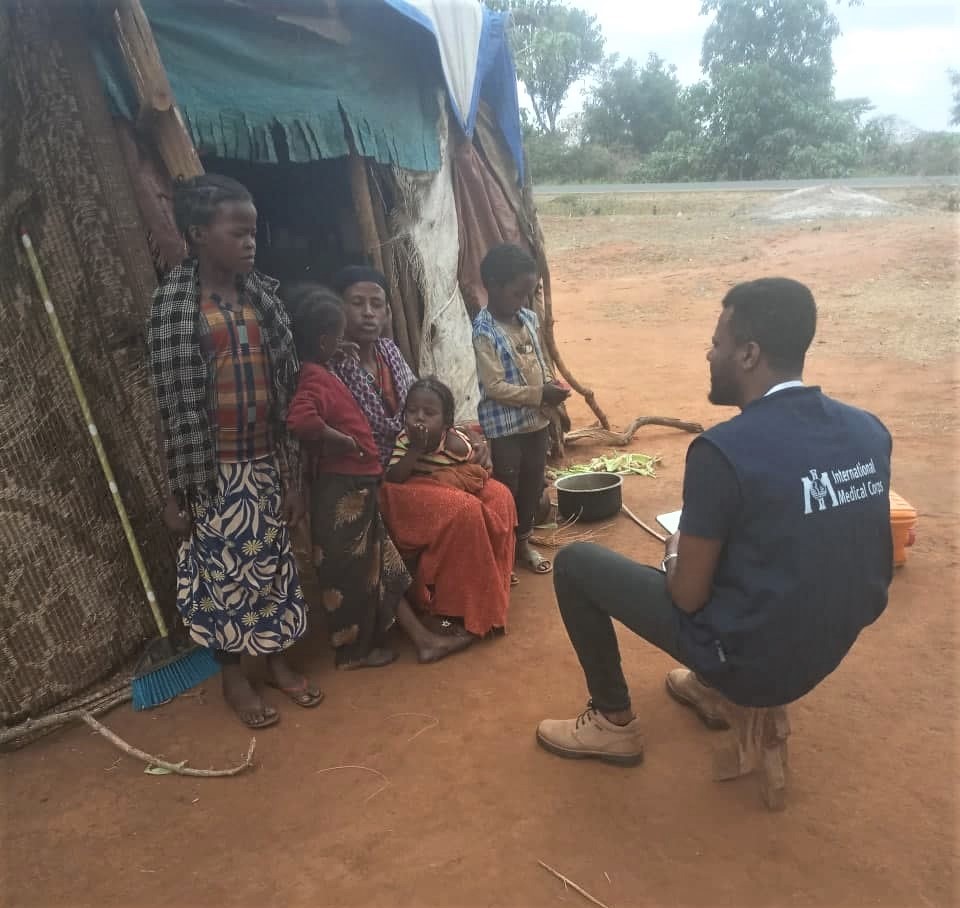 "I feel very happy because I received all of these items and can use them for my family to address our needs," Radia says. "I feel that this project gave us attention as displaced persons."
Radia was so pleased with the latrine that she became the first to volunteer to clean it. "We have greatly improved our sanitation and hygiene practices using the communal latrine that International Medical Corps constructed for us, as well as the latrine-cleaning materials they gave us, like the broom, bucket, powder soap, wheelbarrow, rake, gloves and other items."
Through our WASH interventions within this project, International Medical Corps has reached more than 30,000 people who've fled conflict and settled temporarily in IDP sites. We have supported government efforts by rehabilitating 12 water systems, constructing 108 latrines, supplying latrine cleaning supplies and educating the community about safe hygiene and COVID-19 prevention measures.
For IDPs and returnees living in Guji zone, the project has also improved access to basic health services, reduced health risks and deaths related to infectious diseases, improved access to safe drinking water, reduced the risks of gender-based violence (GBV) and strengthened the response to GBV survivors.
Radia and her family have received frequent medical consultations and treatment from International Medical Corps' mobile health and nutrition teams. "It's costly to get diagnosed in the local health facility, and we have no livelihood to rely on to cover our expenses," Radia says.
Moreover, she has gained awareness of GBV-related issues, including rape, domestic violence, early marriage, female genital mutilation, and sexual exploitation and abuse. She also has learned how women can protect themselves and report GBV incidents in their communities.
"Thanks to International Medical Corps, we get WASH, health and GBV services at the same time," Radia says. "Previously we were ignored, and no one came here to visit us."