Meet Anfa, an 18-year-old Somali woman who recently gave birth to her first child through a treacherous journey to new motherhood. Anfa's home of Somalia has one of the highest maternal mortality rates in the world, with one out of 12 women dying from pregnancy-related complications—often because she lacks access to maternal health care. Here, persistent cycles of droughts, floods and conflict continue to compound deteriorating humanitarian conditions for vulnerable young children and women.
Anfa lives in the Abduwak district in Somalia's Galgaduud region. A high number of women in her community still deliver at home with the support of a traditional birth attendant. Most mothers spend their days looking for food and water for their children, time-consuming tasks that override other needs, such as visiting healthcare centers to seek medical care. "Most patients come to the hospital when their conditions become critical," says an International Medical Corps physician in Somalia, Dr. Mustaf. "Mothers deliver their babies at home, and it is only when delivery-related complications arise that they rush to the hospital or we are called to their homes to assist."
Like many young women, Anfa did not know that she needed regular checkups and screenings to ensure that she and her baby were healthy, and she only attended an ante-natal care session once. At home on the day of her delivery, Anfa experienced symptoms of eclampsia, a condition in which one or more convulsions occur in pregnant women suffering from high blood pressure. This risky condition is often followed by a coma, posing a threat to the life of mother and baby.
Anfa's worried mother and brother rushed her to a nearby hospital—but it was not well-equipped to manage her condition. It had been several hours since Anfa had first displayed the symptoms of eclampsia, and she was unconscious. The nurses referred her to Ibado hospital, where International Medical Corps provides both Basic Emergency Obstetric and Newborn Care (BEmONC) and Comprehensive Emergency Obstetric and Newborn Care (CEmONC) services.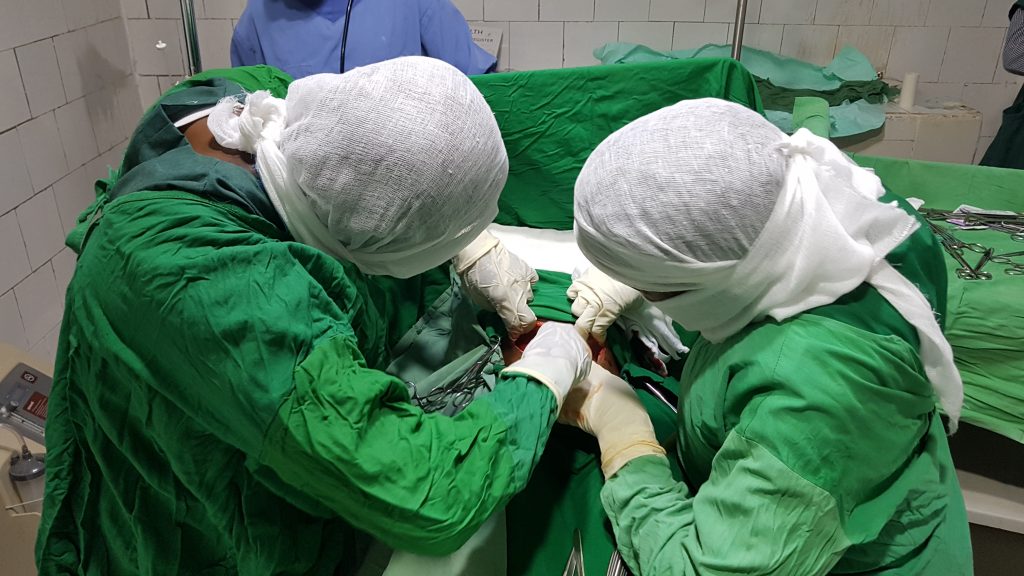 Upon the family's arrival at Ibado hospital, International Medical Corps doctors examined Anfa and immediately admitted her. "Her eclampsia condition was quite advanced and did not respond immediately," says Dr. Mustaf. "At that point, the only way to save Anfa's life was to perform an emergency caesarean surgery."
The emergency surgery took approximately 90 minutes, after which a healthy baby boy, Mohamed, came into the world. Anfa's mother and brother, together with the International Medical Corps doctors, celebrated the successful operation and the two lives saved. The family's joy briefly turned to worry, however, when baby Mohamed did not cry. But after several resuscitations from the pediatric team, he let out a loud cry!
Says Dr. Habibula, one of the doctors who supported the surgery: "If we were not on time to perform the surgery, we would have lost either or both lives. But the baby weighed just over 6 pounds, which is good enough, and Anfa regained consciousness three hours after the surgery."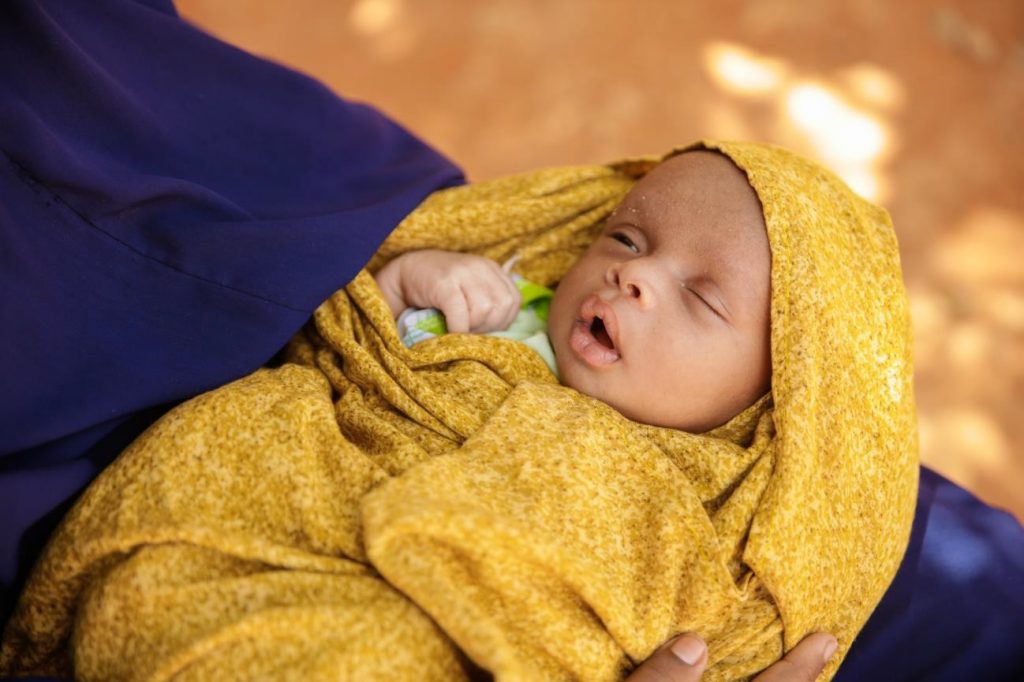 When she woke up, Anfa was overjoyed to find herself on the hospital bed with her newborn baby next to her. Tears of happiness could be seen trickling down her cheeks as she looked at Mohamed. Anfa and Mohamed were taken to the recovery ward, where they received care for nine more days.
"I am so grateful to the International Medical Corps nurses and doctors for saving my life and that of my baby," says Anfa. "At the ward, they took good care of us, and taught me and other mothers in the ward about how to take care of our babies, the benefits of exclusive breastfeeding, and the importance of consistent handwashing and regular checkups at the hospital."
After three weeks, an International Medical Corps team visited Anfa and found her and Mohamed healthy. During the visit, Anfa emphasized the lesson she had learned the hard way: how important it is for all mothers to visit the hospital regularly for checkups, and plan to deliver at the hospital. "Delivering at home is very risky and I wouldn't encourage any mother to try that," says Anfa. "Even if she lives far from the hospital, she should just find a way to deliver there, because the doctors are well-trained to conduct skilled deliveries and they will have access to critical services in the case of emergencies like mine."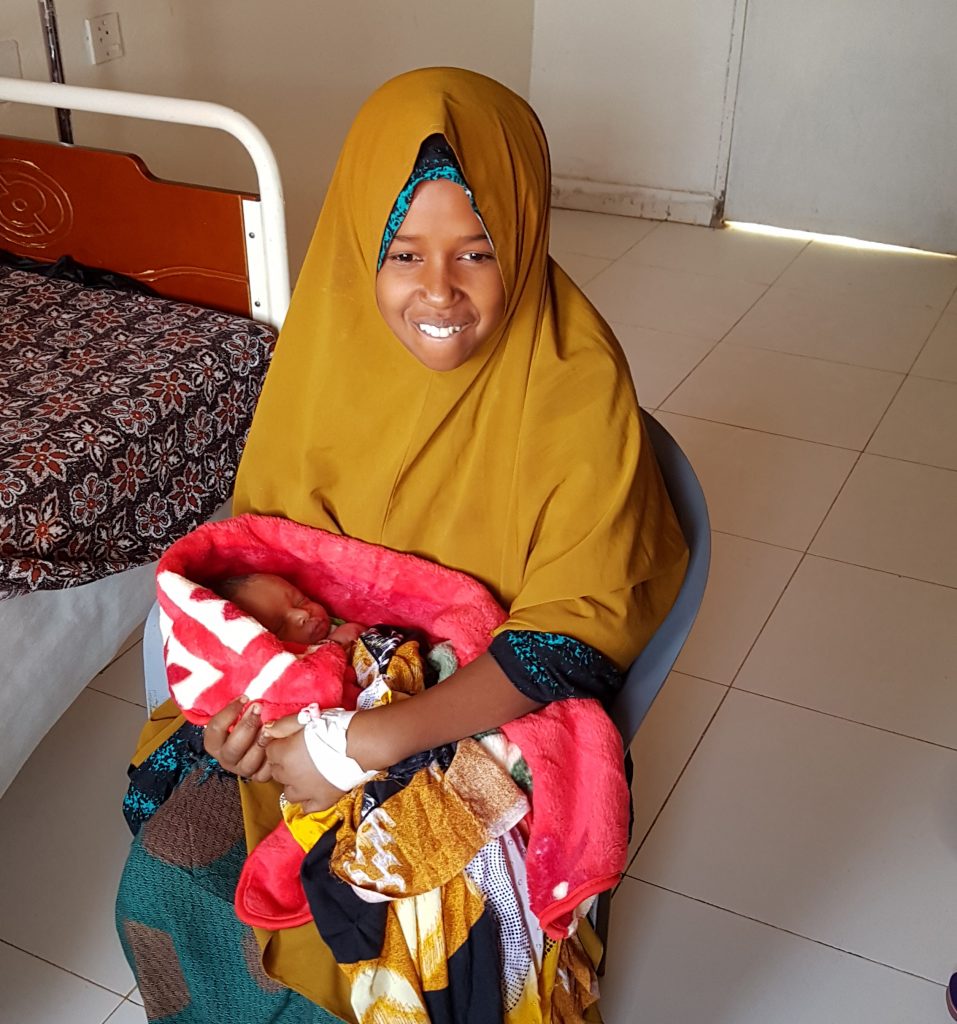 The World Health Organization estimates that 830 women die every day worldwide from preventable causes related to pregnancy and childbirth. Most of these cases occur in developing and poor countries, especially in the rural areas, where access to healthcare is limited. International Medical Corps is on the ground improving access to much-needed emergency obstetric and neonatal healthcare in hard-to-reach areas of Somalia to save the lives of mothers and their children. Since January 2018, International Medical Corps has facilitated more than 5,400 safe deliveries in Somalia.