Years after the official end of a decades-long civil war in the Democratic Republic of Congo (DRC), violence remains pervasive, especially throughout the eastern part of the country. Sexual abuse of women and children continues to escalate, and more than one-third of the population lacks access to basic healthcare services. Since the height of the conflict in 1999, International Medical Corps has worked in this volatile country, helping Congolese partners improve the healthcare system by rehabilitating and equipping health facilities and training medical professionals, community health workers and community members. More recently, we have been responding to disease outbreaks in the country, including outbreaks of Ebola, wild polio, measles and COVID-19.
In my previous blog post, I described how my colleagues in the DRC stay committed and optimistic while working in disaster zones and an environment of extreme fear, armed conflict and intermittent outbreaks of deadly diseases like Ebola. In the months since, the government has declared a state of emergency in two provinces—North Kivu and Ituri—following the sudden volcanic eruption of Mount Nyiragongo, which claimed the lives of more than 30 people and forced thousands to flee. The eruption destroyed property and infrastructure, and caused food prices to skyrocket, worsening already difficult living conditions for people who have endured decades of trauma. International Medical Corps immediately responded to the crisis and has been traveling to remote villages—an extremely challenging undertaking in and of itself— to provide lifesaving healthcare.
Struggles and Resourcefulness
The people we serve live in remote, rural areas. As my boss, who is much more experienced than me, told me: "When you are in an International Medical Corps convoy with five motorcycles breaking the trail in front of you, and you know you'll be on the back of one of them as soon it gets impassable for the car, that's when you'll know you are really on assignment." This is especially felt when traveling to the field during the rainy season, when the roads become impassable. Sometimes, we get stuck in the middle of the jungle, with no village nearby, and have no idea how we are going to get out of it. It can be scary knowing that at any moment we can be looted by armed men. But as our driver recently said—with a visibly strained smile—to my colleagues on our last road trip, "It's difficult, but we're used to it."
Life here is hard and it shows. You feel it. My colleagues travel to virtually inaccessible places and barely eat. They sweat gallons in the field and have no drinking water. They drive for a full day without stopping, making incremental progress through nearly impossible terrain. They walk all day through mountains where there are no roads.
In addition to huge logistical challenges, our staff put their own lives at risk to work in conflict areas. They have a massive amount of stress to deal with that goes well beyond a normal job. At times, our work is interrupted by violent attacks and social unrest, but we continue to provide support and deliver vital supplies, including health kits to keep healthcare workers and community members safe. Working with Ebola patients can be especially risky. "If something goes wrong, you can die," says my colleague Betra Kambale Kasereka, a hygienist at Katwa Ebola Treatment Center in Butembo, North Kivu province. "You need to be very precise in your work—perfectionism is required."
I am constantly amazed by the inventiveness, creativity and resourcefulness of the International Medical Corps staff here in DRC. It's so human—and it's worth gold. It's the little exchanges that move me every time: no matter the person we meet or the place we're in, our staff are so strong. And our blue International Medical Corps logos shine as we reach underserved communities, going through the bush to find people in need where others won't go.
Why Being There Matters
I witnessed our staff's resourcefulness firsthand on a visit to Burembo Village in South Kivu province. We had a whole program planned for the day—but it changed immediately when Eugenie Ngyabi, a 31-year-old pregnant woman, was brought to our mobile clinic in a coma.
Eugenie had experienced severe pain that made her lose consciousness while her husband was away on a trip. Her neighbors put her on a stretcher and brought her to our clinic, where our medical staff treated her on the spot. Realizing that she would need surgery, they decided to rush her to Fizi General Hospital in our staff vehicle. "The pace was very fast-moving," says Dr. Musangu Bienvenu, an International Medical Corps Program Manager who supports the mobile clinic. "I needed to make decisions quickly."
Doctors at the hospital performed an emergency cesarean section on Eugenie. Sadly, the baby did not survive, but Eugenie did. When she regained consciousness, she learned from neighbors about the services that my colleagues had provided, and that International Medical Corps had covered all her medical expenses, including her hospital bill. "If the International Medical Corps mobile clinic didn't exist, I'm sure I wouldn't have survived," says Eugenie. "I believe that it was their speed and medical skills that saved my life—and I ask this valiant partner not to abandon our community."
This event says a lot about why I love working with International Medical Corps. Our multidisciplinary team members feel the need to get closer to the community and see what is really happening on the ground. When we are in the field, we live the experience, and can speak knowledgably. This allows us to reorganize our priorities and logistics to focus on others and best serve their needs in the future.
Conversations and Common Ground
Through my work with International Medical Corps, I continually discover that the greatest wealth on earth is each other. It's the little things that feel the most precious to me—such as how we greet each other as people. In the DRC, there are more than 200 tribes and 700 local languages and dialects spoken. The most common official greeting is "bonjour," which is French for "hello."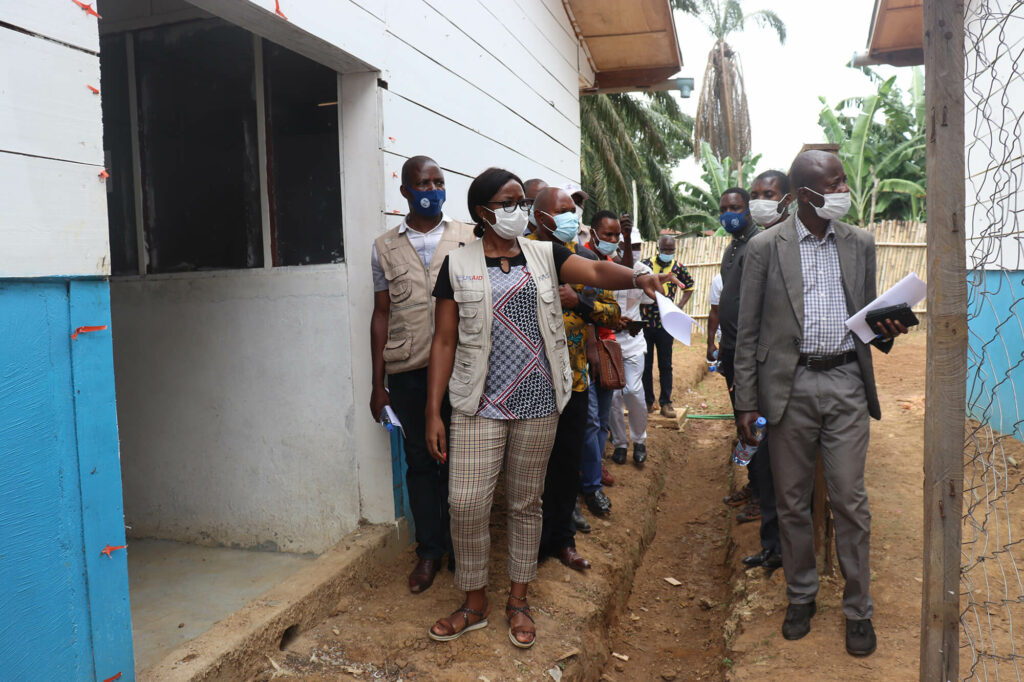 When I travel to the field with my International Medical Corps colleagues, I love to greet people in the villages with "bonjour," as I believe that greeting someone provides solidarity in suffering and vulnerability. I take the time to ask how they are doing. Five to 10 minutes of conversation with someone in the field is priceless, helping us learn people's real concerns and needs. Ultimately, it's the smiles, greetings and conversations that I remember most—and, in such a difficult and diverse environment, it's our shared humanity that makes us stronger.
International Medical Corps has worked in DRC since 1999, providing healthcare, capacity-building in the health sector, gender-based violence (GBV) prevention and treatment, nutrition support, food security programs, and water, sanitation hygiene services. More recently, we also have been responding to outbreaks of disease, including Ebola, measles and COVID-19. We have served more than 2 million people in the DRC, 80 percent of whom have been displaced by armed conflict.