As a Global Security Manager with a deep background in the humanitarian sector, Aden Dahir Noor understands all too well the needs of the refugees International Medical Corps works with. After all, he's a refugee himself. Aden was born in Somalia, but his family fled to a refugee camp in Kenya when civil war broke out in 1991. He was just 3 years old at the time.
When his parents separated, leaving his mother to raise Aden and his two younger siblings, it fell to Aden to get an education and support his family. Because his mother couldn't afford tuition, he moved to places in Kenya where he could attend schools that were paid for by scholarships from humanitarian organizations. He studied political science and sociology at university, then returned to the refugee camp where he'd grown up to intern for CARE International. He then joined the organisation full time for several years in a junior logistics role but quickly realised he would need a job that could pay him enough to support his family.
"I had a lot of responsibility on my shoulders, because I'm the oldest child in my family," he says. "I had to play the role of my father. So I started looking for greener pastures, something that would pay better than what I was earning so that I'd be in a position to take care of my siblings and mom."
That higher-paying role ended up being in his native country of Somalia. Aden began working as a cash relief programme officer at an East African humanitarian organisation called Adeso, while also completing a master's degree in supply chain and procurement through distance learning (he would later also earn an integrated master's degree in international relations, security and strategy). He joined Médecins Sans Frontières (MSF) in Yemen for three months, until the organisation asked him to help start a program in Somalia. Aden worked in logistics and security in the Lower Juba region of Somalia for around six years, until an insurgency began and that area of Somalia became too dangerous for him, due to his background and the work he was doing. After a stint at the Danish Refugee Council in Mogadishu, he joined International Medical Corps' Somalia mission as a security officer in 2012.
Despite being a Somali national, Aden hadn't lived in the country since he was a small child—and reintegrating wasn't simple. "I still spoke the local language, so I could understand what people were saying, and I had some idea of the country's context and background," he said. "But the first few years back, I was kind of just a foreigner—and that's how people treated me."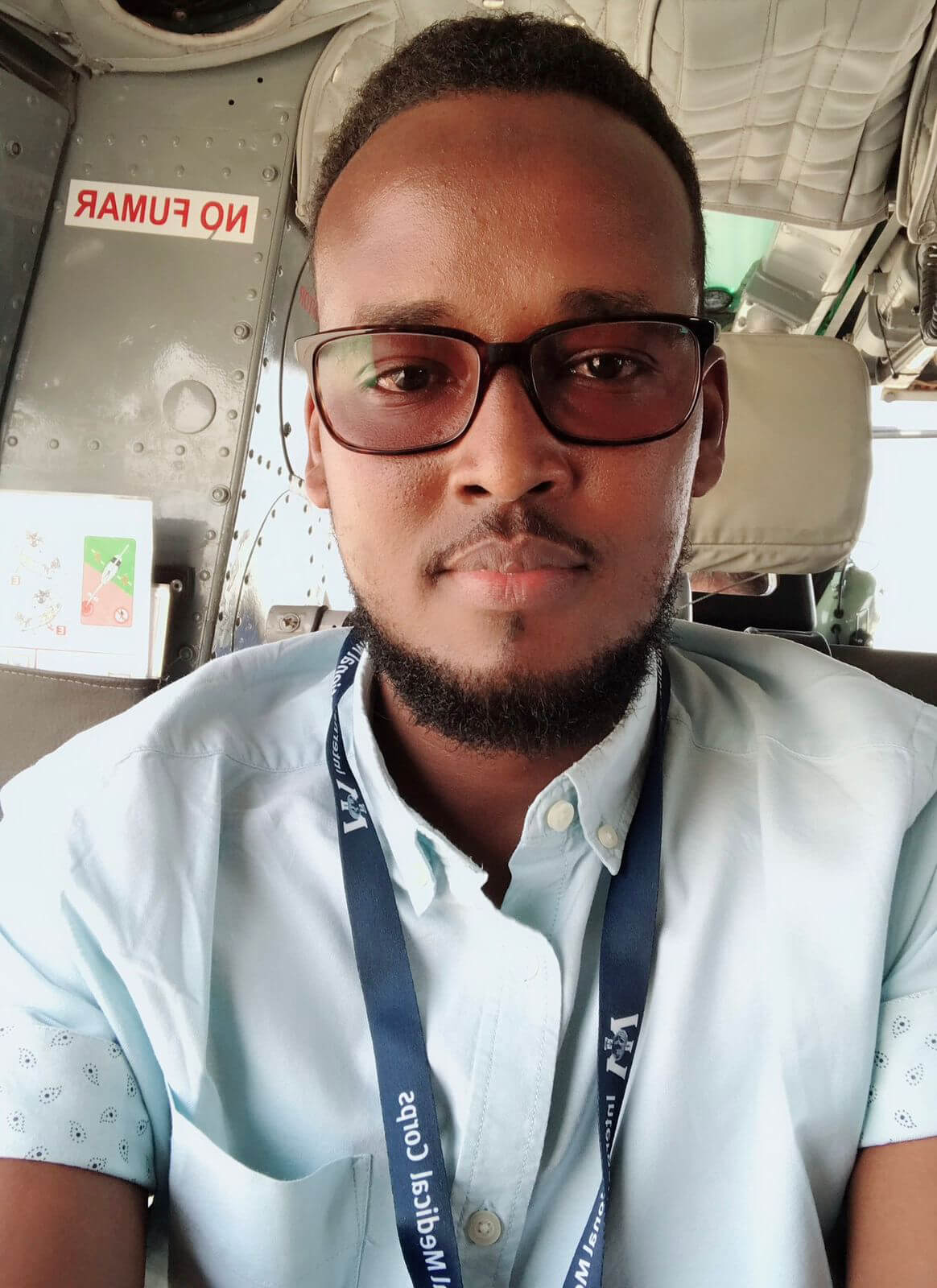 Yet Aden was able to use his nationality to his advantage. "In the Somali context, one of the biggest challenges we faced was access," he says. "I always took the initiative to make sure that we established access so that we could provide for people who are in need of our support. My being a Somali ethnic and a Somali speaker—it would be easy for me to communicate to people and to move around. It was easy for me to understand a lot of things that a foreigner would not understand. So that's why I thought that I'd be in the best position to support the mission as much as possible."
To help the mission establish access, he built a close working relationship with the country director. "I took him around so many places. I took him to meet with the local authorities," Aden says. "And then that actually opened up a lot of opportunities for the organisation, as well as for the people who were in need of our support."
Eventually, though, living under stringent security restrictions in Somalia's volatile context began to take its toll, and Aden started to struggle with his mental health. Last year, he joined our global team as a Global Security Manager and returned to Kenya. Now, he supports the entire East region, providing day-to-day technical security advice, helping develop security documents and frequently travelling to the field to conduct security assessments and safety trainings.
He emphasizes that his background in programmatic work and logistics—as well as his background as a refugee—give him a different outlook.
"People look at me as a security guy, but I've worked as a logistician and as a programme person," Aden says. "Yes, I'm in the field of security, but I strongly believe that I'm more than just security. As a refugee, I have been in a position where I needed support. There's somebody out there who needs support like I needed it some time back. So I do my best to ensure that this person gets the support they need."
Meanwhile, Aden is continuing to support those closest to him.
"I used to see my mom struggle to make sure that we at least had something to eat on our table," he says. "Sometimes, I used to see her break down. And when I remember, it breaks my heart today. But it makes feels me happy that she's no longer in that position and I'm able to support her."